Around 25 buses carrying Trinamool Congress volunteers set out from Kolkata on Saturday for the planned protest programme in Delhi on October 3 against the alleged withholding of funds by the Centre, party leaders said.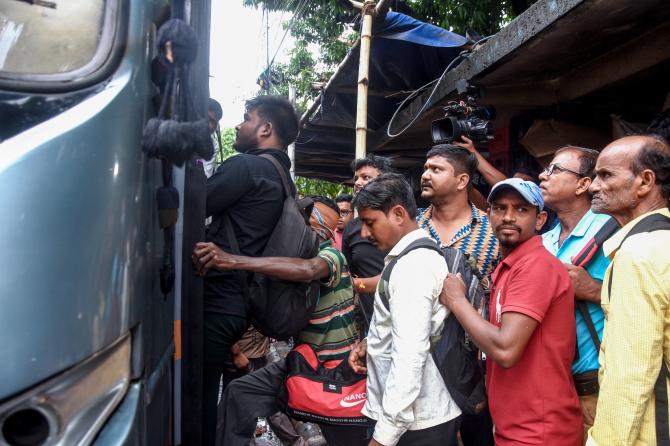 Over 4,000 people will travel to the national capital by a convoy of buses as part of the programme, they said.
Before the buses left Kolkata, Senior Trinamool Congress leader Abhishek Banerjee asserted that the TMC cannot be scared off from its political programmes through summons by central agencies, and vowed to go ahead with the protests in Delhi.
The Diamond Harbour MP has been summoned by the Enforcement Directorate (ED) on October 3 in connection with its ongoing investigation into the alleged school jobs scam.
Banerjee claimed that the Centre was trying to 'crush' the movement of the poor people of West Bengal in Delhi by cancelling trains and 'deploying the ED and CBI'.
"But it (the measures) will backfire," he said in a virtual address to party workers.
"It is clear that they (BJP) want to teach people of Bengal a lesson as they voted overwhelmingly in favour of TMC in the 2021 assembly polls and in subsequent by-polls. If this is BJP's way of revenge, a bigger and nastier blow awaits it in the 2024 Lok Sabha polls," the TMC national general secretary asserted.
The 'Dilli Chalo' call has been given to realise Rs 7,000 crore, which the West Bengal government claims is due to it for the rural works guarantee scheme to over 20 lakh labourers of the state, and for release of Rs 8,200 crore towards the Awas Yojana across the state.
Thousands of MGNREGA job card holders have arrived in Kolkata from various parts of the state to travel to Delhi to demand their dues, Banerjee said.
"We applied for the trains on September 23 to take them to Delhi. But, we were denied the permission... You (the Centre) have cancelled the trains, but you cannot break the people's movement with such tactics.
"You cannot scare TMC by making ED, CBI send summons to it. You cannot crush the movement by the people of Bengal for their rights," he said.
The Eastern Railways, however, contended that it received the request from the Indian Railway Catering and Tourism Corporation (IRCTC) and unavailability of rakes was the reason behind denial of the special train.
Banerjee had announced on Friday that his party would make alternative arrangements for transporting its supporters to Delhi, accusing the BJP of creating roadblocks after the request for the special train was denied.
"Since the buses will be travelling through BJP-ruled states, we are also arranging for pilot cars to ensure the safety and security of the passengers," a senior TMC leader stated.
"Special arrangements for emergency medical assistance are in place. We have also made provisions for their stay in New Delhi," another party leader said.