In a rare display of unity, the Trinamool Congress (TMC) on Monday attended a Congress-led opposition strategy meeting and was also part of the protest against the Adani issue and Rahul Gandhi's disqualification as Lok Sabha member.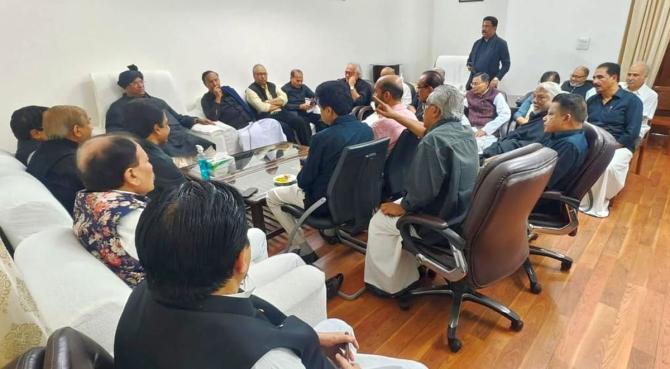 But instead of TMC's floor leaders, its two MPs were in attendance at both the events.
In a meeting called by Congress president Mallikarjun Kharge on Monday evening of floor leaders of like minded parties, TMC will send the same two MPs -- Prasoon Banerjee and Jawahar Sirkar, party leaders said.
The TMC leaders said while the party is on one page with the Opposition in protesting to save Parliament and democracy, the faultlines in respect to the Congress party remain.
Party sources said that the leadership is upset over the comments of Adhir Ranjan Chowdhury, the leader of the Congress in Lok Sabha, on TMC chief and West Bengal Chief Minister Mamata Banerjee.
They, however, indicated that there has been some breakthrough in the relationship with senior Congress leaders reaching out to the TMC.
The TMC, too, has been quick to lend support to Gandhi over his suspension from Lok Sabha.
In fact, party leaders claimed that TMC chief Banerjee was the first CM and opposition party leader to come out with a statement in support of Gandhi, followed by party national general secretary Abhishek Banerjee.
'The BJP has crossed the line. Democracy, Parliament, federalism and the Constitution have to be saved. The Opposition is united in this cause. It's also about graciousness on all sides,' said Derek O' Brien, TMC Parliamentary Party leader in the Rajya Sabha.
The party will also stage a protest against the Centre in Delhi on March 29, the same day when the TMC chief will hold dharna in Kolkata, the sources said.
© Copyright 2023 PTI. All rights reserved. Republication or redistribution of PTI content, including by framing or similar means, is expressly prohibited without the prior written consent.