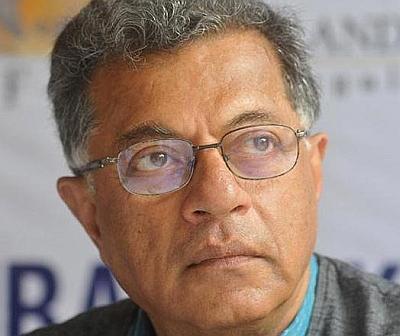 Jnanpith awardee Girish Karnad and Bharatiya Janata Party Member of Parliament Prathap Simha have allegedly received death threats on social media as the controversy rages in Karnataka over the birth anniversary celebrations of 18th century Mysore ruler Tipu Sultan.
Online posts directed at the duo appeared even as the toll in the violence at Madikeri over the row climbed to two after a youth succumbed to bullet wounds.
Karnad, who came under severe attack for his remarks that Bengaluru international airport should have been named after Tipu Sultan rather than the city's founder, Kempe Gowda, received a threat on Twitter that he would meet with the same fate as rationalist MM Kalburgi, who was gunned down recently by two men at his residence in Dharwad in north Karnataka.
Security has been posted at the residence of Karnad, a noted Kannada playwright and actor, in the wake of the controversy over his remarks with several organisations, particularly those connected with the dominant Vokkaliga community to which Kempe Gowda belonged, Kannada bodies, right-wing outfits and BJP, targeting him.
Mysuru-Kodagu BJP MP Prathap Simha, who received a threat to his life in a Facebook post, has approached Mysuru police. A tweet posted on the twitter handle, 'Intolerant Chandra' allegedly said that Karnad will meet with the same fate as Kalburgi if he enrages Kannadigas with such comments.
A senior police official said they have received information about a post making a threat against Karnad and are looking into the matter.
In a controversial remark at state government-organised Tipu Jayanti event in Bengaluru on Tuesday, Karnad had said that it would have been "apt" had the Bengaluru International Airport at Devanahalli near here been named after Tipu Sultan rather than Kempe Gowda, a feudatory ruler under the erstwhile Vijayanagara Empire who founded Bengaluru in 1537.
Karnad had on Wednesday said he apologises if "anybody has been hurt" by his views.
Karnataka Chief Minister Siddaramaiah, who was also present at the function where Karnad made the remarks, had clarified that the government had nothing to do with the writer's views and the question simply did not arise of renaming Bengaluru international airport.
On the other hand, Simha approached police on Tuesday night complaining of a post threatening dire consequences for him for his remarks over the violence at Madikeri incident, which claimed the life of local VHP leader Kuttappa.
Madikeri was rocked by clashes over the celebrations marking the birth anniversary of Tipu Sultan.
Simha had questioned the government and the police version that Kuttappa had died in a fall while jumping a boundary wall. The Lok Sabha MP has been severely critical of Tipu Sultan amidst claims of "persecution" suffered by Hindus under his reign.
The post on a Facebook page, 'Mysuru Tiger Shahide Millat Mahan Tippu Sultan' allegedly shows Simha's photograph next to that of Kuttappa and threatens him with the same fate as the VHP leader if he continues to play politics by making "anti-Muslim comments".
Police said that the cyber crime division has been asked to look into the matter.
Meanwhile, a youth in his mid-twenties who had sustained bullet injuries during Tuesday's clashes in Madikeri died at a hospital in Mysuru on Wednesday.
Speaking to reporters, Kodagu district in-charge minister Dinesh Gundu Rao said, "The youth died last night, it is sad. So, two of them have died due to the unfortunate incident (Madikeri clash) that happened on Tuesday."
Calling it a "tragedy", he said that the government will conduct a fair investigation into their death.
60-year old Kuttappa had died in Madikeri on Tuesday with the circumstances of his death not being clear. He was buried on Wednesday at Madapura near Madikeri.
While police said that he fell from a compound wall while escaping stone pelting, witnesses claimed he suffered severe head injuries in the violence and died instantly.
The Karnataka government has announced an inquiry into the Madikeri violence by the Regional Commissioner in Mysuru.
BJP demands Siddaramaiah's ouster, takes swipe at Sonia
The BJP has demanded the Karnataka chief minister's resignation following death of two persons in violence over Tipu Sultan's birth anniversary celebrations, and took a swipe at Congress chief Sonia Gandhi asking if she will now lead a march and seek Siddaramaiah's ouster.
The BJP said Siddaramaiah was unable to handle the law and order situation, and sought a probe into the death threats made against playwright Girish Karnad and its MP Prathap Simha. It also expressed concern that no arrest has been made in the murder of rationalist M M Kalburgi.
"Chief Minister Siddaramaiah must resign. Two persons have died and he has not been able to handle the law and order situation. Will Sonia Gandhi go to Bengaluru and march against this? Will she demand Siddaramaiah's resignation?" BJP spokesperson Sambit Patra told reporters.
Gandhi had on November 3 taken to the streets and led a march of its top leaders to Rashtrapati Bhavan to protest against the climate of growing intolerance in the country and accused Prime Minister Narendra Modi of "endorsing" incidents of hate.
Referring to the alleged death threats received by Jnanpith awardee Karnad and BJP MP Simha on social media, the party sought a probe into it.
Meanwhile, Urban Development Minister M Venkaiah Naidu pooh-poohed suggestions that the Bengaluru airport should have been named after 18th century Mysore ruler Tipu Sultan and not city's founder Kempe Gowda.
"Decision has been made to name Bengaluru airport after him. Public has also welcomed this decision. Now taking up again the same issue and suggesting different names do not have any meaning. There is no point in discussing now after the airport has been named after a great person who was instrumental creating Bengaluru city.
"Secondly, the government (Karnataka) before taking any steps should keep in mind the public sentiment. Thirdly, nobody should add fuel to the fire," Naidu told reporters.