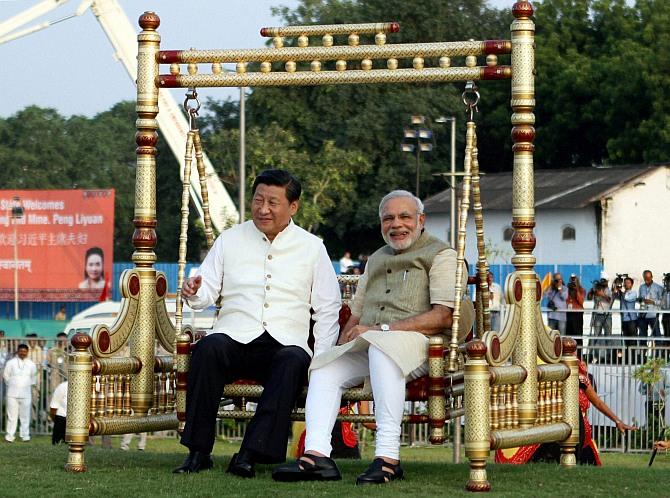 Sino-India ties have been taken on an upward trajectory by the recent visits of Chinese President Xi Jinping and Prime Minister Narendra Modi, top Chinese leader Zhang Dejiang said on Sunday.
Zhang, who is chairman of the standing committee of People's National Congress of China and third in the hierarchy, is leading a Chinese parliamentary delegation to India.
He also paid glowing tributes to Dr Dwarkanath Shantaram Kotnis, who was part of the Indian Medical Mission to war-torn China in 1938, saying he is the symbol of Sino-Indian friendship and his legacy should be carried forward.
"Indians demonstrated their friendship with China in its gravest hour," he said while referring to Kotnis' services and added that Kotnis is still commemorated and remembered in China and India.
Zhang said, "The visit of Chinese President Xi Jinping to India followed by Indian Prime Minister Narendra Modi's visit to China recently took the ties between the two countries on upward trajectory."
"My trip here will keep up the momentum," the Chinese leader said.
Xi had visited India in September last year while Modi had gone to China last month.
The visiting dignitary was speaking at a gathering after meeting the late physician's relatives and members of Dr Kotnis Memorial committee. He also inaugurated an exhibition highlighting Kotnis' life and times to mark the diamond jubilee celebration of Indian Medical Mission to China.
A team of five Indian physicians, of which Kotnis was a part, had provided medical assistance to Chinese soldiers fighting the Japanese in 1938.
Zhang described Dr Kotnis as a symbol of Sino-Indian friendship and stressed the need to carry forward his legacy.
In the eyes of Chinese people, Dr Kotnis and Indian Medical Mission represent the great and friendly people of India, he said.
"Dr Kotnis was a great friend of Chinese people. In 1938, at the age of 28, he bade farewell to his family in India and came to China which was facing Japanese aggression. We remember his noble character and should carry forward his spirit," Zhang said.
Describing the India-China friendship initiative of Dr Kotnis Memorial committee as a noble undertaking, he stressed the need to join hands to "give life" to the physician's spirit.
Manorama, the 94-year-old sister of Dr Kotnis, called for increased people-to-people exchanges and co-operation between the two countries.
Atul Hule, secretary of Vengurla-based Dr Kotnis Memorial Committee, said 2015-16 is the birth centenary year of Dr Kotnis' wife Guo Qinglan.
"The committee has planned to observe it as a friendship year between India and China. We plan to construct a hospital at Vengurla in Sindhudurg district, the native place of Dr Kotnis.
"Similarly, Vengurla city would be developed into a clean and model city in Maharashtra. We also want to establish a 'sister city' concept of Vengurla with one of the cities from China," he said.
© Copyright 2022 PTI. All rights reserved. Republication or redistribution of PTI content, including by framing or similar means, is expressly prohibited without the prior written consent.