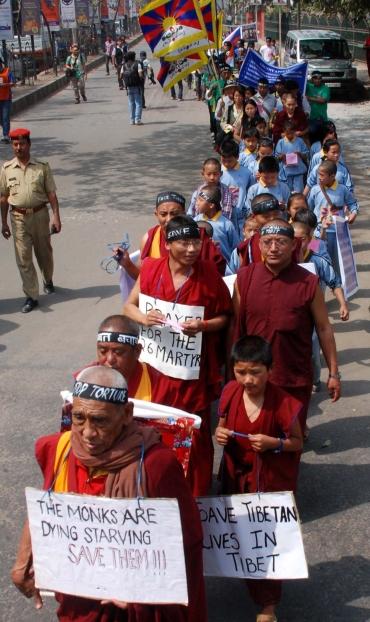 A large number of Tibetan refugees on Saturday organised a rally in Guwahati to register their protest against continued self-immolation by their compatriots back home against the 'suppression' by the Chinese regime.
The protestors, under the aegis of the Tibetan Solidarity Committee, orgainsed a rally on the occasion of the 53rd Tibetan National Uprising Day to express their anguish over the death of another Tibetan due to self-immolation in Ngaba in north-eastern Tibet on March 5.
They called upon the Chinese government to address the underlying causes which are pushing Tibetans to set themselves on fire. They reiterated their appeal to the Chinese government to address the genuine grievances of the Tibetans inside Tibet and resolve the issue peacefully.
"The latest victim Dorjee, aged 18, set himself on fire while marching on a bridge towards the local government office in Cha town in Ngaba. He reportedly died on the spot and his body was bundled away by the police and security forces," the Tibetan protestor said.
With this latest incident, 26 Tibetans comprising monks, nuns, nomads, and students have set themselves on fire since 2009; 19 have died. They had all called for freedom and the return of the Dalai Lama to his homeland.
The demonstrators made a fervent appeal to the international community to make an urgent representation to the Chinese government to end the tragic cycle of self-immolation in Tibet by adopting liberal policies in the region.
A large number of Tibetan refugees, including children and women wearing traditional attire, participated in the demonstration that lasted for over four hours in Guwahati. They have also organised a candle-light procession in the evening to attract the attention of people to the plight of the locals of Tibet.