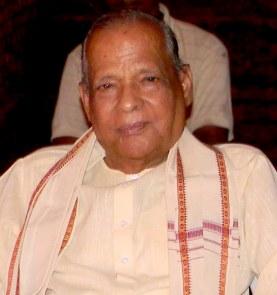 Former Odisha Chief Minister and ex-Assam Governor Janaki Ballabh Patnaik died at a hospital early on Tuesday following a cardiac arrest, few hours after he offered prayers at Lord Venkateswara temple at Tirumala.
Patnaik, 89, passed away at Sri Venkateswara Institute of Medical Sciences in the temple city, its Director and Vice-Chancellor Dr B Vengamma told PTI.
Patnaik had arrived in Tirupati on Monday to participate in the convocation of Rashtriya Sanskrit Vidyapeetha and offered prayers at the temple late on Monday night, temple official on special duty, Damodara, said.
Patnaik complained of chest pain at midnight and was immediately shifted to the hospital, Vengamma said, adding, he could not be saved. He died early Tuesday morning on the auspicious day of 'Aksyaya Tritiya', a priest said.
"While visiting Tirupati temple on Monday evening, my father was chanting Vishnu Sahasranam on his own and had a darshan of the Lord. He is a great devotee of Lord Vishnu," Patnaik's elder daughter Dr Sudatta Patnaik said.
After returning from the temple he had discussion with Sanskrit scholars on the Jagannath cult, Sudatta said.
Stating that all his parameters were perfect barely three days ago, Sudatta said her father had a thorough health check up at a reputed hospital here. "However, he was complaining of breathing problems since some time," she said, adding that he passed away all of a sudden.
Biswa Mohanty, a Congress leader, who accompanied Patnaik to the temple on Monday evening said, "I have accompanied Sir (JB) to different temples. But, on Monday evening, he was chanting Vishnu Sahasranam loudly with devotion," Mohanty said they had darshan of the Lord on Monday at about 8.15 pm.
"All of us retired to the room at about 11 in the night. Sir complained of chest pain at about 1.45 am and he was immediately taken to the hospital. However, doctors could not save him," Mohanty said.
Describing Patnaik as a source of inspiration for all, his son-in-law Soumya Ranjan Patnaik said, "He was active till the end. You can see how he walked to the Tirupati temple and was preparing to deliver speech at the convocation meeting scheduled on Monday."
The Vidyapeetha officials are making arrangements to airlift the body to Odisha. The last rites would be performed in Puri. Patnaik is a three-time Odisha chief minister.
The Odisha government has announced a holiday on Tuesday as a mark of respect to the departed leader. A week-long state mourning was also declared.
A multi-faceted personality known for his rich contribution towards literature and culture, Patnaik was born on January 3, 1927. He became the chief minister in 1980 and continued in the office till 1989. He returned to power in 1995 and remained the CM till 1999.
Patnaik, a former union cabinet minister, was appointed the governor of Assam in 2009.
After completing early education at Khurda high school, Patnaik passed BA in Sanskrit from the UtkalUniversity in 1947 and did an MA in Political Science from the BanarasHinduUniversity in 1949.
Besides his political career, Patnaik was an eminent litterateur and won many literary awards. He won the Central Sahitya Akademi for his Odia translation of Bankim Chandra's novels titled 'Bankim Chandra Upanyasmala' in 2001 and Odisha
Sahitya Akademi award for his book 'Bairagya Shataka', a translation of Bhartruhari's celebrated Sanskrit work, in 1996.
Patnaik had translated the Mahabharata, the Ramayana and the Shrimad Bhagabat Gita into Odia. He also wrote books on Sindhu Upatyaka and Gautam Buddha.
"Saddened on his demise. Condolences to his family. Patnaik will be remembered as a pillar of Odisha politics, a popular leader always connected with people's views and aspirations," Prime Minister Narendra Modi said.
"JB Patnaik's contribution to Odisha's development will always be remembered," he said.
Congress president Sonia Gandhi and vice president Rahul Gandhi condoled the death of Patnaik, saying his life was spent in the service of the people.
"Having served as the chief minister of Odisha thrice, a Union minister and as a governor, Patnaik's public life was spread over decades in service of people. He remained a Congressman till the end and his absence will be felt in the years to come," the Congress President said in her condolence message.
Rahul said that he was 'deeply saddened' at the passing away of Patnaik.
"Patnaik was a veteran Congress leader, who served the people of this country with dedication. I extend my deepest condolences to his family and loved ones on his demise," he said.
Photograph: Wikimedia Commons