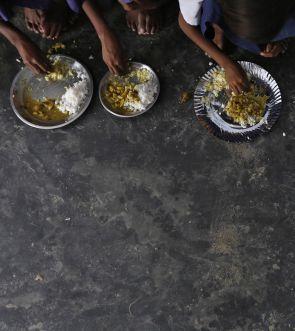 Four days after staying off from duties in midday meal scheme, nearly three lakh primary school teachers on Monday decided to end their stir after assurance from the government to look into their demands.
The teachers would resume midday meal scheme duties from Tuesday.
"We have arrived at a solution following which the teachers have decided to end their boycott of midday meal duties," R Lakhmanan, director Bihar midday meal scheme, said after talks with the teachers association.
"Over three lakh school teachers in Bihar have withdrawn the boycott of the mid-day meal scheme following state government's assurance that they would be spared from it in phase wise manner within six months," Bihar Education Minister P K Shahi said in Patna.
Lakshaman said, "We assured the Bihar primary teachers association representatives that the state government would explore alternative arrangements to keep the teachers off from operational responsibility like supervising cooking work under the programme in phases."
The state government would consult the Centre also on the subject, he said.
The mid-day meal scheme runs in 72,000 schools across the state that serves food to 1.60 crore students.
Three lakh school teachers in Bihar began boycotting of the mid-day meal scheme from July 25 to get rid of non-academic work, badly affecting the scheme and depriving millions of children of mid-day meal in schools across the state.
A week after the death of 23 children from eating a contaminated mid-day meal in Saran district, teachers were in no mood to assist the government in running the scheme.
Bihar State Primary Teachers' Association's president, Barajnandan Sharma, also confirmed, "After the government assurance to make an alternative arrangement to run the scheme, teachers would continued to cooperate for it".
Sharma added last week it was unanimously decided at a meeting of the association to boycott the scheme.
He recalled that association had repeatedly requested the government in writing to involve teachers in academic work only and employ some agency for the scheme, which was ignored. Teachers should not be burdened with all kinds of non-academic work, he said.

"Teachers are blamed for anything that goes wrong with the scheme", Sharma said, adding, "It is giving a bad name to teachers due to rampant corruption".

He said that it is a well-known fact that teachers and headmasters have to invariably manage the mid-day meal scheme with third-grade food stuff and corruption at every level. "Top to bottom, officials have information about it. But when something happens, a teacher or headmaster is solely blamed for it despite the fact that there are several officials involved in it," he said.

Refering to the Saran tragedy, Sharma said, "There may be some mismanagement. Even human error cannot be ruled out. But putting the blame on teachers even before an inquiry has completed surprised us".

A forensic science laboratory report confirmed the presence of toxic insecticide strains in the cooking oil used for making food at the school.

The poisonous substance, organophosphorus, in oil samples collected from school was more than five times the commercial preparation available in the market, the police has said.

Organophosphorus compounds are degradable organic compounds containing carbon-phosphorus bonds used primarily in pest control.
Image: Schoolchildren eat their mid-day meal at a school in Bihar
Photograph: Adnan Abidi/Reuters
With inputs from PTI