A shootout at the Grand Theater in Lafayette in the American state of Louisiana has claimed the lives of three people, including the gunman, and injured seven.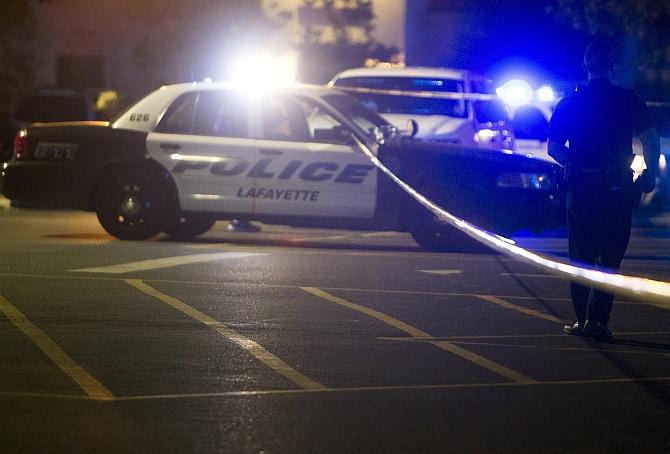 Police units at the movie theatre where a man opened fire on film goers in Lafayette, Louisiana. Photograph: Lee Celano/Reuters
About 100 people were inside the theater for a screening of the comedy, "Trainwreck," when the shooter -- a 58-year-old white man -- began firing using a shotgun, police said.
Lafayette Police Chief Jim Craft said two people died in the hail of bullets before the 58-year-old gunman killed himself with a handgun as officers responded to the scene.
Investigators offered no immediate motive and the gunman's body remained inside the theater several hours later. None of the victims were immediately identified by authorities.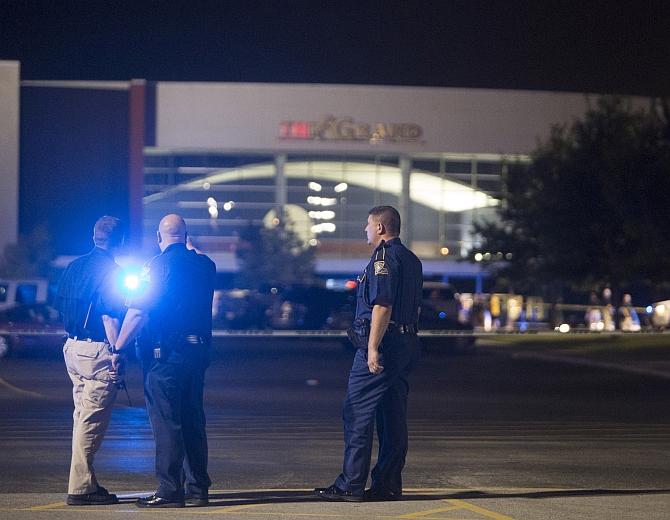 Police stand by at the scene outside the movie theatre where a man opened fire on film goers in Lafayette, Louisiana. Photograph: Lee Celano/Reuters
"We have no reason to believe this individual acted beyond this location," said Col Michael Edmonson of the Louisiana State Police. "We believe at this point the scene is secure but there is a lot of work ahead of us to go through this. We still have a lot of moving parts and a lot of people to talk to."
Witness Katie Domingue told the local Advertiser newspaper that the gunman stood up in the theater and began shooting about 20 minutes into the movie.
"He wasn't saying anything. I didn't hear anybody screaming either," Domingue said.
Louisiana Governor Bobby Jindal (left) leaves the movie theatre. Photograph: Lee Celano/Reuters
Republican Louisiana Governor Bobby Jindal said: "As governor, as a father and as a husband, whenever we hear about these senseless acts of violence it makes us both furious and sad at the same time," he said at a briefing."
"The best thing anybody can do right now is to think about them, pray for them, shower them with your love is the most important thing we will get through this," Jindal told reporters during a news conference.
"We will get through this. We are a resilient community. This is an awful night for Lafayette. This is an awful night for Louisiana. This is an awful night for the United States," he said.
Jindal visited one of the three hospitals treating injured persons. According to him, two teachers were in the theatre – one of them jumped in front of her colleague and was shot, but still managed to pull a fire alarm that alerted authorities.
"Even the worst of times bring out the best in people," he said.
Jindal said the teacher, who was shot in the leg, saved other people's lives through her actions.
The shooting occurred six days after the conviction of James Holmes in the Aurora, Colorado, theater shooting that left 12 people dead and 70 people wounded.
On July 19, 2012, Holmes opened fire during a screening of "The Dark Knight Rises" using an AR-15 rifle, a 12-gauge shotgun and at least one .40 caliber handgun. The shooting stopped with Holmes' arrest outside the theater about seven minutes after the first 911 calls were made to police.
In an interview to BBC before the shooting, US President Barack Obama said his biggest frustration was the failure to pass "common-sense gun safety laws".
"Even in the face of repeated mass killings. And you know, if you look at the number of Americans killed since 9/11 by terrorism, it's less than 100. If you look at the number that have been killed by gun violence, it's in the tens of thousands," he said.
"And for us not to be able to resolve that issue has been something that is distressing. But it is not something that I intend to stop working on in the remaining 18 months," Obama said.