In an unprecedented show of solidarity, thousands of students along with scholars, academics and the intelligentsia on Thursday hit the streets of New Delhi decrying the arrest of JNUSU president Kanhaiya Kumar over charges of sedition and demanding his immediate release.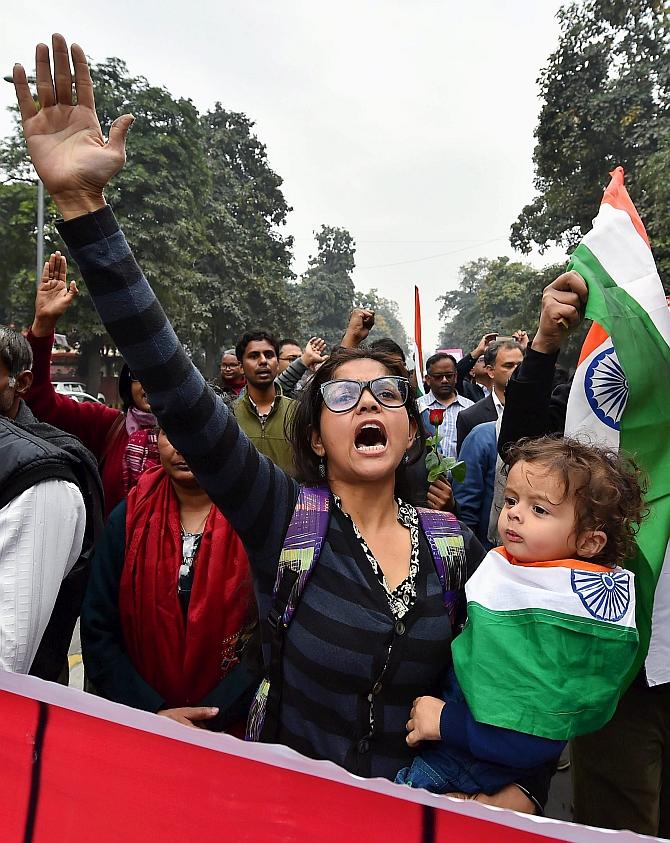 Protesters swelled by the hour in the march, led by the Jawaharlal Nehru University Students Union, that began from the Mandi House circle around 2 pm and ended at Jantar Mantar, bringing traffic to a standstill in the heart of the capital.
The chain of protesters comprising students from universities across the country measured over a kilometre at one point who rent the air with the slogan 'JNU...JNU' as they marched ahead.
Eminent scholar Zoya Hasan described the moment as a "critical juncture".
"It's a critical juncture for the future of the Indian democracy. I am absolutely delighted by the remarkable response that this protest has seen. The Modi government is up against the youth. The anti-national tag is being used to suppress dissent," Hasan, Professor Emeritus JNU, said.
Prominent leaders of the left parties including CPI(M)'s Brind Karat and Mohammed Selim, apart from Swaraj Abhiyan leader Yogendra Yadav, veteran journalist P Sainath flayed the Centre for "crushing dissent" in their speeches.
Students from the Delhi University, Hyderabad University, South Asian University, Jamia Millia Islamia University raised rapturous slogans, recited poetries, sang resistance songs as they marched till Jantar Mantar with many describing it as an "epoch".
"JNU students are not terrorists. Terror is what is being unleashed by the government on students. Every effort has been made to brand us terrorists. We condemn that as we condemn the media trial," JNUSU vice president Shehla Rashid Shora said.
In the beginning of the march, a huge number of the protesters held roses in their hands and raised them in the air in unison while letting out a cry of defiance. Many lawyers participated as well saying that the ones who attacked journalists and students in court premises "do not represent us rather ashame us".
For Vishnu Nagar, a veteran journalist, the demonstration, one of the biggest in recent times, was a "big historical moment that has helped get rid of the depression that set in over the last few days".
A student of Ramjas College, Eeshat, holding aloft a bud of rose like thousands of other students, described it as his "weapon", wielding which he has come to voice his views on "how our country should be like".
Many were heard raising slogans in support of Umar Khalid, a JNU student whom police is on the lookout for. They alleged that Umar was a victim of "Islamophobia".
"Polemic is an old and acceptable form of debate. The nation is made up of people and it has to be seen after placing it among the people. You may not agree with slogans raised by Umar but you have no right to resort to such witchhunt," Suhansi, DU Law student, said.
Delhi School of Economics student Ayanti Ghosh said, "You can't run a dictatorship in the veil of democracy."
Addressing the protesters, Karat demanded the withdrawal of sedition charges that has been slapped against Kanhaiya and alleged that the "government is attacking the autonomy of the universities."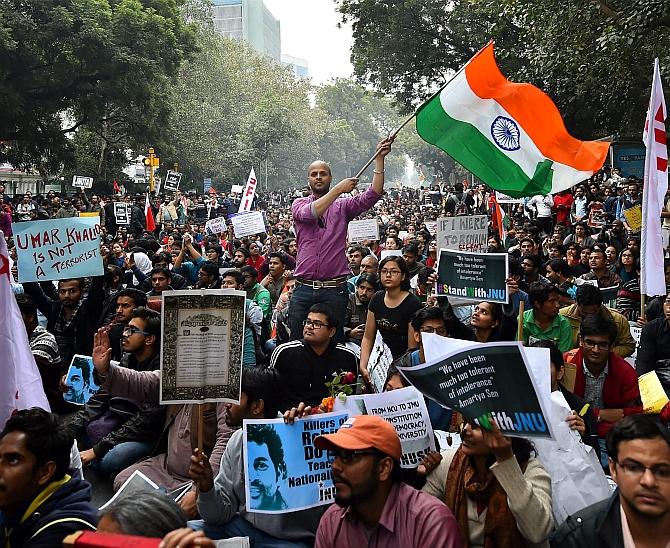 "JNU students are now the target for their independent thought. BJP is doing bhajan in the name of nationalism," she said during the protest which saw a huge foreign media presence.
"It's not about JNU or Kanhaiya alone. They are symbols. The demonstration aims to protect the soul of the country," Yadav said. As the crowd wended its way to Jantar Mantar, where the protesters later gathered, a student, on the sidelines, was seen carrying a copy of the preface of the Constitution, lending a sense of poignancy to the agitation.
Ruchika, 20, a student of Ambedkar University Delhi, who had come to the protest site along with 50-60 other students from her university, said, "Patriotism and nationalism have been reduced to such small definitions by right-wing forces. And also even if one were to assume that if somebody objects to speeches made by a few people, then the criticism should remain focussed and not taken to gross generalisations."
"You disagree on something, debate with civility. But, if you resort to violence on points of disagreements, we will not tolerate it at all," ex-JNUite Anila said.
Images: Activists and students from various organisations march from Mandi House to Jantar Mantar in solidarity with the JNUSU President Kanhaiya Kumar, in New Delhi on Thursday. Photograph: Kamal Singh/PTI Photo
© Copyright 2021 PTI. All rights reserved. Republication or redistribution of PTI content, including by framing or similar means, is expressly prohibited without the prior written consent.