In his first public comments since the AgustaWestland issue broke out, Prime Minister Narendra Modi on Friday dubbed the controversial deal a "chori" (theft) and indicated that the guilty, howsoever big, would not be spared.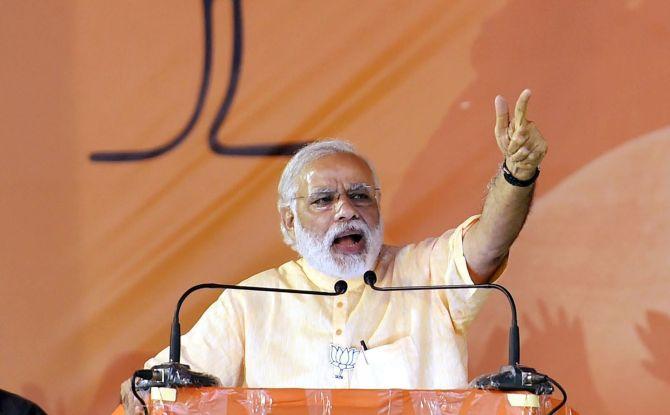 IMAGE: Prime Minister Narendra Modi addresses an election campaign rally at Hosur in Tamil Nadu on Friday. Photograph: Shailendra Bhojak/PTI

Without naming Congress, Modi also attacked the party which has launched a counter-attack on his government for dragging the name Sonia Gandhi, asking "if the court in Italy has said that people from the last government in India have eaten money, why then are you troubling us here?"
"Does anyone of your relatives live in Italy? Does any of my relatives live in Italy.... I have not seen Italy. I have not been to Italy. Nor have I met anyone in Italy. If Italians have accused them what should we do?" Modi said.
"Those involved in helicopter chori, should they be punished or not? Should legal action be taken against them or not. However big they are, should action be taken against them or not? I want to know from the people of Tamil Nadu," said Modi at an election rally here on Tamil Nadu-Karnataka border".
He said people of Tamil Nadu should now be knowing why people in New Delhi "don't allow" Modi to work.
"It is because he (Modi) has tightened the screws. This has affected the corrupt. It has disturbed their sleep. So they are attacking me," the prime minister said.
Asserting that he had people's support, Modi said "I won't fear this or bow to this."
On Tamil Nadu Assembly polls in which BJP is contesting in alliance with a few minor parties, Modi said elections this time were different from earlier ones.
"Earlier the people did not have any alternative. There were two parties. People used to give victory to one party if they were unhappy with the other and vice versa.. Sometimes, they used to fall into a well or a valley," he said, projecting the emergence of BJP as a third alternative.
Modi said there was a time when Tamil Nadu was among the strongest states in terms of economy and played a very important role in give economic direction to the country but the state of affairs is such that 'it is going down and down.'
"This election is not about which MLA or party wins but all about who can save Tamil Nadu," Modi said.
"Corruption has destroyed Tamil Nadu. If you want to save Tamil Nadu and save the future of the youth, then Tamil Nadu should be freed from corruption," he said without naming any party or government in the state.
Modi said that in the 2014 Lok Sabha polls, people of the country had stood against corruption and "now even Tamil Nadu will not tolerate corruption."
NDA government had been ruling for the past two years but no corruption charge had been levelled against it, he said.
"Some people have compromised with corruption but if there is courage, clean policies and sincere action, we can eradicate corruption," the prime minister said.