A woman from Pikhel village stands outside her home that was destroyed in the earthquake. Photograph: Anusha Subramanian

With relief yet to reach them after 13 days since the devastating earthquake, villagers of Pikhel claim the government is unconcerned about their well-being, since they belong to the Dalit community. Anusha Subramanian reports.
Also read: Inside Nepal: Escaping the avalanche to feed puri-bhaji to survivors
As we entered Bhaktapur in Nepal, we witnessed a huge ceremony called Chema Puja taking place at the Bahari temple -- dedicated to goddesses Durga. The temple committee, along with the residents of the city, had come together to pray for the well-being of all those who have survived the devastating April 25 earthquake.
As we moved further in, Bhakatapur, the historical city with numerous temples dating back to the 16th and 17th century, where Mala kings ruled, is partly in ruins. The one consolation, locals say, is that compared to Kathmandu, most of the historical monuments and temples here have not sustained much damage though homes -- made of mud and stones -- have been destroyed.
About three km from the main city on the outskirts of Bhaktapur, we arrive at Pikhel, a village where a cluster of 52 Dalit families reside. The earthquake has reduced the entire village to rubble. Each family has five to six members and as on Thursday the entire village had just two sacks of rice and some dal to survive on.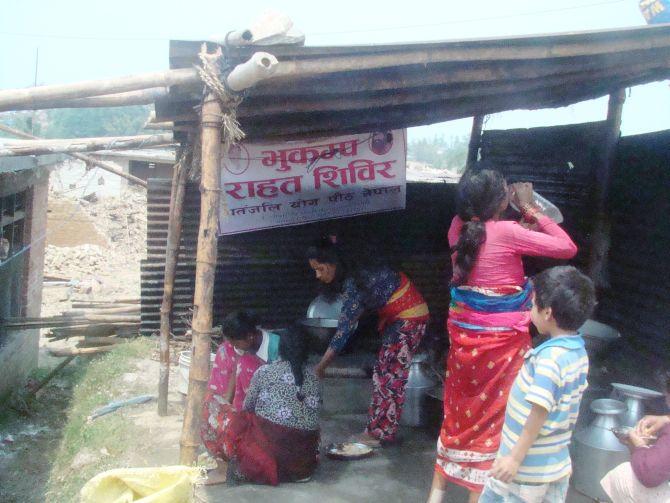 Villagers have lunch at the community kitchen. Photograph: Anusha Subramanian

"We need ration and shelter but we have not had anyone from the district headquarters come here," says Rajendra Bailkoti. The villagers had pooled around NPR 1,000 to 2,000 each to buy sacks of rice, dal, vegetables, salt, oil and spices to cook 'dal bhat'. "We are a total of 250 people here and we exhausted that supply in about five days," says Sonoj, a young man who spoke Hindi and English.
The villagers somehow managed to get a few tarpaulins and have built seven community shelters and three kitchen shelters where food for the entire community is prepared.
A Chinese medical team also visited the village and has held a medical camp to assess the health of the villagers. No ailments have been found as yet.
When asked if they have gone out to seek help, one villager says, "We are from the low caste so we are not a priority. Nobody has come here to find out what has happened to us. We have gone out to seek help but nothing has happened, we only got some packs of rice from Patanjali, run by Baba Ramdev."
Locals say that in Nepal the caste system is deeply rooted in society.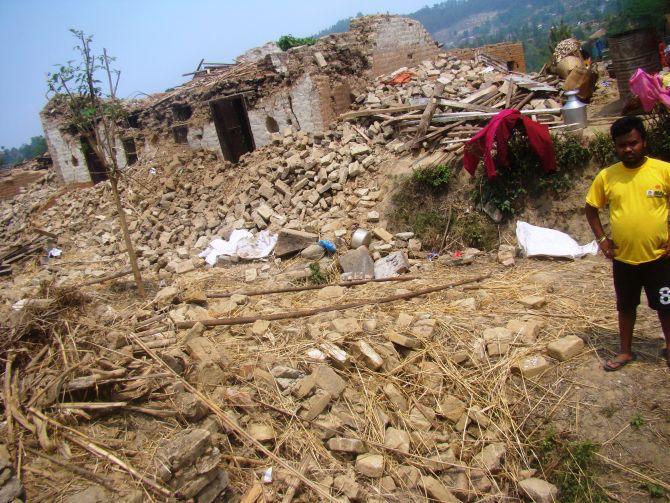 Pikhel village is about three km away from the main city on the outskirts of Bhaktapur. Photograph: Anusha Subramanian

"Right now we are not looking for individual help. As a community we need help," says Bailkoti.
When no relief was reaching them, the men from the village went to the district headquarters and submitted a letter stating their plight and what they need. They were assured that somebody would be sent to assess the situation in the village.
But the villagers say that no one from the government has come to the village.
"We have no hope of the government giving us anything," say the villagers unanimously.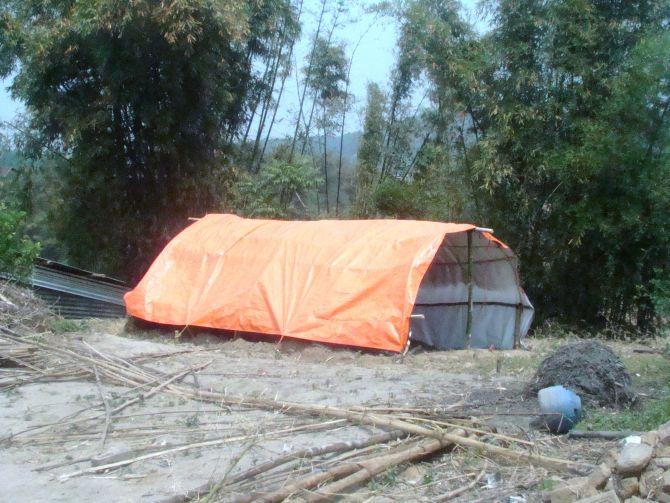 Villagers, whose homes have been destroyed, have built seven community shelters from tarpaulins. Photograph: Anusha Subramanian

It has been 12 days since the earthquake struck Nepal. While search and rescue operations have ended, the daunting task now is of supplying relief to the people. Relief is trickling in bits and pieces. The affluent locals who have the wherewithal to provide for the needy are doing so in their individual capacity.
Biju Shrestha is one such local school teacher from Bhaktapur who is doing his bit to help the Dalit families. He has so far got them some dry food, but that is barely sufficient for them. He is now trying to contact agencies that provide relief. While Shrestha continues to look for help, the community waits anxiously.
Anusha Subramanian is a mountaineer and independent journalist who has worked on disaster relief in Uttarakhand, Kashmir and Nepal. She is currently helping in the earthquake relief work in Nepal.