'Greek Landscape' is now the most expensive painting by Akbar Padamsee.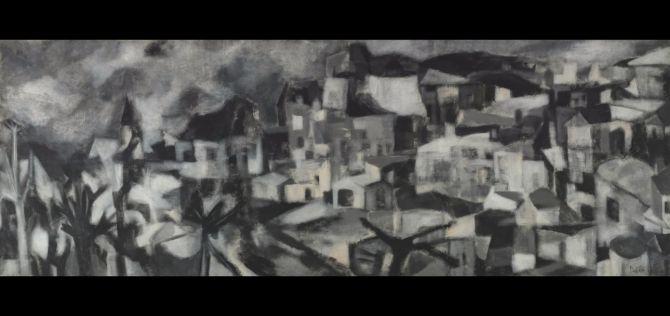 Akbar Padamsee's 'Greek Landscape' fetched a record Rs 19.19 crore at Saffronart's evening sale in New Delhi, making it the most expensive painting by the artist ever to sell at an auction.
"Padamsee's Greek Landscape trumped all expectations. The 4.3 x 12 foot canvas, estimated at Rs 7-9 crores, doubled its upper estimate. The winning bid surpassed the previous world record of Rs 9.3 crore, set by Sotheby's in 2011 for 'Reclining Nude'(1960)," Hugo Weihe, auctioneer and CEO of Saffronart said in a statement.
One of the four "works in grey" to be offered at the auction, the 1960 imagined cityscape was painted in a palette of varying intensities of grey and is believed to have established him as a master.
The artwork was first exhibited at the Jehangir Art Gallery in Mumbai and received particular attention at the time for its revolutionary approach and monumental scale.
The modern Indian art auction had a total of 87 lots from private collections, both across India and abroad and achieved a total sale value of Rs 68.55 crore against pre-sale estimate of Rs 62.1-87.8 crore.
The auction that witnessed the sale for 79 per cent of the lots, featured seminal works of revolutionary Indian artists from the post-Independence years.
Nasreen Mohamedi's 1960 oil on canvas fetched Rs 2.4 crore against a pre-sale estimate of Rs 2-3 crore, setting a world auction record for the artist.
"We are thrilled with the world auction records we set. The sale provided a greater spectrum of Modernist works, and works rarely seen at auction were well received. We were also gratified by the interest shown by international collectors," Weihe said.
Gaganendranath Tagore's 'Ruben's Sketch Book' sold for Rs 1.8 crore against an estimate of Rs 1.5-2 crore setting a world auction record for the artist.
Among the top lots were V S Gaitonde's Untitled oil on canvas (1970), estimated at Rs 10-15 crore which sold for Rs 10.12 crore, M F Husain's 'Dreams' (1979) estimated at Rs 3-5 crore sold for Rs 4.44 crore, S H Raza's 'La Terre' (1986) sold for Rs 3.84 crore.
"Artists such as Ila Pal, A A Raiba, Sir Jacob Epstein and G M Solegaonkar, whose works are relatively rare at auctions, were also well received," Saffronart said.
Image: The Greek Landscape established Akbar Padamsee as a master. Photograph: SaffronArt