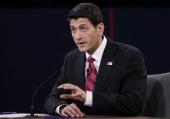 Republican vice presidential candidate Paul Ryan, in his cameo appearance in the swing state of Ohio, went full throttle, reports Rediff.com's Bikash Mohapatra
Waiting in an open space, when the temperature is as low as two degree centigrade, is not funny.
It seemed to be a long and endless wait, with nothing much to do but twiddle one's thumb and indulge in some chit-chat with a fellow 'waiter'.
It took three hours for the wait to end.
Paul Ryan, vice presidential candidate for the Republican Party, arrived at the Youngstown-Warren Regional Airport in Mahoning County, Ohio, in style -- his flight was parked right behind the dais so that it was easier for him to make his speech.  (Don't be surprised if an Indian politician follows suit)
Ohio is a swing state and therefore, despite having a busy schedule in the day – he travelled to five states within 24 hours – Ryan made it a point to make one last visit.
"One more day," he declared to thunderous applause from hundreds of people who had braved the weather and waited patiently for their leader to arrive.
"We will change the fortunes of this country on day one by electing Mitt Romney as the President of the United States," continued Ryan, adding, "You can tell about the momentum of things by seeing how these campaigns are coming to an end.
"We believe the government works for the people.  And that is exactly what we plan to do," he said.
The vice presidential candidate expressed customary gratitude to local politicians before predictably emphasising on the strategy of his party.
"We have a plan. You all by now know about our five-point plan. We are offering a solution which will involve real reforms and ensure real recovery," he said.
"We don't have to settle for what we have now. We can do better," he said, before training his guns on President Barack Obama.
"Obama tried," he began, by now familiar with exactly he had to say on the topic.
"He promised jobs," continued Ryan, adding, "We are 9 million jobs short of that promise. He said he would reduce the fiscal deficit by 50 per cent. It has doubled".
"It is clear that this government is not working.  Obama is trying to run the election to win by default," he said.
Romney's campaign has got a fillip ever since Ryan was named his running mate. The reason has become clear over the last few months -- the vice-presidential candidate is very articulate in his speeches and very meticulous in his choice of words.
"Romney and I are asking you to vote for us so that we can protect the laws of the country," said Ryan.
"At the moment, this country needs leadership and that leader will be elected in a day. Romney can fix it," he added, before proceeding to eulogise his senior colleague.
"This was a Republican governor of a Democratic state," said Ryan, adding, "Did he run down the Democrats? No. He found a solution. He is someone who knows how to find common ground without compromising on the core principles".
"You elect him and he will find a solution to all the problems this country is facing," said Ryan.
With little time left before the final leg of voting begins, Ryan expectedly went full throttle.
"We are in the home stretch. This is the final countdown. We have the momentum. Because we know we can do that," he said.
The Republican candidate vouched that if elected, his government will strive to do everything it has set out to.
"We aren't going to run away. We are going to face the problems and get the things done," he said.
Most of Ryan's rhetoric was predictable but convincing nonetheless. The only glitch being it lasted for precisely 10 minutes.
Three hours of waiting in freezing weather followed by a 10-minute cameo appearance. Disappointing, isn't it?
Well, Ryan's final rally in Ohio was precisely that.