Israel and Bhutan, however small, illustrate what governments can do, and the mountains they can move, if they really care for their citizens.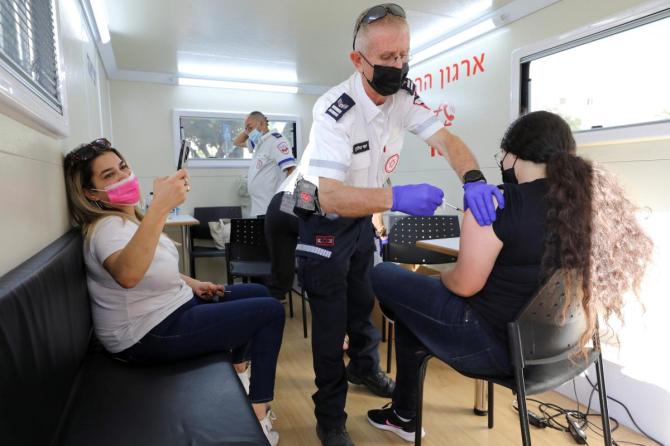 The first country to start a significant booster campaign for the COVID-19 vaccine is Israel.
Israeli Prime Minister Naftali released a statement Thursday: 'Reality has proven it: The vaccines are safe, they are proven to protect against serious illness and death. As with the flu vaccine, which needs to be re-administered from time to time, so too is the case here'.
Booster COVID-19 shots will be available in Israel from Friday to anyone above 60 who had his/her second vaccine shot more than five months ago.
Bennett was at pains to stress the importance of his message, asking that everyone make sure that they convince all their relatives above 60 to come forward for the booster shot.
'We must ensure that vaccinations outpace the pandemic', Bennett said.
Israel's decision to start up a nationwide-booster campaign -- the country has been aggressively pro-active in vaccinating its citizens right from the start -- comes on the heels of a paper tabled by pharmaceutical major Pfizer, which stated, according to The Washington Post, that while the Pfizer COVID-19 vaccine remained a strong deterrent to the deadly viral disease, they suggested its vaccines had 'slightly diminished effectiveness six months after inoculation' and advised that boosters might be required.
The jury is still out on how effective or instrumental a booster would be and countries of Europe and the US have not yet instituted a plan to administer booster shots to its senior citizens.
That didn't deter Israel to rush ahead and start up a booster shots drive, in spite of lack of regulatory approval elsewhere, especially crucially after a spike in COVID-19 cases.
Israel, which had vigorously and joyfully opened up earlier this year, after all its citizens were vaccinated, went from daily case loads of below 10 to 2,000 cases per day over the last few weeks -- a situation brought on by escalating levels of the Delta variant across the world.
It was noted that rise in cases had not led to a proportionate rise in hospitalisation and Israeli health authorities believe that the vaccine still provides 91 per cent protection against serious disease and hospitalisation even from the Delta variant.
But the vaccine, they say, offers only 40 per cent protection against mild disease, which spurred the government into taking a call on boosters and deciding to be global first movers, rather than waiting to see how boosters were panning out elsewhere in the world.
Meanwhile across the globe, another small, determined nation is executing its own courageous pushback against the dastardly pandemic.
Over exactly a week, in an extremely well-orchestrated vaccination campaign, Bhutan was able to vaccinate 90 per cent of its citizens with the second dose of the vaccine.
Over 4,800 health workers swung/sprung into action inoculating some 800,000 people in every wee hard-to-reach village of the snowy mountainous kingdom, according to another report by The Washington Post.
Like Israel, Bhutan has zealously guarded its citizens from the viral scourge. Borders have been closed for a year plus and those entering must quarantine for 21 days.
The first round of vaccines was administered with almost similar precision, kicking off in March on an auspicious day in the Buddhist calendar.
Net result: Only two people - yes, two -- have succumbed to COVID-19 since the pandemic began.
Bhutan's war-like efforts to complete the second drive of vaccination was lauded as an 'extraordinary achievement' by the UNICEF representative of the country, Will Parks.
Israel and Bhutan, however small, illustrate what governments can do, and the mountains they can move, if they really care for their citizens.
Feature Presentation: Ashish Narsale/ Rediff.com