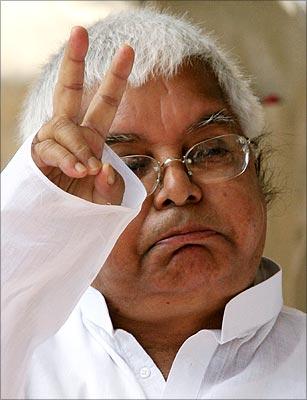 With Wednesday's Parivartan rally considered crucial to reassert the popularity of Rashtriya Janata Dal chief Lalu Prasad, the party has booked 13 trains to transport people to the event for Patna. "A total 13 trains have been booked from different destinations in Bihar and Jharkhand for Wednesday's rally," East Central Railway Chief Public Relation Officer Amitabh Prabhakar told PTI.
He said over Rs 1.11 crore payment has been taken by the railways for booking the trains. "We have nothing to do with the rally, we booked the trains for earning revenue," Prabhakar said. While the ECR has been paid to provide eight trains, three have been engaged from Eastern Railways for supporters in Jharkhand, while the Northeastern Frontier Railway would provide two trains to mobilise supporters from Seemanchal (bordering districts of Kishangunj, Purnia and Katihar and Araria) to Patna.
The rally, to be held at Gandhi Maidan here, would be first of its kind by RJD after 2005 when it lost power to the National Democratic Alliance in the state. It is being considered crucial to reassert the popularity of Lalu who has been lying low since the decimation of the RJD in the general elections and 2010 assembly polls in the state. RJD general secretary Ramkripal Yadav said the rally would decide the future course of politics in Bihar. "The Parivartan rally will be the manifestation of people's anger against Nitish Kumar government," he claimed.
Lalu had travelled across the state asking people to join the rally. According to a release by ECR's Danapur division, mail and express trains coming from Delhi would be halted at Danapur station in between 2 pm to 12 am.
Trains arriving from Howrah would be stopped at Rajendranagar station during this time. Passengers would be given necessary information regularly over loudspeakers at Patna junction as well on Danapur and Rajendranagar stations, the release said. The rally has sparked political mudslinging between RJD and the ruling NDA.
Chief Minister Nitish Kumar had said on Monday that the rally was being held to establish the supremacy of T2 (Lalu Prasad's son --Tej Pratap and Tejaswi Yadav) in place of S2 (his brother-in-laws Sadhu Yadav and Subhas Yadav). Lalu had shot back, saying Kumar was making such comments as he was afraid of the outcome of the rally which would sound the deathknell of his government.