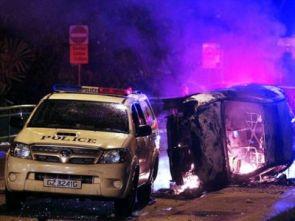 An Indian national in Singapore was on Thursday jailed for 18 weeks for his role in the country's worst riot in 40 years, becoming the third to be punished in the case.
Selvaraj Karikalan, 28, was among the 25 Indians charged for their roles in the December 8 riot in Little India.
Karikalan admitted his guilt to an amended charge of continuing in an assembly after it was ordered to disperse, under Section 151 of the Penal Code here, the Straits Times reported.
The sentence was backdated to the date of his arrest on December 8 last year.
Karikalan, who was a driver for a construction company, was originally charged with rioting, which carries a sentence of up to seven years and caning.
Two other Indian nationals, who were also part of the 25 facing rioting charges, were jailed for 15 weeks each this month, under the amended charge for failing to disperse on police order and having stayed on in the vicinity of the riot in Little India, a precinct of Indian-origin businesses, eateries and pubs.
With three jailed, 22 Indian nationals were now facing court trial for rioting.
The December 8 street violence left 49 police and home team officers injured and 23 emergency vehicles damaged.
Meanwhile, the state-appointed Committee of Inquiry continued its public hearing.
Wong Geck Woon, who was the timekeeper of a bus that was involved in the fatal accident leading to the riot, alleged she was assaulted by foreign workers after the accident.
Video footage taken from a camera in the bus showed a man beating Wong with his hands.
Recounting her experience that night, she said she was also hit by a beer bottle and a stone was thrown from outside the bus.
Wong claimed that she had encountered other unpleasant experiences during the course of her work, including being molested on New Year's Day two years ago by a foreign worker.
Indian-national Sakthivel Kumaravelu, 33, died after he fell onto the path of a bus on the night of December 8, which sparked a riot involving some 400 migrant workers from South Asia at the accident site.
© Copyright 2022 PTI. All rights reserved. Republication or redistribution of PTI content, including by framing or similar means, is expressly prohibited without the prior written consent.