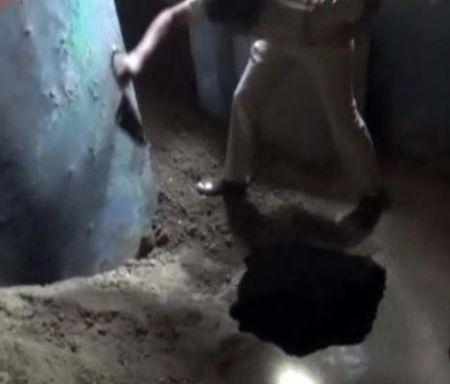 In a Bollywood-style heist, thieves dug up a 125-feet-long tunnel to a nationalised a bank in Sonepat district and broke into 77 lockers decamping with cash, jewellery and other valuables.
Though police and bank officials were yet to give an estimate of valuables stolen from the Gohana branch of Punjab National Bank, it is expected that the stolen cash and jewellery would be worth crores.
The incident came to light on Monday morning when the bank was opened after a holiday by its manager Devender Malik, police said. They suspect the robbery was carried out on the intervening night of Saturday and Sunday.
The tunnel to the bank which was dug up from a nearby unoccupied house was nearly 125-feet-long and 2.5 feet wide, police said, adding that a special investigation team has been set up to probe the robbery.
The robbers, who carried out the heist similar to those shown in Bollywood's popular 'Dhoom' franchise, randomly targeted the lockers which they could easily break.
Police have registered a case under relevant sections of the Indian Penal Code in connection with the incident, but so far have not managed to achieve any breakthrough.
According to Sonepat's Superintendent of Police Arun Nehra, the thieves cleaned up 77 of a total 350 lockers at the bank, which is located in residential-cum-commercial area of Gohana town.
He blamed the bank authorities for not following proper norms mandatory for the storage place where lockers are kept.
"The job of the thieves was made easy as the floor of the locker room was an ordinary cement floor commonly seen in houses and it was easily punctured by the robbers.
"As per the norms, it should have been built up of a thick RCC and steel plates and other reinforcements should have been there which would have made it difficult or impossible for the miscreants to break-in," Nehra said.
He further said that it appears that the thieves also faced little difficulty in opening the lockers using ordinary iron tools.
Refuting the charges, bank manager Malik said, "We have followed the RBI guidelines. The floor was eight to nine inches in depth. Even the walls were built of solid concrete."
Malik said it appears the robbery was carried out after meticulous planning by the robbers which may have stretched over several days.
"Gohana branch of the PNB was one of the oldest bank branch having nearly 35,000 account holders... We are having saving deposits of about Rs 125 crore," he said.
Malik said as far as having CCTV cameras inside the locker room was concerned, no electronic surveillance is maintained inside such places.
The bank manager said the building where the tunnel opens had been lying unoccupied for past 4-5 years.
On being contacted, Chandigarh-based General Manager of Punjab National Bank B M Padha refused to comment on police claim that norms were not followed in having strong reinforcements inside the locker room.
"I am visiting the area today. I don't have full facts and figures as of now. I will be able to speak on this after getting full details," he said.
Meanwhile, Gohana DSP Rajiv Deswal said the thieves had tampered with 89 lockers, but managed to clean up 77 of them.
Asked how much cash and jewellery and other items would have been stolen in the incident, Deswal said, "It is difficult to arrive to an estimate since whatever the locker holders keep in the lockers is secret. Only the locker holder knows what is inside."
"Still, we are trying to verify things and let's see if we can have a rough estimate. We have registered a case and are hoping to nab the robbers, who still remain unidentified, soon," he added.
The bank officials have asked the clients whose lockers were broken open to provide details of their contents.
Distraught over losing their valuables, several locker holders of the bank sat on a dharna in Gohana on Tuesday alleging lapses on part of PNB which led to the heist.
A middle aged man, whose locker is among those cleaned up by the robbers, told reporters that he had kept some valuables as he was to marry off his daughter soon. He said he was now a shattered man since he had lost all his "precious items".
When asked if the bank had any liability towards compensating the locker holders whose storage compartments had been broken into, Malik said, "As per the RBI guidelines there is no such liability. Whatever is kept inside locker only the holder knows, there is no record for this with the bank."
Image: Officials inspect the 125-feet-long and 2.5 feet wide tunnel that the thieves dug.