Dense fog shrouded the national capital on Tuesday morning, leading to cancellation of two flights and delaying 10 other flights and 55 trains.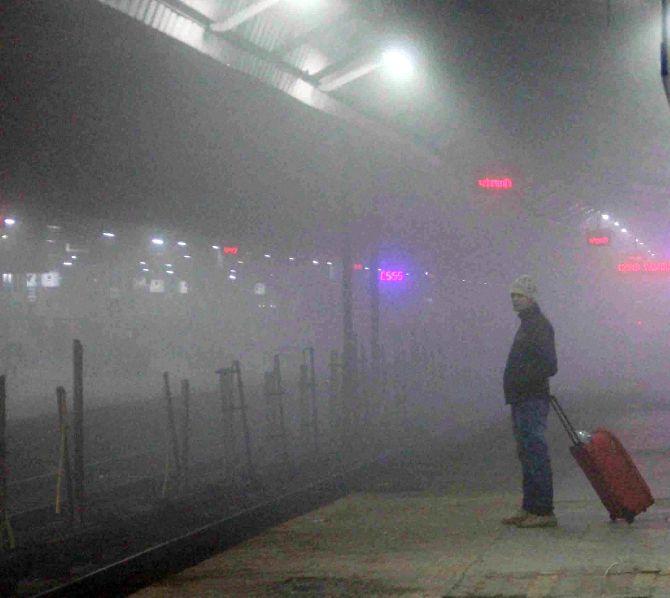 IMAGE: A stranded passenger waits at a platform after trains were rescheduled owing to the heavy fog. Photograph: PTI Photo
According to the weatherman, the minimum temperature was recorded at 9.5 degree Celsius, two notches above the season's average.
The weatherman said visibility recorded at Safdarjung and Palam observatories was less than 50 metre at 8.30 am which affected both flight and train operations.
Flight operations at Delhi Airport were severely hit after the visibility dropped below minimal level. As many as two flights were cancelled and over 10 flights delayed due to dense fog which engulfed the runway, airport sources said.
According to Air India, due to dense fog, the visibility has fallen drastically. "The flight services in and out of Delhi has been affected. Flights are holding up in different airports from one to four hours," the airline said.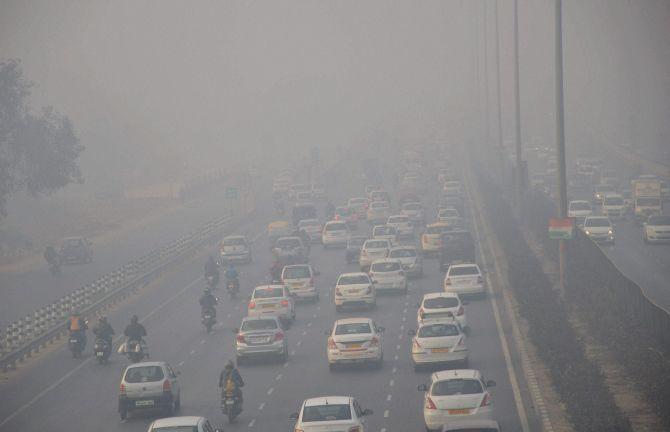 IMAGE: The national capital witnessed traffic snarls as visibility was less than 50 metres. Photograph: PTI Photo
Due to bad weather, 55 trains were running late by several hours while 22 had to be rescheduled.
The weather department said that humidity level recorded at 8.30 am was 100 per cent, adding that skies will remain partly cloudy throughout the day.
"The maximum temperature is expected to settle at 24 degree Celsius," an official of the department said.
On Monday, the maximum and minimum temperature were recorded at 24.3 degree Celsius and 9.3 degree Celsius respectively.