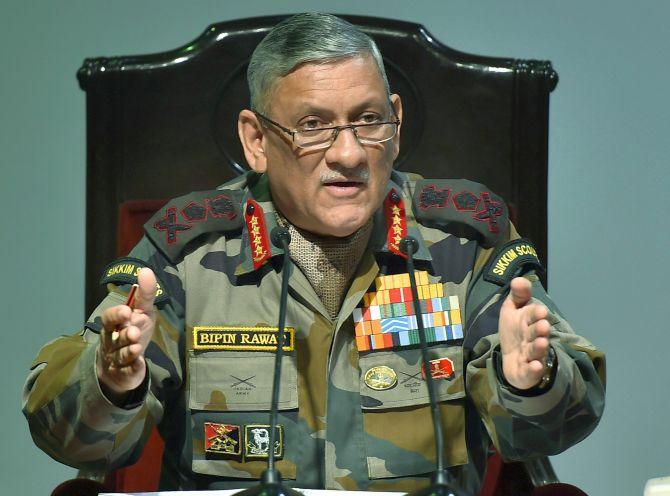 Army Chief General Bipin Rawat on Tuesday lauded China's military prowess, saying the neighbouring country, along with its economic rise, also focused on military modernisation.
"They have arrived well before the intended time than we had thought they would arrive," Gen Rawat said at an event organised by the Vivekanand India Foundation.
Last week, China unveiled its largest defence spending increase in three years, setting an 8.1 per cent growth target this year, fuelling an ambitious military modernisation programme and making its neighbours nervous.
Today, China is the second largest economy in the world.
"While China ensured that their economy must rise, they did not forget the rise of their military power.
"They ensured that while their economy was developing the military power must rise simultaneously and that is why they are strong today in the international world order challenging the might of the United States of America, which was until now the sole security provider," he said.
Gen Rawat said the world looks at India as a country that can balance the rise of China in the region as it was showing its 'assertiveness'.
Gen Rawat also said strong economic growth is only possible with a strong defence.
"We cannot become the net security provider if the economy does not keep pace with the changes," Gen Rawat said.
The Army Chief said India has depended on import of weapons, but it is now focusing on manufacturing weapons in the country with the transfer of technology.
The reliance of the armed forces has also been on ordnance factories but the picture is now changing, he said.
"We have always depended on import of equipment in our country. And therefore, what happened was, we did not allow the indigenous industry to develop," Gen Rawat said.
The Army told a parliamentary panel that the funds allocated to it in the defence budget for the next fiscal is insufficient to deal with various security challenges facing the country including from a more assertive China along the northern border and from a hostile Pakistan on the western frontier.
Both China as well as Pakistan were carrying out modernisation of their defence forces in 'full swing'.
Rawat's comments were in response to a question in this regard.
To step up defence production within the country, India is looking at collaborating with other nations, he said.
Gen Rawat added that the Request for Information (RFI) has been issued for nine types of very high quality ammunition so that they can be manufactured in our country with transfer of technology.
He said India's decision not to intervene militarily in the ongoing Maldivian crisis was a well thought out, but only time will tell whether it was a right step or not.
"I am quite sure that diplomats and political entity in the country did look at Maldives and did what they thought was the best for them. How this will pan out in future, let's wait and watch," Gen Rawat said.
He was responding to a question on whether India should militarily intervene in the Maldivian crisis amidst growing Chinese influence in the Indian Ocean region and its proximity with the archipelago nation.
Maldives has been witnessing political crises after an emergency was declared in the island nation by its President Abdulla Yameen.
India has expressed its displeasure over the development.
"Did we do the right thing by not stepping in? Only time will tell. I am quite sure that whoever took a decision on whether we should intervene in Maldives or not it must have been a well-thought out decision. We should wait and watch and not jump the gun," he added.