The United Kingdom votes on June 8.
A quick guide to the post terror election.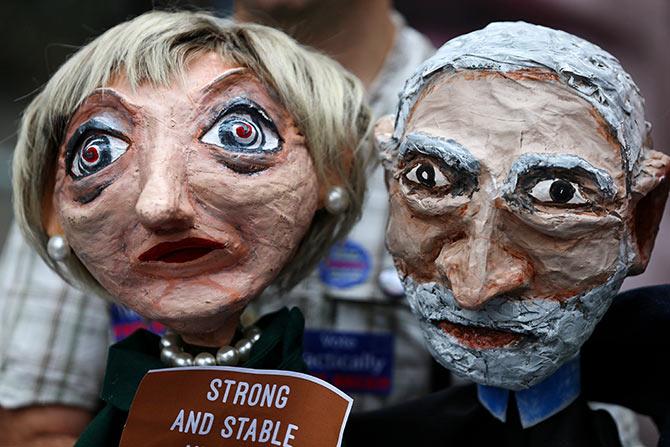 IMAGE: Puppets of Conservative Party leader Theresa May and Labour Party leader Jeremy Corbyn. Photograph: Neil Hall/Reuters
Why we should follow the British election
Well, because of Brexit! That is, Britain's historic exit from the European Union last June.
Regardless of who wins the election, the United Kingdom's divorce from the EU is now down in the history books as an unstoppable event.
The outcome of the election will not change that since both the Labour and Conservative parties have promised to see the will of the British people implemented.
But each party will go about Brexit with different game plans.
How the UK and EU will take Brexit forward will affect immigration, currency, finance, security and trade, not just in Europe, but throughout the world, even our corner of the planet.
India does a lot of business with Britain. We can see that Prime Minister Narendra Modi will continue to have an amiable equation with incumbent Prime Minister Theresa May.
Will he jive with Labour Party leader Jeremy Corbyn? Hmmmm, we are not sure about that...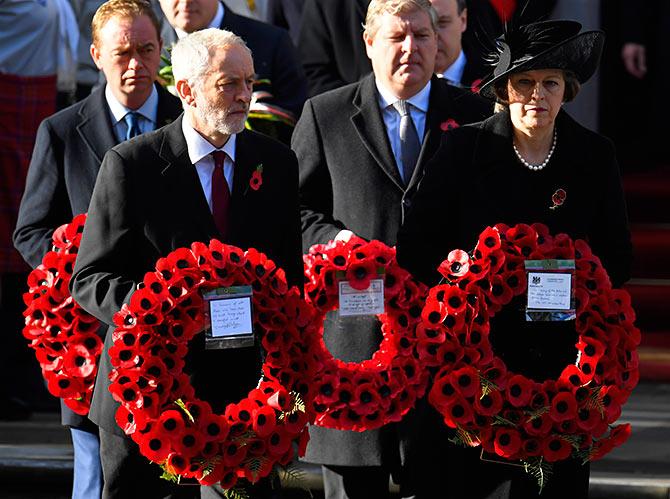 IMAGE: After the London and Manchester attacks, terrorism is now the leading issue in Britain's general election.
Jeremy Corbyn, left, and Theresa May, seen here at a public engagement. Photograph: Toby Melville/Reuters
Who the lead characters in this race are
Prime Minister Theresa May called a snap general election -- the first time such an election was called since 1974 when Edward Heath, another Conservative leader, did so.
Ted Heath lost that election. But May could win her gamble even though her party's once huge lead in the polls has shrunk since she called the election.
An election was not due till 2020. The unexpected June 24, 2016 result of the Brexit referendum led to several consequences.
David Cameron, the prime minister who announced the Brexit vote to vanquish the challenge the UK Independence Party posed to the Conservatives, resigned.
The ensuing leadership election was seen as a likely win for Boris Johnson, Cameron's flamboyant rival.
But Boris -- who as London's mayor hosted the successful 2012 Olympics -- was shocked into abruptly pulling out of the race when Michael Gove, his ally, betrayed him and announced his own candidature.
Gove was thumped in the Conservative leadership election by Theresa May, then Britain's home secretary, who quickly went on to become prime minister.
May's decision to call a snap poll was based on her growing popularity as prime minister and her almost Thatcherite determination to win a mandate for herself (the 2016 mandate was for David Cameron's very different brand of Conservative politics) and have her way on navigating the direction of Britain's Brexit politics.
A snap poll, by the way, is what we like to call a mid-term election.
Each of Britain's 650 parliamentary constituencies -- each with a population roughly between 56,000 people (Wales) and 72,000 (England) -- will vote on Thursday.
May's rival is Jeremy Corbyn, the crusty long-serving MP who won leadership of the Labour party against all odds when Ed Miliband stepped down after Labour lost the 2016 election.
The third party in the reckoning is the Scottish National Party, helmed by Nicola Sturgeon, which wants independence for Scotland.
Great Britain consists of England, Scotland, Wales and Northern Ireland.
May's advantages:
She represents strong, straightforward, leadership. She is not Maggie T yet, but clearly she is in that no nonsense, toughie mould.
The Tories probably have a better handle on Brexit, the economy, trade and foreign policy.
May seems to have a clear vision, offers stability and much-needed security for Britain, and has most of her party behind her (unlike poor Corbyn who has battled party rebels throughout his tenure).
Her middle-class background and vicar's daughter lineage -- by the way, she was introduced to her husband Philip by Benazir Bhutto when the three of them were at Oxford; she is also a big fan of cricket and adores Geoff Boycott -- suggests that she can get through to sections of the British people usually allergic to the Tories.
Corbyn's advantages:
After the three terrorist attacks, May's role in cutting back on the police force when she was home secretary has put her in an awkward spot. Also, that the attacks occurred on her watch will clearly be an issue.
Corbyn's immigration policies are kinder than May's hard-nose approach.
Labour will do better with voters for its charter on boosting the National Health Service, housing, social care and education.
The NHS and social care are important issues for a graying population.
The £8 billion May has promised in the Tory manifesto for the NHS is said to be woefully short of what it needs.
Corbyn may not raise taxes the way the Tories will. And his progressive tax policies are admired.
Britons seem to have warmed to his grumpy persona in recent months, and his rise in the opinion polls indicates that Thursday night's result won't be the expected cakewalk for May and the Tories.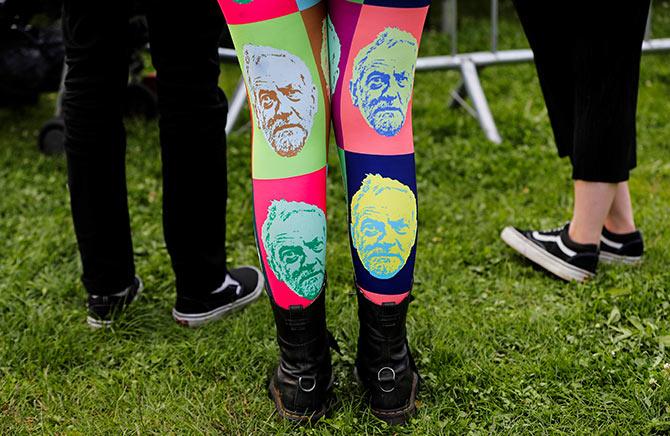 IMAGE: A woman wearing Jeremy Corbyn tights at a Birmingham election rally is a good indicator on how far the initially much mocked Labour leader has traveled in the affections of the British people. Photograph: Darren Staples/Reuters
Will the three almost back-to-back terror attacks -- London, Manchester and again London -- in the last three months have an effect on the election?
Terror attacks could play either way in an election.
While older voters may like May and the Conservatives' stand on national security and cautious immigration, youngers voters could find fault with the prime minister for eliminating 20,000 police officers' jobs when she was home secretary.
What works in May's favour is Corbyn's rather muddled plan (that is, if he has one) to quell terrorism.
Unlike Tony Blair, who ended Labour's long stay in political Siberia by winning the 1997 general election, the current Labour leader is no hardliner on national security.
Clearly, terrorism and the challenge posed by young Islamists embedded in Britain's social framework will be a deep concern for anyone who wants to lead Britain in the next five years or more.
And the fact that May as home secretary has prior experience of dealing with such problems may finally tilt the vote on terror her way.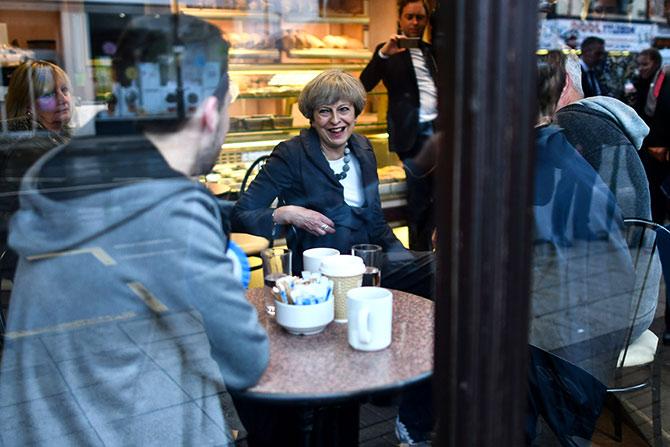 IMAGE: Theresa May visits a bakery on the campaign trail, June 6, Fleetwood, Lancashire. Photograph: Ben Stansall/Reuters
What if May loses?
In the unlikely event that May and the Tories lose, it certainly does not mean that Brexit will not happen or that Britain will be continue to stay in the European Union.
Brexit reversal would require a fresh national referendum, which is unlikely given the present security situation.
Is a Conservative loss possible?
Till a week or so ago, pundits predicted a big win for May and her party.
But a week -- as Harold Wilson, one of May's predecessors as prime minister, once said -- is a long time in politics.
Especially when three terrorists came trampling through that week, inflicting murderous mayhem and transforming the election campaign.
In that time Labour has closed in, and the gap between the two parties is not as large as it was three months ago.
Predictions for a hung House of Commons are swirling about.
If that happens, May would have to step down -- since she called the snap election -- and Boris Johnson may get his big chance to achieve his dream of being prime minister.
And if May wins?
The new Iron Lady from Oxfordshire won't have much time to celebrate.
Brexit negotiations will be on hardly 11 days later.
No champagne parties either as Britain mourns its dead.
And national security will dominate her time more than anything else in the weeks and months to come.