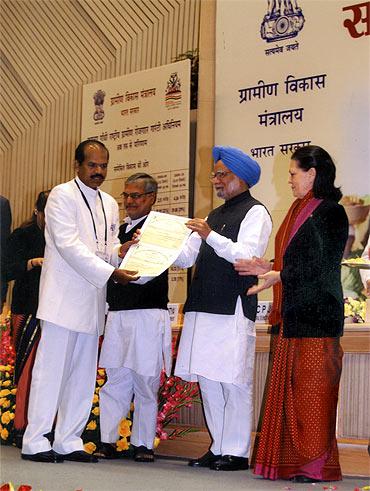 Many regard the National Rural Employment Guarantee Act, the flagship welfare programme as the best scheme of the Congress-led United Progressive Alliance government.
The act aims at enhancing the livelihood security of people in rural areas by guaranteeing 100 days of wage-employment in a financial year to a rural household whose adult members volunteer to do unskilled manual work.
It has certainly helped them win elections. It has given villagers a reason not to migrate to the cities for employment. It has raised the minimum daily wage to Rs 100 in rural India.
Last year, Nagapattinam district in Tamil Nadu won a national award for 100 per cent utilisation of the NREGA funds.

Former Nagapattinam District Collector M Jayaraman, an Indian Administrative Service officer, recently received the award from Prime Minister Dr Manmohan Singh.

M Jayaraman is now the district collector of Tirunelveli district in Tamil Nadu. In his interview with rediff.com's A Ganesh Nadar, Jayaraman discusses the pros and cons of the NREGA programme.

How did you ensure 100 per cent utilisation of NREGA funds?

Nagapattinam is an agrarian district. It was carved out of Thanjavur district. As it falls in the Cauvery delta, the soil is soft and thus perfect for NREGA work. In 2008, a devastating cyclone hit Nagapattinam. The river, canals and even roads had been breached in several places due to the disaster.
Thus, there was a lot of scope for repair work. We filled all the breaches with the allotted NREGA funds. Work opportunities are limited in Nagapattinam. There is work only during the transplanting and the weeding season. Harvesting these days is mechanised. Therefore, people came willingly for NREGA work.

How long did this take?

It was done over a period of one year. The block development officers and project officers worked hard to ensure that work was done according to the prescribed standards. We used to take attendance twice a day, at 9.30 am and again at 4.30 pm. I personally visited 142 work sites and interacted with the workers and panchayat officials.

Does 100 per cent utilisation mean that 100 per cent of the beneficiaries got work and salary?

It does not mean that. It means that we spent the money allotted to us. We gave work to everyone who wanted it. Though a lot of people registered in this scheme, all of them did not come to work. Actually, only 34 per cent of the people came to work.

How is the NREGA being implemented in Thirunelveli district?

We have been giving work regularly. Last week the salary bill was Rs 1.53 crore, I have asked them to raise it to Rs 2 crores per week. After the harvest season we will start de-silting tanks and supply channels. Our total allotment here is Rs 65.45 crore. So far we have spent Rs 50.16 crore.

What are the loopholes in this scheme?

Firstly, all those who register do not come to work. Secondly, the quantum of work is not measured properly when they work on slopes. People who come to work often leave early. That's why I insist on attendance twice a day. They also have a habit of sleeping in the shade and working only when an officer is present.

In one village that we visited we found the job cards in the panchayat office. Thus the village president can add as many workers as he desires?

This is wrong. If we come across such a case we will take strong action against the concerned village. Moreover, officers from the BDO office measure the work done, before and after. He cannot randomly add workers without work being done.

As the NREGA specifies that this fund cannot be utilised for buying material, we came across some villages where 'un-needed' roads were going to 'unnecessary places'.

Yes! That is a problem that we are circumventing by converging it with other schemes. We first make sure a road is needed. When a road can connect two habitats, we first lay a mud road with NREGA funds and then convert it into a metal road under the Prime Minister's Gramen Sadak Yojana.

If a bus has to run on the new road, then after laying a mud road, we can convert it into a metal road using funds from the National Bank for Agriculture and Rural Development.

De-silting work is necessary. But it is already a drain on Member of Parliament local area development funds. I call it a 'drain' as it cannot be verified once water flows in. Now you are using NREGA funds for the same work?

We have stopped de-silting work under MPLADS. Earlier it was happening but not now. NREGA work is always verifiable. The quantum of sand removed is first measured, and only then the payment is made.

In one village, sand from a dry canal was being sold and being carried away on donkeys. They were then showing the same area as work done under NREGA and claiming payment.

We will take severe action if such acts come to our notice. Firstly, sand is classified as a mineral. It cannot be sold without prior permission. Secondly, claming cleared area as NREGA work is a criminal offence.

In panchayat work that is being given on tenders, why can't the labour component be linked to NREGA workers? Thus we can make it productive work.

After giving work to a contractor, I cannot force him to use my labour. Firstly he will ask them to come at 6 am if need be. He might ask them to work at night if need be. The NREGA workers will insist on their own timings.
They might not even listen to him. They will say, 'The government is paying us and we are working for the government, not for you.'

Thus it will prove counter-productive. The contractor will incur losses and the work will suffer.

What more can be done in NREGA work?

Water hyacinth is a weed that is choking the water flow in the entire Thambiraparani basin. Once the water dries up, this weed also dries up. When de-silting work is done, only the sand is removed. Now I have asked them to remove the water hyacinth too. It grows again once the water comes back. By removing it from the river and canal bed, we will be doing a great service to the farmers. Water supply will definitely improve.

When people work less, their salary is cut and they get less pay. After 100 days, what happens to the remaining funds?

Less pay is not the rule, but the exception. When we cut salary on one day and penalise them, the next day they make sure that it does not happen. After that they ensure that they are eligible for Rs 100 daily wage.

This is not difficult as our officers measure the area they have to work and pre-mark it before they start.

Don't you think we should have a common platform where MPLAD, MLALAD, Prime Ministers Grameen Sadak Yojana, Tamil Nadu government's Anna Marumalarchi Thittam are synchronised at the village, town and district level to avoid wastage and loot of funds?

We are already converging NREGA work with the Prime Minster's fund and state funds. We cannot decide on the MPs and MLAs' fund, as it is their discretionary fund.

Will it help if NREGA salary is credited to bank accounts?

Banks have less staff in rural areas. Going to the bank and withdrawing money takes time. They will lose one day's salary if they go to the bank. So it is better that they are paid in cash. They are paid every Tuesday. Two members from the workers are included in the salary payment committee. So they can observe and report any irregularities.
Image: M Jayaraman recieves the national award for 100 per cent utilisation of NREGA funds from Prime Minister Manmohan Singh and UPA chairperson Sonia Gandhi in New Delhi.