'My father sacrificed his life for the country, we are proud of him,' say the three daughters of soldier Sunil Kumar Vidyarthi who died fighting terrorists at Uri base camp.
M I Khan reports of their courage.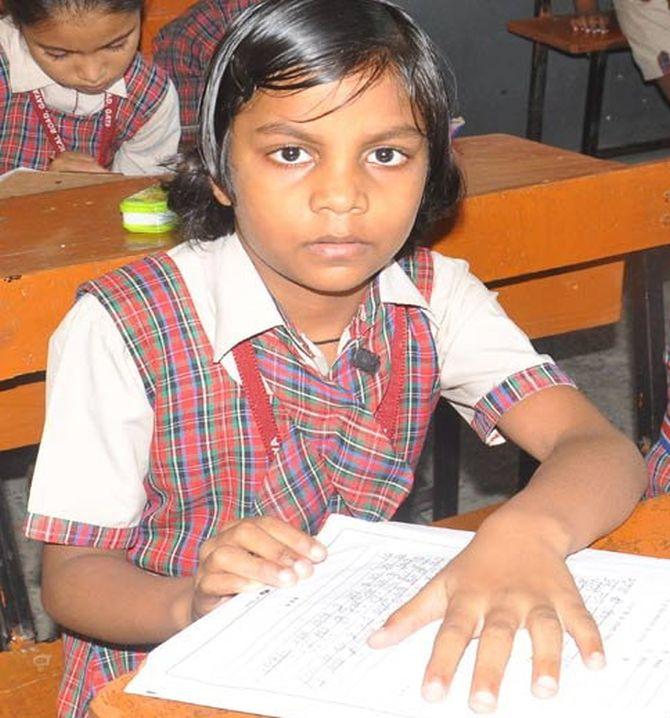 IMAGE: Anshika, Naik Sunil Kumar Vidyarthi's daughter, appeared for her examination on Monday despite the great loss. Photograph: M I Khan
There are several faces of bravery.
There's Naik Sunil Kumar Vidyarthi who sacrificed his life for his country while fighting terrorists that had gained access to the Uri base in Kashmir on Sunday.
And then there's Aarti, Anshu and Anshika Vidyarthi, the daughters of the slain soldier, who went ahead and appeared for their examinations in school despite the great loss they endured at such a young age.
Naik Sunil Kumar, a resident of Boknari village in Gaya, about 117 kilometre south of Patna is survived by his wife, three daughters and a two year old son.
For the three daughters, their father's martyrdom is a matter of pride. "Mere papa ne desh ke liye jaan qurbaan kar diya hai, unki sahadat pe hum teeno bahno ko garv hai (My father sacrificed his life for the country, we are proud of him)," said Anshika.
IMAGE: Naik Sunil Kumar Vidyarthi's wife is inconsolable and keeps weeping. Photograph: PTI
On Monday, just a day after their father was slain, the three courageous girls appeared for their examinations. When asked how they were able to do it, coping with the grief, Aarti, the eldest daughter at 14, said, "We have to work hard and excel at our studies as that is what our father wanted. He could not persuade his higher studies due to poverty, but wanted us to do so."
They admitted a pall of gloom had fallen their home and their mother and grandparents were inconsolable.

Anshu said that their two-year-old brother was unaware of what had happened but he is also very upset as mother keeps fainting and weeps uncontrollably."

Hearing the news that one of their sons had been martyred in the attack, residents of Boknari, and the rest of Gaya converged at the Vidyarthi household to pay respects to the fallen hero and salute their boy.