Police in India put up with long and irregular working hours without offs with more than 68 per cent Station House Officers and over 76 per cent supervisory officers and other personnel remaining on duty for 11 hours or more every day, a study has said.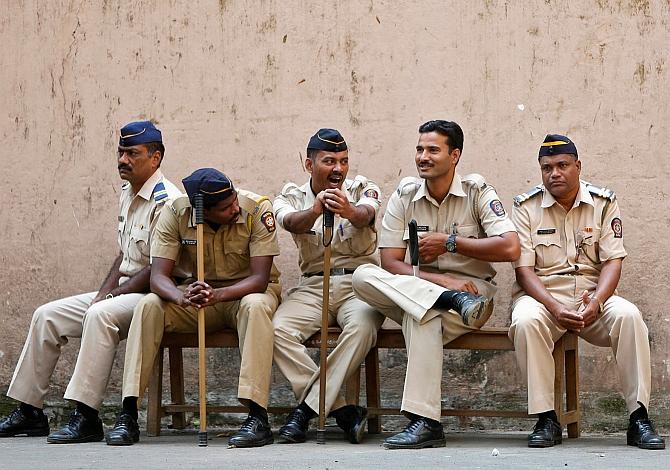 According to the study sponsored by the Bureau of Police Research and Development, nearly 90 per cent of police station staff across the states and the various types of police stations, currently work for more than eight hours a day.

"Further, according to more than 68 per cent of SHOs and over 76 per cent of supervisory officers, staff members of their police stations have to remain on duty for 11 hours or more per day.

"27.7 per cent SHOs and 30.4 per cent supervisory officers even reported that their staff worked for more than 14 hours a day," says the study, 'National Requirement of Manpower for 8-Hour Shifts in Police Stations'.

More than 73.6 per cent of police station staff indicated that they were not able to avail weekly offs even once a month.

Though the SHOs were guarded in their responses on this aspect, yet nearly 60 per cent of them confirmed that their staff was either unable to avail weekly offs even once a month or could avail do so, at the most, once or twice a month.

"What makes the situation even worse is that most (over 80 per cent) of the staff are commonly recalled to duty during their off time to deal with emergencies of law and order, VIP bandobasts or other matters.

"A majority of SHOs also confirmed this trend. The situation of inordinately long and irregular working hours for police station staff is, thus, quite serious," the study says.

The BPR&D sponsored study says that long and irregular hours have multiple negative impacts on efficient policing, since weary, over-worked and over-exhausted personnel cannot be expected to put in their best in their work.

The study establishes the resultant negative effects of the undue physical strain leading to cumulative physical as well as mental fatigue for personnel.

Nearly three-fourths (74 per cent) of the
respondents among police station staff reported that the current working hour regime led to various kinds of health problems for them.
A large majority (over 76 per cent) of SHOs also felt that the current duty hour arrangement was deleterious to the health of staff.
Most of the specific health problems enumerated by the staff respondents in this regard fall in the domain of occupational hazards and can be directly attributed to long hours on the job.
"Given the healthcare systems normally applicable to government employees, it could as well be that government expenses to treat these health consequences, along with the quality of man-hours lost due to their adverse effects, would cost the police organisation much more than operating in shifts," it says.
The study also brings out that the current duty-hour regime is not found conducive by police station staff for attending to their personal/family needs and social life and commitments.
That a very large proportion (nearly 80 per cent) of staff has averred so, needs to be taken serious note of, the study adds.
The responses of staff, cutting across rank, age groups and educational qualification clearly bring out widespread disenchantment with the existing working hour regime. This should ring alarm bells, the study says.
An equally large number (82 per cent) of SHOs also either specifically agreed with this or preferred to evade the question.
All this, in turn, takes a toll on the morale, motivation and self-esteem of the staff. The overall frustration manifests itself in the offensive conduct and behaviour with the public by many of them, which leads to erosion of societal image of the police and alienation of the public.
"The problem of inordinately long working hours of police station personnel is serious. The situation cannot be compared with the requirement of overtime work faced by employees in other government offices and establishments.
"For them, in most cases, it is an occasional requirement and not an all-365-day affair. Further, they are either paid adequate overtime allowance or allowed compensatory off time in lieu of extra hours put in," it says.
© Copyright 2023 PTI. All rights reserved. Republication or redistribution of PTI content, including by framing or similar means, is expressly prohibited without the prior written consent.