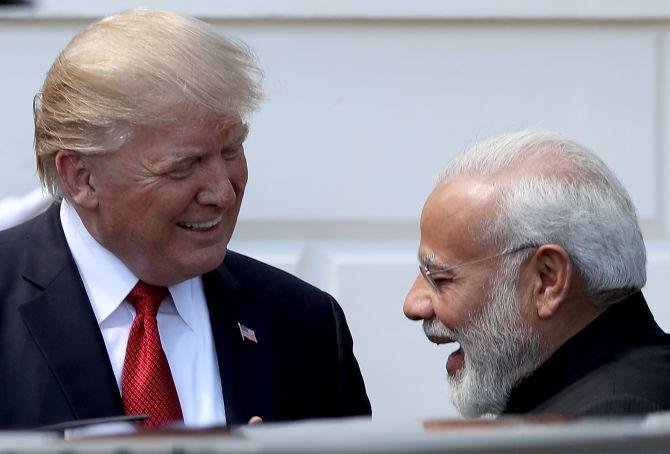 Prime Minister Narendra Modi has emerged as the "most tweeted about world leader" after United States President Donald Trump in 2017, microblogging site Twitter said.
Twitter said Trump with 44.1 million followers and Modi with 37.5 million followers are respectively the first and second "most tweeted about world leaders" for the year 2017.
Other world leaders to figure in the top 10 list are Nicolas Maduro from Venezuela, Recep Tayyip Erdogan of Turkey, Emmanuel Macron from France, Enrique Pena Nieto from Mexico, Mauricip Macri of Argentina, Britain's Theresa May, Columbia's Juan Manuel Santos and Akun resmi Joko Widodo of Indonesia.
Two postings of former US president Barack Obama were among the top three most-liked tweets of 2017.
Obama's tweet "No one is born hating another person because of the colour of his skin or his background or his religion" was the second most retweeted tweets of the year.
A tweet by Carter Wilkerson "Help me please... a man needs his nuggs" which was retweeted 3.6 million times was the most retweeted tweet of this year, according to a data compiled by Twitter.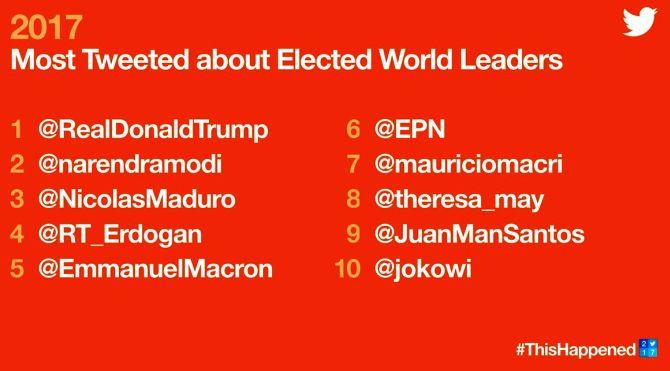 Obama's Twitter handle -- @BarackObama -- has 97.6 million followers.
Indian-American Preet Bharara, this year, emerged as the top followed new US political account.
The top 10 most tweeted-about news outlets of the year are Fox News, CNN, New York Times, MSNBC, Washington Post, The Hill, NBC news, ABC, Politico and AP.
And the top tweeted elected officials this year were that of Trump, Vice President Mike Pence and House Speaker Paul Ryan.
Image: Trump with 44.1 million followers and Modi with 37.5 million followers are respectively the first and second "most tweeted about world leaders" for the year 2017. Photograph: Win McNamee/Getty Images