'You know the difference between being brought up by a mother and a step-mother?'
'As long as Amma was there we had nothing to fear. Now the step-mother is there and we are on the streets.'
Report and photograph: A Ganesh Nadar/Rediff.com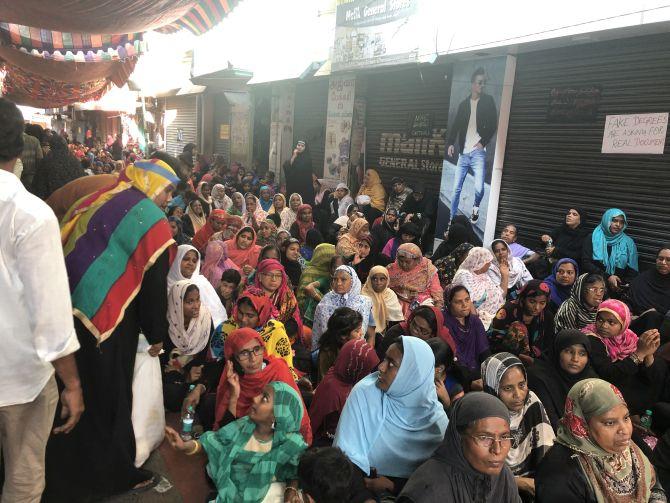 On a street off Chennai's main business area of Vannarapettai, also known as Washermanpet, a huge banner proclaiming itself as 'Chennai's Shaheen Bagh' welcomes you.
Like the protests that are currently on in New Delhi against the Citizenship (Amendment) Act, the Chennai protests against the legislation too are led predominantly by Muslim women.
The protestors, who have been on a sit-in protest for the 11th day (as on Monday), want the state government to pass a resolution against the CAA and scrap the National Population Register and National Register of Citizens, but the All India Anna Dravida Munnetra Kazhagam government led by Chief Minister Edappadi K Palaniswami, an ally of the ruling Bharatiya Janata Party at the Centre, has refused to relent.
On February 20, the protestors took out a massive rally to the state secretariat to hand over a memorandum of their demands.
The next day, when I visited the protest street, policemen lined both sides of the road. A young man was writing down the names of all the journalists who had come to report on the protest.
Inside the street, women were sitting in rows, some quiet while others were talking to their neighbours in a low voice. The average age of the women at the sit-in was well above 40.
A young school girl distributed water bottles while another young girl recited the slogans with her eyes closed.
With a loudspeaker showing the way the women chanted "No CAA! No NRC! No NPR!" and then went back to chatting among themselves.
Young men distributed food packets and water, a late lunch as it was already 3 pm.
They had laid a carpet on the street for the women to sit on. One or two chairs were visible for the ones who could not sit on the floor.
Many were sitting on the ledges of houses and shops on the street.
We spoke to a few of them to ask why they were protesting.
Malimi Bi, 75 years old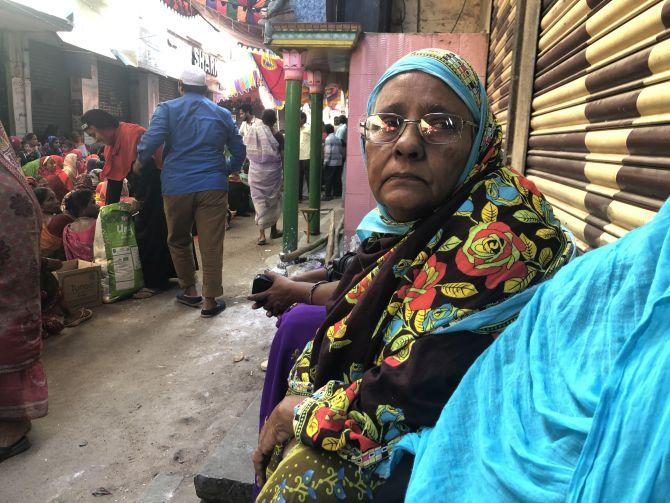 I am not inspired by the Delhi protests. I am here because I don't like any of these new laws. So many years have gone by and nobody asked me so many questions.
I don't have a birth certificate, nobody has asked me for a birth certificate till now. Those days nobody bothered about these certificates.
I used to roll bidis for a living and now I get Rs 500 pension from that work. I was living in peace, but these new rules and regulations have destroyed our peace.
Saleema, 38 years old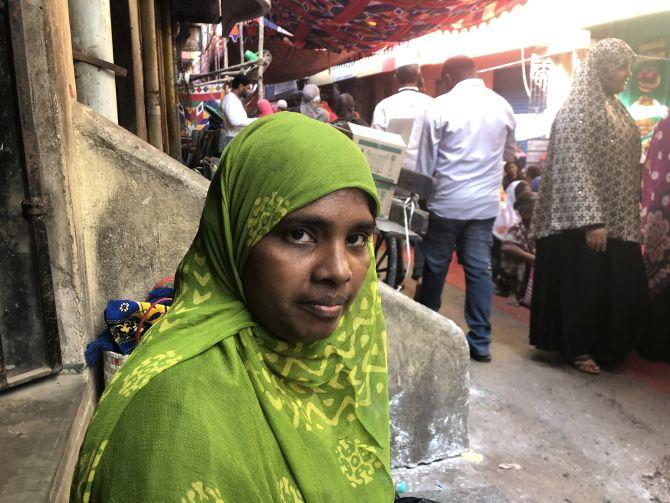 I have a birth certificate, I have an Aadhaar card and I have passed my tenth standard. One column asks where and when my father was born. How am I expected to know that?
Where do I have the time or money to find out details about my father? Even if I found out, how will I get a certificate for that?
You know how difficult it is to get any certificates here, particularly about something that happened a few decades ago.
I am a tailor. I have to work to support my family. I have three children.
(She was sewing a hook on a blouse even as she sat in protest).
Doulat Bi, 50 years old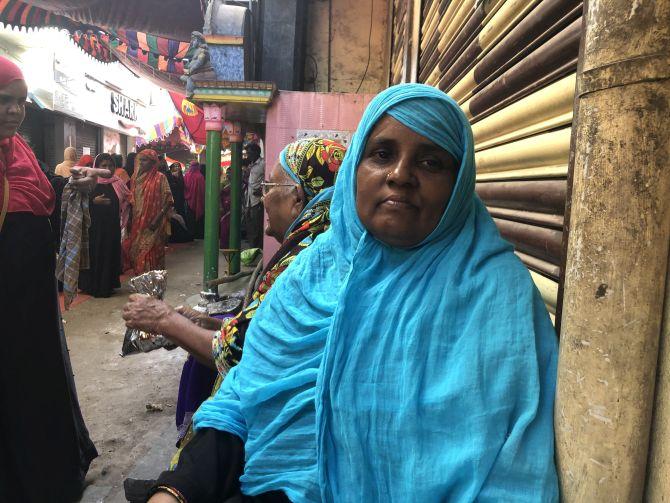 I support myself by working as a house maid. I want them to take a normal census that they have been doing regularly every decade.
There are too many questions in this new one that they are planning to take. We don't have answers, it is just to trouble us.
I don't have a birth certificate. I was born at home. I never went to school. My parents were bidi workers. They were not educated, they didn't bother about getting a birth certificate for me.
All these years it did not matter, but suddenly it has become so important. I really don't know what to do.
Haseena Begum, 55 years old
I earn my living by packing biscuits. I heard they are building detention centres. What have we done to deserve this?
We don't like all three -- CAA,NRC, NPR.
At our age we have blood pressure and diabetes. Our hands and legs are paining and we are sitting here.
The Census happened every decade and nobody worried about it. During our time children in villages were all born at home. When you wanted to join school, they told you to hold your ear with your hand around your head, you were admitted in standard one only if you could reach your ear.
That was the measurement of age. Now they are torturing us with questions.
The children must have come back from school, I will go feed them and come back.
A middle-aged lady who did not give her name
If Amma (former chief minister J Jayalalithaa) was alive she would not have allowed the central government to dominate us like this.
Do you know the difference in being brought up by a mother and a step-mother? Now the step-mother is ruling.