'Ask the chief minister to give in writing that the police must not do their job. We will back down and stop checking vehicles.'
Days after DSP Shreshta Thakur confronted BJP workers, she was transferred.
Veer Arjun Singh reports from Lucknow.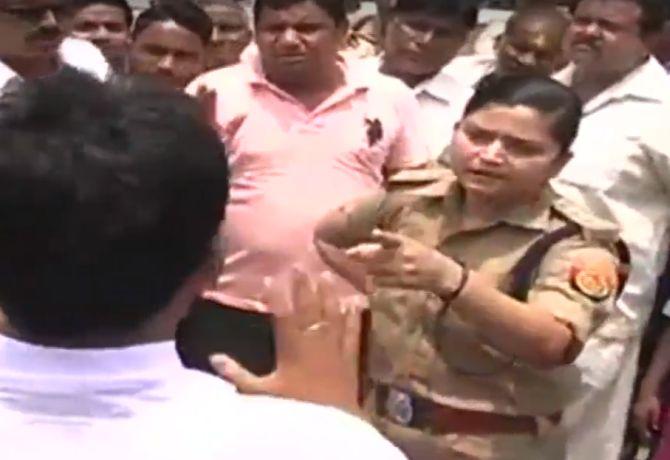 Police and Indian Police Service officers are routinely transferred. While it's within a government's rights to do so, the practice is most common after a regime change.
Uttar Pradesh Chief Minister Yogi Adityanath's arrival was no different.
In a major reshuffle, 67 IPS officers in the state were transferred within 100 days of his government.
The decision was made, a list was issued and then publicised by media reports that offered no insights.
It's routine and the news has minimum public recall. But then came along a woman cop who revived the debate.
Till recently, Shreshtha Thakur, 34, was stationed in UP's Bulandshahr as deputy superintendent of police. She has now been sent to Bahraich district, 125 km from Lucknow near the Nepal border.
The ruling Bharatiya Janata Party maintains it is a routine transfer that includes 243 others, but Thakur's eventful week before her transfer has raised a question.
Thakur had an unusual day outside a court earlier this month when she was thrust with political pressure into releasing an offender whom she had rounded up along with four others.
Pramod Lodhi was stopped and fined for not wearing a helmet. He was later arrested for allegedly thrashing a police officer on duty and misbehaving with others.
Lodhi is reportedly a BJP worker and his colleagues claim he was beaten by the police.
Lodhi's supporters had gheraoed the police and an irate conversation was being routinely interrupted by slogans of 'UP police murdabad' when Thakur decided to step up and confront them.
Thanks to her tech-savvy deputies, the altercation is on record, and has since gone viral.
'Ask the chief minister to give in writing that the police must not do their job. We will back down and stop checking vehicles,' Thakur says as she challenges each man condemning the police to come in front and face her.
'The police have the right to do their job, but why are you punishing BJP workers?' says one of them as Thakur thunders back, 'Who's a BJP worker? If you are, then you're bringing a bad name to your party.'
As tempers flare up, she reminds the party activists that they must mind their tone while speaking to an officer on duty.
'We have raised our hand today and will raise it again,' she rebukes the men who dare to raise their voice.
'My transfer is a reward for my good work,' Thakur wrote on Facebook after she was told of her new posting.
She precedes the news with the saying, 'A lamp has no address, it illuminates wherever it goes.'
Political pressure is not new to police in the populous UP.
According to an IndiaSpend analysis of data from the Bureau of Police Research and Development, the state transferred IPS officers at four times the Indian average.
"It (Uttar Pradesh) is the most complex state to operate, and when policemen find themselves against a person who wields the backing of a powerful caste or a politician, the government lends no support," says Prakash Singh, former director general of police, who led the UP police force from 1991 to 1993.
Singh, however, refrains from passing any judgement on the case and says he has a positive outlook towards the Adityanath government.
As for Thakur, she has asked her well-wishers to visit her in Bahraich.
The new city awaits her arrival with a hero's welcome.
IMAGE: A screengrab from the video shows Deputy Superintent of Police Shreshtha Thakur confront the BJP workers.