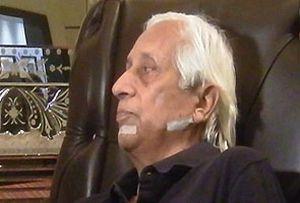 Lt Gen K S Brar (retd), who received injuries during an attack by four persons in central London on Sunday night, arrived at the Mumbai airport along with his wife on Wednesday.

While coming out of the airport, Brar's wife Meena said they were very happy to be back home. "Thank you all for your concern," she said.

When asked if she felt there was an increased threat to her husband's life and they require more security, she said, "No".

"That (threat) is always there and will be there. That doesn't really matter," she said.

Brar, who had a bandage on his neck and cheek, and his wife arrived in Mumbai at noon from London. They were escorted to their vehicle amid tight security. Senior defence officials were present at the airport to receive them.

Lt Gen K S Brar, while talking to a television channel after the attack, had said that it was an attempt to assassinate him by "pro-Khalistan elements" for his role in the 1984  "Operation Bluestar".

"This was a pure assassination attempt on me. Even on Internet there are so many threats being sent to me to say that there have been many attempts on your life but they haven't succeeded, but the next one will succeed. They've been after me." Brar had said.

Brar, 78, was attacked by some men, suspected to be Khalistan sympathisers, with knives while he was leaving a hotel in London with his wife.