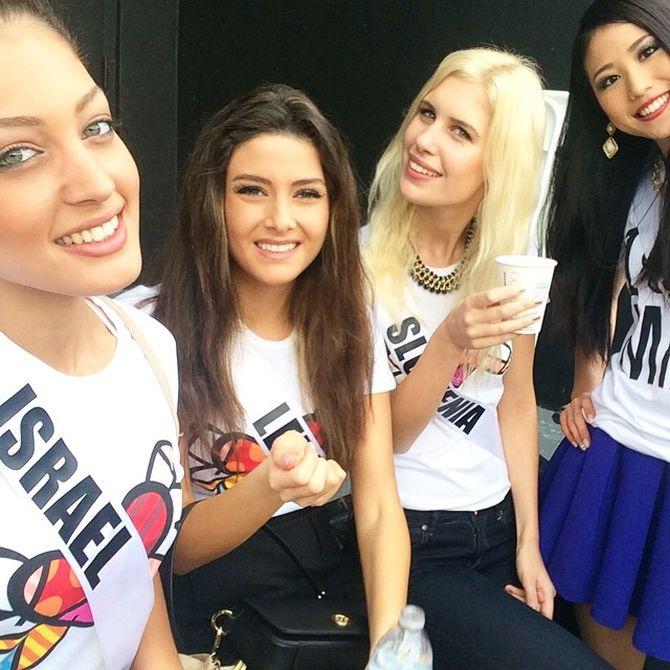 This selfie posted by Miss Israel Doron Matalon has caused an uproar. Photograph: doronmatalon/Instagram

They often champion for "world peace", but this year the contestants of the Miss Universe pageant have stirred a diplomatic war.
Miss Lebanon Saly Greige has come under fire for posing with Miss Israel Doron Matalon in a selfie ahead of Sunday's beauty contest in Miami.

The photograph on Matalon's Instagram shows her smiling with Greige, Miss Slovenia and Miss Japan. "Good morning from us!" reads the caption.
The image stirred an online uproar about the ongoing conflict between Israel and much of the Arab world.

Miss Lebanon Greige has distanced herself from the selfie. In a statement of Facebook she clarified that Israel's Doron Matalon had pushed her way into the photo, which is now widely-circulated. "Suddenly Miss Israel jumped in, took a selfie, and put it on her social media," Greige explained.
From the beginning of the contest, Greige said, she was "very cautious to avoid being in any photo or communication with Miss Israel."
However, despite the criticism Malton, in a true beauty queen spirit, said, "It doesn't surprise me, but it still makes me sad."
"Too bad you can not put the hostility out of the game, only for three weeks of an experience of a lifetime that we can meet girls from around the world and also from the neighboring country," she said.
Since Matalon, 21, posted the selfie, Lebanese citizens have called for her title to be revoked, reports The New York Post.