Russian Helicopters has scored another billion dollar home run by winning the Indian Navy's tender for 111 'naval utility helicopters'.
Ajai Shukla reports from the DefExpo 2018 in Chennai.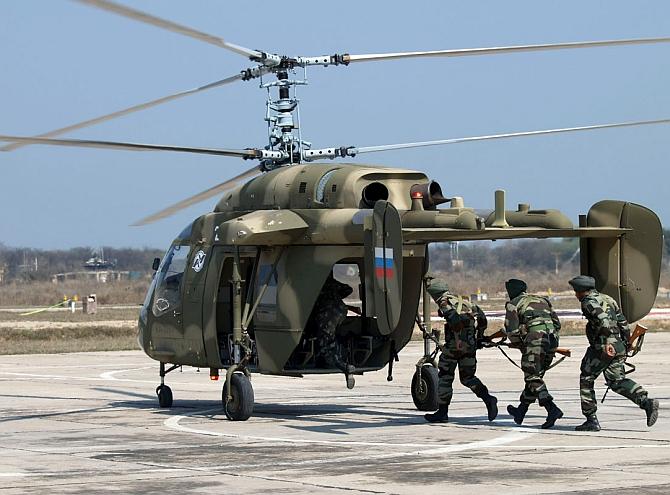 Of the 146 foreign arms vendors attending Defexpo 2018 in Chennai, Russian Helicopters, which builds the iconic, dual-rotor Kamov helicopters, is among the few with an assured major order.
In 2015, on Russian President Vladimir Putin's personal request, Prime Minister Narendra D Modi agreed to buy 200 Kamov-226T utility helicopters for the Indian Air Force and army without competitive tendering.
Moscow and New Delhi have agreed that Hindustan Aeronautics will manufacture the Kamov-226T with technology transferred by Russian Helicopters.
The two signed a shareholders agreement in October 2016, granting a 50.5 per cent majority stake for HAL, and 49.5 per cent for Russian Helicopters.
Now Russian Helicopters is pitching to score another billion dollar home run by winning the navy's tender for 111 'naval utility helicopters' (NUH).
With at least 140 Kamov-226T to be built in India (the other 60 are being supplied from Russia fully built), Russian Helicopters believes it can offer a compelling commercial deal for building an additional 111 as India's NUH requirement.
'A delegation from the Indian MoD (defence ministry) is to visit Kamov Design Bureau in order to participate in the demonstration flight of a light utility Kamov-226T rotorcraft and to familiarise themselves with its ship-based version,' a Russian Helicopters press release stated on Thursday, April 12.
In October 2017, the defence ministry gave the green signal to commence the procurement of 111 NUHs.
In December, the navy chief, Admiral Sunil Lanba, revealed that five global 'original equipment manufacturers' (OEMs) had conveyed interest in the navy acquisition that is being pursued under the 'strategic partner' (SP) model of the Defence Procurement Procedure of 2016 (DPP-2016).
This requires an Indian company, specifically selected by the defence ministry, to manufacture the helicopter in India with technology transferred by the chosen OEM.
However, with the defence ministry still deliberating whether public sector firms like HAL are eligible to be nominated an SP, there is the illogical possibility that HAL manufactures the air force and army Kamov-226T choppers, while a private sector SP builds the 111 Kamov-226Ts being procured under the NUH tender.
"This dichotomy will only be resolved when the SP policy is finalised and implemented," said a source in the defence ministry.
Unlike the standard, land-based, Kamov-226T helicopter, a ship-based version is required to have special 'foldable' main rotor blades, which allows the chopper to be housed in a small hangar on the ship's deck.
Further, a ship-based NUH is required to operate in the challenging maritime environment, where it must be able to land on the pitching deck of a moving ship and carry out missions like search and rescue, medical evacuation and combat missions in anti-piracy and anti-terrorism operations.
'The ship-based configuration of Kamov-226T helicopter has already been developed and successfully operated in Russia for special purpose aviation since 2017,' said an official Russian Helicopters release at Defexpo 2018.
The Kamov-226T has received certification for its 'folding blade system', for operating at ambient temperatures of over 50 degrees Centigrade, and for medical evacuation use, said Russian Helicopters.
While Western-origin fighter aircraft are eroding Russia's pre-eminence as a supplier to India, in several rotorcraft categories, Russian Helicopters has remained dominant since the 1950s.
There are currently 400 Russian-made helicopters in India's military, including a large Mi-17 medium-lift fleet, and three Kamov types with the navy -- the Kamov-25, Kamov-28 and Kamov-31.