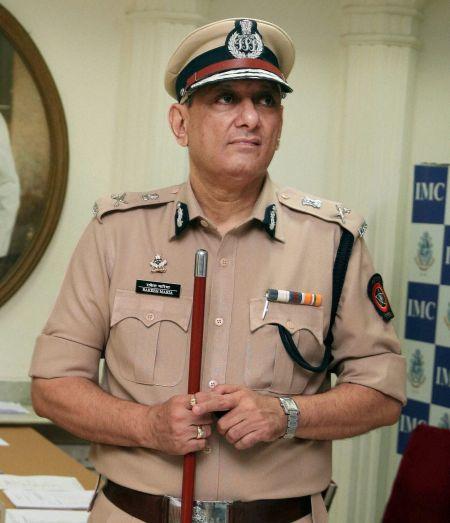 Does Director General Home Guards Rakesh Maria have supervisory powers over the Sheena Bora murder case or not? There is enormous confusion on this issue, not the least because of the controversial circumstances in which Maria was appointed Mumbai police commissioner and later moved to Home Guards.

It was during the previous Congress-I-Nationalist Congress Party government, headed by Prithviraj Chavan, that Maria was appointed Mumbai police commissioner, a job that entails vast power, influence and reach.

Chavan felt somewhat pressured and sources close to him say he was hustled into the appointment. Maria's predecessor, Satyapal Singh, now a Bharatiya Janata Party MLA from Uttar Pradesh, had resigned and his successor had to be appointed. But for reasons best known to him, Chavan's cabinet colleague, R R Patil, then the home minister, delayed moving the file to appoint a successor for nearly four months. It took another four-odd months for the government to decide who should replace Singh.

This delay was caused largely because of extended negotiations between the chief minister and the leaders of NCP on who should get the job. Maria, a 1981 batch Indian Police Service officer, would have had to supersede many others if he were to be appointed. One of them would be Ahmad Javed, who has now replaced Maria as Mumbai police commissioner. And yet, the NCP leadership was the keenest that Maria, and not anyone else, should get the job.

Maria got the job after Chavan did as he was asked to do and appointed him. In February 2014, Maria told NDTV, "To become the Mumbai police commissioner is a dream come true for a boy who used to play football in the lanes of Bandra." He also said, "If the politicians took time in deciding who would get the job, it means they have thought it over well and made me the commissioner. I have more responsibility on my shoulders."

Maria's father was a film producer who moved to Mumbai from Pakistan during Partition. While Maria chose the police force over films, his life and personality
have inspired a number of Bollywood film characters. Actor Anupam Kher once said his role as Mumbai police commissioner Prakash Rathod in
A Wednesday
drew from Maria. Kay Kay Menon in Anurag Kashyap's
Black Friday
also portrays a character inspired by him. And so does Nana Patekar in Ram Gopal Varma's
The Attacks of 26/11.

At the time of the 26/11 terror attack, Maria was in charge of the police control room. This was the attack in which IPS officer Ashok Kamte lost his life. His wife, Vanita Kamte, later accused Maria of mishandling the security response and questioned his appointment as Mumbai police commissioner.
Maria, who is comfortable in both Urdu and Punjabi, is said to have used his knowledge of the languages to his advantage when he was the chief of the Maharashtra anti-terrorist squad. As Ajmal Kasab's chief interrogator, this knowledge also came in handy to extract information from the 26/11 terrorist.
Successes and controversies have gone hand-in-hand for Maria. His big moment of glory was when he cracked the 1993 Mumbai serial blasts case.
But he courted controversy when as Mumbai police commissioner, he "met" tainted cricket tycoon Lalit Modi in London. Current Maharashtra Chief Minister Devendra Fadnavis asked him why. He gave an explanation, but many were of the opinion that it was at the instance of others that the meeting took place.
Then came the Sheena Bora murder.
This was a bolt from the blue. But even more interesting was the extent to which the police commissioner engaged in the case. He interrogated Indrani Mukerjea thrice, supposedly because he was trying to help colleagues in the police station not so well versed in English.
Now it transpires that several companies were opened and closed in the course of Mukerjea's business, creating suspicions of money-laundering.
If this was the case, was all the money related to her business? Or did it also belong to others?
Maria's interrogation should provide some interesting clues. Unfortunately, this is something that might never become public.