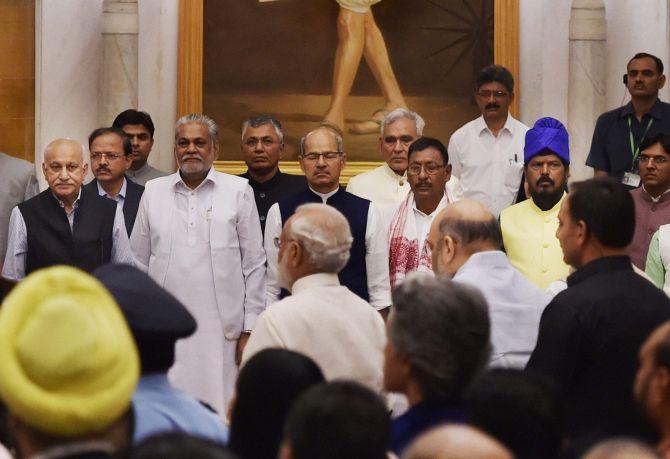 Prime Minister Narendra Modi is the best manager of events -- down from the programming and packaging -- that is how senior leader L K Advani of BJP summed up Modi's land slide victory in 2014.

But there has been no analytical statement from any of the Margdharsh Mandal members this time around, including Advani or Dr Murli Manohar Joshi over the Union Cabinet expansion and shuffle.

Critics too, have nothing good to say about the delivery team of Modi's manifestoes.

Broadly speaking, the expansion of the Council of Ministers sent out three major political signals:
Inclusion of seven SC/ST members; that is a first.
The industrial and business houses be vary of BJP's 282 seats; unlike the United Progressive Alliance, where businessmen ran the system.
To International investors: that the BJP government is stable.
Preceding the shuffle, there was no resignation drama or political statements from BJP leaders. Reason? Modi is in complete control.

Amit Shah as the BJP's chief occupied the seat next to the prime minister. At the same time, it was the Modi-Shah combo that took the decision of inclusion of 19 new faces -- but the informing part of this news to these new faces was left to the BJP chief. Shah has grown taller among the party's cadres.

But the murmurs began on the second day of the expansion -- this would invariably lead to regrouping of the pro and anti-Modi groups within the Union Cabinet.

Modi's political acumen is such that he cut at the root of few ministers who were growing taller than their stature. A clear-cut message was sent by cropping their positions.

Take Minister of State for Finance Jayant Sinha for instance; The Prime Minister's Office had warned him that he should discourage his wife Punita, from interfering with administration because there was conflict of interest because she has been engaged in capital markets speculations. It was not heeded to.
The quiet message -- not only for the son, but also for the father (Yashwant Sinha) was sent by shifting junior Sinha to civil aviation. In this new role, there will be no more conflicts.
Similarly, the reason for shifting Parliamentary Affairs Minister Venkaiah Naidu from his ministry to the I&B ministry is seen as a demotion but also as a balancing act.

The message to Smriti Irani is: focus yourself on administration and concentrate on
Amethi, from now on. Irani was shunted from HRD to Textiles ministry.
Narendra Modi warned the 19-newly appointed ministers against sting operations and phone tapping, and of negative publicity.
'Do not involve your family members into decision-making process' is the message.