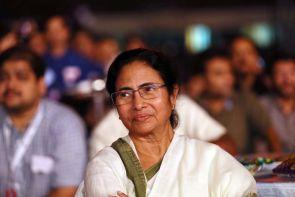 After announcing their partnership for the coming Lok Sabha polls, social activist Anna Hazare and Trinamool Congress chief Mamata Banerjee are set to mark their presence on the national scene with a public rally at the Ramlila Grounds in New Delhi on March 12. Anita Katyal reports
Although the unusual alliance between the West Bengal chief minister and the self-proclaimed Gandhain had taken a lot of people by surprise, Mamata and Hazare have their respective reasons for coming together.
There is no denying that Mamata harbours prime ministerial ambitions and she feels that a partnership with Hazare will catapult her to the national scene.
On his part, Hazare has decided to support Mamata as he sees this as an opportunity to settle scores with his former colleagues in the anti-corruption movement who have set up the Aam Aadmi Party under Arvind Kejriwal's leadership even though he has, so far, maintained that he would never campaign for a political party.
Trinamool Congress sources told rediff.com that their party has decided to contest all the seven Lok Sabha seats in Delhi on the insistence of Hazare who wants to personally take on Kejriwal whose party has a strong presence in the Capital, having surprised everybody by winning 28 seats in last year's Delhi assembly elections.
Mamata's party is unlikely to make a dent in the Delhi polls but the forthcoming election is all about perception. The Trinamool chief believes that she can acquire a national profile if Hazare endorses her as an honest leader who has the capability to lead the country.
The Trinamool Congress chief's position in West Bengal remains unchallenged as she continues to enjoy public support but she has the tough task of positioning her party as a serious contender outside her home state. Hazare's endorsement, she believes, will gives her give her that edge and also strengthen her credentials as an anti-corruption crusader.
With both sides hoping to gain from each other's company, Mamata and Anna were all praised for each other when they addressed the media in Delhi earlier this month.
Heaping praise on Mamata, Hazare had gushed, "I have extended my support to Mamata as she is thinks and works only for society and country," He had gone on to extol her virtues, saying that although she is a chief minister and can lead a life of luxury, Mamata continues to lead a simple life.
While Hazare and Kejriwal were inseparable during the anti-corruption campaign they launched two years ago, the two parted company subsequently when his lieutenant decided to form a political party and contest elections. Although Kejriwal has made several overtures to Hazare, the social activist has remained unmoved.
Although it is still early days to predict whether the Hazare-Mamata duo will make a difference on the national scene. But is equally true they do not stand to lose anything.