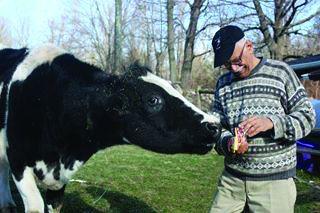 "Many people in America see animals, particularly cows, as meat…animals have a soul, personality, they interact," says Sankar Sastri, who runs the Lakshmi Cow Sanctuary in Pennsylvania, US.

Sankar Sastri, a lifelong bachelor and former New York engineering technology professor, is reportedly the first person to have a dharmic private farm, the Lakshmi Cow Sanctuary, for cows in America.
With 17 cows and bulls -- not to forget a few cats, dogs and turkeys, many bought from auctions and saved from killing -- the 42-acre ranch in a hilly corner of Pennsylvania keeps Sastri busy.
"I am never short of company," he says, laughing. "And we have the best milk here, and the best ghee, and we even offer for sale organic cow-dung patties."
Sastri calls the over a dozen cows his mothers. The mothers have names like Sita and Bharati, their male offspring have names like Narayana and Vedanta.
"You must look at Vedanta," says Sastri. "Her mother was given to us by Swami Dayananda Saraswati and her offspring was born with the question mark on the forehead. This was like divine revelation. What is Vedanta but a quest after knowledge resulting from constant questioning and asking? So we named the calf Vedanta."
An Irish-American volunteer couple, who follow some Hindu rituals and buy cow-dung patties from him, are currently volunteering at the farm.
"They lost their jobs with the US armed forces," Sastri said. "They hope being in the holy company of the cows would ward off their bad phase."
Sastri's sanctuary is one of a scattered web of safe havens across America, including the Hare Krishna commune in Virginia, protecting the animals from slaughter and mistreatment.
"The goshalas like the one I run and run by the temples like the ones in Pennsylvania and New Jersey are run according to Vedic exhortations and dharmic traditions," Sastri says. "This is a holy effort, apart from being act of kindness."
His farm has temporarily welcomed those trying to set up cow sanctuaries.
In one famous case an American couple, Stephen Voith and Linda, were driven from their farmhouse in a New York town some 250 miles from Sastri's farm because some residents objected to cows amidst them.
The courts also upheld the objection, saying the Voiths had violated the town's zoning law.
The couple moved to the Lakshmi Sanctuary with their four cows.
Not long ago, a sanctuary costing over $3.5 million opened at the Bhaktivedanata Mandir run by the Hare Krishnas in Letchmore Heath, United Kingdom.
In Moundsville, West Virginia, 24 cows are protected on a 160-acre farm, the International Society for Cow Protection, run by William Dove who is also known as Balabhadra Das.
Sastri says he knows of families who have set up dharmic animal protection farms. He recently helped the Hindu temple in Morganville, New Jersey, get a calf and a cow.
The chairman of the temple, S Yegnasubramanian, has been a financial backer and well wisher of Sastri's sanctuary for years.
"Many people in America see animals, particularly cows, as meat,'' Sastri says. "Animals have a soul, personality, they interact… Ten years ago I did not know much about farming, but the divine call was there. I got help from many people including the Voiths who knew much more about farming than I did. I enjoyed my years of teaching, but I enjoy this work much more."
Image: Sankar Sastri with Bharati