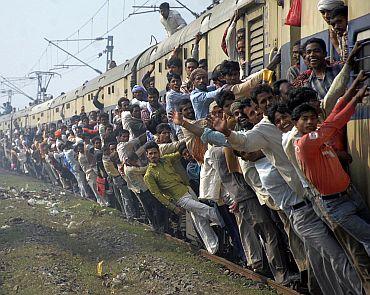 For a country with a huge atheist vote bank, relatively few claim to be irreligious, says Devangshu Datta
The religious data of each Census takes two to three years to process. Release tends to be delayed for political reasons. The delays allow for multiple conspiracy theories, ranging from the possibly sane to the barking mad.
In 2004, Congress loyalists screamed about the Atal Bihari Vajpayee government concealing demographics, but the United Progressive Alliance-I government released those religious data only several months after it took over. In 2014, the Census of India, which is an arm of the home ministry, claimed that religious data had been ready since the last quarter of calendar 2013. But it was held back due to the general elections.
BJP loyalists screamed about the UPA-2 keeping the data under wraps to maintain some sort of information advantage. The lunatic fringe went into convoluted allegations that those data were being held back and massaged to conceal explosive growth in minority populations.
Well, the Modi government took over in mid-May 2014 and it released those data only in August 2015. The more sane theories claim the release is to influence upcoming Bihar elections, what with caste data being included for the first time since 1931.
The data suggest a slowdown in the growth rates of all large religious groups. So, the fringe theorists are claiming this "proves" minorities are lying and pretending to belong to the majority in order to conceal the (presumed) rapid rise in their numbers.
Attempts to retain an information advantage in elections by concealing religious data became hard many years ago, when electoral rolls were put online. It is easy to scrape electoral rolls and guess demographic splits in granular fashion, polling booth by booth, across India.
Experienced pollsters do a decent job of slicing and dicing booths by caste. The traditional communal riot has long since been digitally enabled and transformed into an "e-riot", with mobs using electoral rolls to pick victims.
The 2011 Census religious data show that the one minority with an explosive growth rate is the one most ignored and the one that doesn't propagate by conversion or through high fertility rates. The irreligious have (probably) grown by 295 per cent.
Unfortunately, anecdotal data suggest that Census-takers often do not bother to even ask about religion; they just guess community of origin. So this could be a gross underestimate.
Claiming "no religion" is a right recently granted. Earlier, the Census grouped the irreligious into "Other", which included Zorastrians, Brahmos, animists and other small religious communities. The Census also had a "refused to state religion" category.
In 2001, there were 6.6 million "Others" and 0.73 million "refusers". In 2011, there were 7.9 million "Others" and 2.8 million "refusers". The numbers are small but "refusers" across 2001-2011 show 295 per cent growth. The irreligious also have a marginally better gender ratio than the overall population, at 950 females for 1,000 males.
Note that there is a distinction between non-religious and atheist; the latter could mean somebody who subscribes to any of several schools of non-theist Buddhist, Jain and Hindu thought. The former is somebody who doesn't have any religious belief.
The non-religious are usually (not always) atheists or agnostics, while atheists can be highly religious.
Interestingly, for a country with a huge atheist vote bank (the Communist Party of India-Marxist and the Communist Party of India polled 25 million votes in 2014 and there are other avowedly atheist parties such as the Revolutionary Socialist Party, the Dravida Munetra Kazhagam, and the Maoists, of course), relatively few claim to be irreligious.
Perhaps it is considered dangerous to proclaim lack of faith. After all, three prominently non-religious people who made no secret of their beliefs have been shot in the last three years. Perhaps there is a social stigma and being professedly irreligious could mean matrimonial prospects being downgraded.
But the fact that the category has grown shows there is some hope for India. Almost by definition, the non-religious person is unlikely to want to trigger a communal riot. He or she seeks to live by a more rational value system.