'Did you not see it on TV?'
'He blessed Sasikala and comforted OPS.'
Rediff.com's A Ganesh Nadar reports from the AIADMK headquarters in Chennai.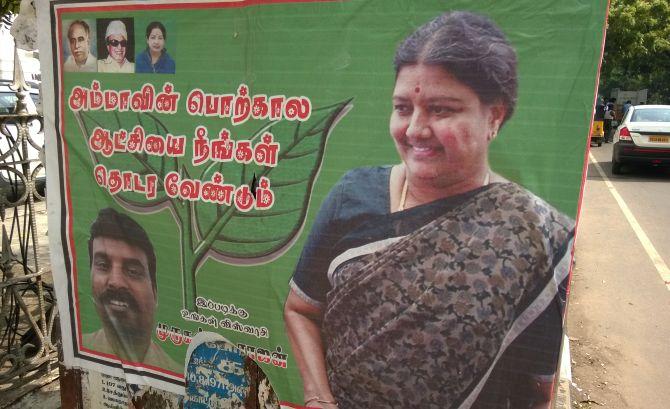 IMAGE: Posters of Sasikala Natarajan have appeared on the walls of the AIADMK headquarters, pleading with her to carry forward Amma's legacy. Photographs: A Ganesh Nadar/Rediff.com
Cadres of the Dravidian parties in Tamil Nadu -- the All India Anna Dravida Munnetra Kazhagam and the Dravida Munnetra Kazhagam -- are both polite and arrogant.
When they are in the Opposition they are polite. And when they are in power they are arrogant.
The AIADMK headquarters in Royapettai, Chennai, wears a deserted look.
Mohammad Sait, an AIADMK member party, is from Villupuram, the largest district in Tamil Nadu. He has never contested elections nor has any position in the party.
"I have been in the party since it began and Amma knew me," he says, adding, "You will ask how?"
"I had taken out advertisements on Amma's 62nd birthday in all the newspapers to wish her. One of the ads was published in Junior Vikatan (a Tamil magazine). (However) that issue had an article very critical of Amma."
"Four AIADMK members had also issued ads in that issue. The other three were leaders of the party, I was the only ordinary member. I got a notice saying that I had to return my primary membership card within three days if I did not explain why I gave an ad to a magazine that criticised the leadership," Sait recalls.
"I explained that I had given the ad in all the newspapers that day. I had no idea that they would come out with such an article. I told them that I would never advertise with that magazine again. I was let off as they accepted my explanation. In that manner Amma came to know of me," he adds.
"You can see how much I like Amma. You know what my email id is? It is ammapriyan@gmail.com," Sait says with a smile. Ammapriyan as in a fan of Amma.
As I speak to Sait, a man comes up to me and asks, "Who are you and what do you want?"
I want to speak to party cadres, I tell the man.
"You can meet only leaders here," he tells me. "If you want to speak to the cadres, then do it outside the building."
As I start to leave, I can hear the man give amma priyan a earful. "Who the hell do you think you are, giving interviews here?"
IMAGE: The AIADMK headquarters in Chennai wears a deserted look after J Jayalalithaa's demise.
Outside the gate to the AIADMK HQ I encounter an elderly gentleman looking very sad. He says he has been in the party since MGR launched the AIADMK.
"I can't talk to you," he says. "I will start crying."
"Don't you know that they have announced seven days of mourning? Only two days have passed. You come back after five days to talk to me. I am in no state to talk," he says.
Another AIADMK member, Solomon Nadar, from Tuticorin district, expects the AIADMK government to continue to do what Jayalalithaa has been doing since her first term as chief minister in 1991.
"They just have to follow Amma's policies and schemes for the people," says Nadar. "I don't expect them to do anything new. I expect Sasikala to carry on Amma's good work."
"What is wrong if both Sasikala and OPS (Tamil Nadu Chief Minister O Panneerselvam) are Thevars?" he asks. "It will not affect our vote bank. If we follow Amma's footsteps, we will get Amma's vote bank."
T Murugesapandi sought the party ticket to contest the election from the Tiruchendur assembly constituency in May, but the seat was given to actor Sharad Kumar, who lost to an AIADMK rebel candidate.
Murugesapandi believes the AIADMK will survive the turmoil of losing its towering chief minister for one reason: "They (the leaders) have the blessings of Prime Minister Narendra Modi."
"Did you not see it on TV? He blessed Sasikala and comforted OPS. What more do you want?" he asks.
"The party will be remote controlled by Modi and it will sail through four more years to the next elections," says Murgesapandi.
"If we have a top heavy Thevar presence all we might lose are a few SC (scheduled caste) votes," Solomon Nadar argues. "The OBCs (Other Backward Classes) and MBCs (Most Backward Classes) get along well with the Thevars."
AIADMK cadres seems to have accepted the leadership being controlled by Sasikala. Already, posters have appeared on the walls of the party headquarters pleading with her to carry forward Amma's legacy.