On Wednesday, Trinamool Congress MP Sugata Bose, a noted historian who was Gardiner Chair of Oceanic History and Affairs at Harvard University, spoke in the Lok Sabha debate on nationalism versus the freedom to dissent.
The grand-nephew of Netaji Subhas Chandra Bose spoke eloquently on the topic, presenting a nuanced view of what the speaker had earlier called a 'sensitive issue'.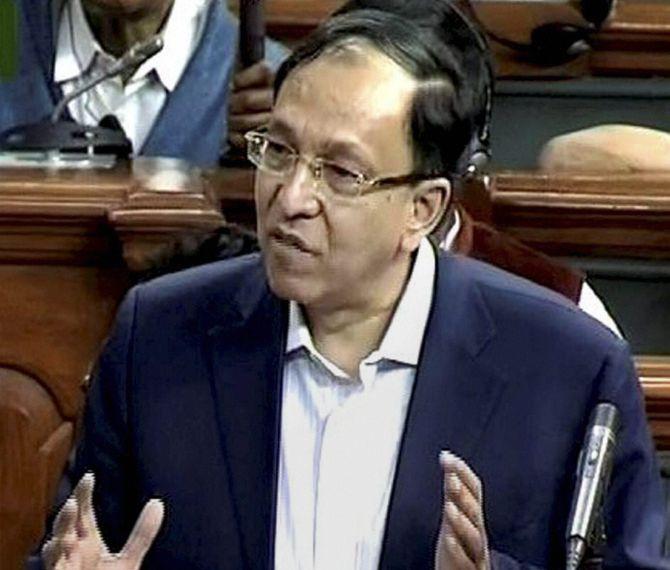 Professor Sugata Bose, a first-time lawmaker who represents West Bengal's Jadavpur in the Lok Sabha, began his speech on Wednesday with a disclaimer.
"I have been a teacher for three and a half decades and my sympathies are with students," he said.
Professor Bose, a historian who taught at Harvard University, spoke with a mix of passion and erudition to argue that the government should do away with the sedition law while maintaining his faith in the deep nationalism of Bengali luminaries Rabindranath Tagore, Chittaranjan Das and Netaji Subhas Chandra Bose.
His speech came in the midst of the Lok Sabha debate about the suicide of Hyderabad university scholar Rohith Vemula and the recent developments at the prestigious Jawaharlal Nehru University where some students have been arrested and charged with sedition.
Arguing that campuses across the country are in turmoil, he said, "When I said that the nationalism that they represent is narrow, selfish and arrogant, I was, in fact, quoting from Netaji Subhas Chandra Bose."
He was referring to Netaji's comments on German nationalism of the 1930s.
Making reference to Shri Aurobindo's views on an ideal State or Dharmarajya, Prof Bose said, "It is, in Aurobindo's words, 'not an autocratic despotism but a universal monarchy supported by a free assembly of the city and provinces and of all the classes that is held up as the ideal'. He goes on to say that according to his ideal, unification 'ought not to be secured at the expense of the free life of the regional people or of the communal liberties and not therefore by a centralised monarchy or a rigidly unitarian imperial State'."
The full text of Professor Bose's speech can be read HERE.