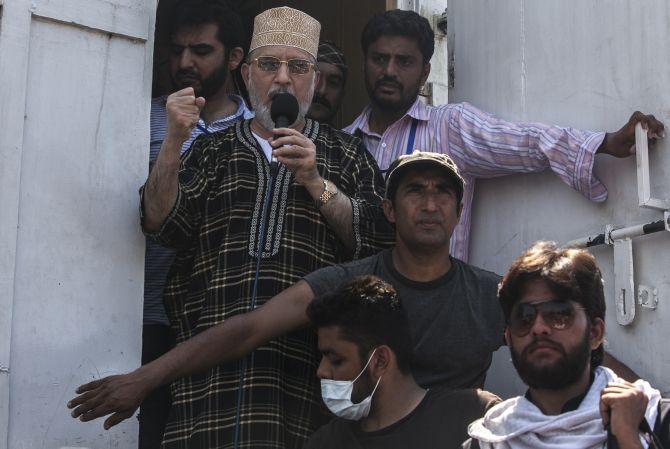 Where does the religious preacher and theologian want to take Pakistan?
In the mid-90s, I got a chance to meet the then Pakistan Interior Minister, Naseerullah Khan Babar, in Peshawar where he had hosted a reunion for the students of the Royal Indian Military College Dehradun where he had studied until partition.
A soft-spoken, amiable, grandfatherly man, he answered questions from a naive and eager Indian journalist patiently. Explaining the rationale for the creation of the Taliban, he said once a force of the faithful was created, with Afghanistan and Central Asia as the base, nothing would stop Pakistan from taking its rightful place in the Islamic world. He pushed aside the remnants of dinner at Peshawar's Pearl Continental Bhurban hotel, spread a large map of the world on the table and explained how the Taliban crescent would encompass Asia -- from Malaysia to Maldives, from Turkey to Mongolia -- sweeping away minor impediments like China. Taliban was a "strategic and political ally", not an ideological organisation and when plans came to fruition Pakistan would be the country most ready to accept and embrace it.

We know that very little good came out of all that. But, then history teaches us that it teaches us nothing. Fifty thousand supporters of religious preacher and theologian Tahir-ul-Qadri continue their vigil in Islamabad's D Chowk, the heart of the Red Zone of the city that was handed over to the army three months ago, when Qadri and Imran Khan separately announced their plans for what was then seen as Pakistan's Tahrir Square movement. The Nawaz Sharif government figured out that it couldn't handle the situation on its own and handed the Red Zone to the Pakistan Army. That despite having operational control, the army permitted such a massive congregation suggests the assembly had the army's tacit concurrence. Dipstick surveys by local media suggest Qadri supporters outnumber Khan's.

Out of 342 seats in the National Assembly, Sharif has 190 and Khan only 34. Even allowing for rigging in the 40-odd constituencies in the 2013 elections as alleged by Khan, his refrain that the government must resign is a bit far-fetched. However, what is intriguing is Qadri's role in the whole affair. So who is this man? Where did he come from? Where does he want to take Pakistan? And who is helping him?

Qadri, 63, appears to have been built up by Prime Minister Nawaz Sharif's father, Mian Muhammad Sharif who was chairman of a group of companies, including iron and steel foundries. He needed a prayer leader of the mosque affiliated to their foundries and hospital complex, and with an MA in Islamic Studies, Qadri seemed a good choice. He is believed to be a good orator and when Nawaz Sharif became a minister in Punjab, Qadri was offered his own TV show on religious matters. Leveraging his religious education and contacts, he founded in 1981 the Tehrik Minhaj-ul-Quran, a trust for the promotion of Islamic education. These were schools with an Islamic bias. In 1989, he set up a political party, the Pakistan Awami Tehreek. The aims were to promote democracy, economic stability, human rights, justice and women's roles, and to remove corruption.

The problem was that the cleric belongs to the Barelvi subsect of Sunni Islam, which is tolerant and moderate, especially in comparison to the Deobandi subsect from which members of most extremist militant groups, including the Pakistani Taliban and anti-Shia sectarian groups, hail. In fact, Qadri got to be better known in Pakistan for a 600-page religious edict denouncing terrorism and suicide bombing than his politics: which incidentally fits in very well with the Pakistan military's current obsession that identifies 'home-grown militancy' as the 'biggest threat' to national security.

Qadri continued his triumphant march in politics aided by accounts of 'dreams' in which the Prophet spoke to him and told him he would play an important role in Pakistan politics. This irritated clerics but found resonance in the general populace. By now he had begun to find the company of the Sharifs constricting and claimed that the family was out to eliminate him. An assassination attempt ensued, except that when the matter went to the high court, investigations revealed that the blood at the site of the alleged assassination was not that of an injured bodyguard but a goat.

He contested elections undeterred but lost both in 1990 and 1993, and announced that he was quitting politics in 1995. But he got another chance when Pervez Musharraf assumed power in a coup in 1999, becoming an enthusiastic supporter. In 2002, he led Musharraf's referendum (in which Musharraf got 98 per votes) and presumably made inroads into the army. Musharraf made him an MP in the National Assembly (Pakistan's lower house) but not minister for religious affairs, which is what Qadri really wanted. In 2002, he quit his seat and in 2005, emigrated to Canada.

How and why he returned is a mystery. In Denmark, he gave an interview in which he criticised Pakistan's Blasphemy law (which Salman Taseer, the outspoken Punjab Governor, said must be reversed and was killed as a result). But in Pakistan, in interviews earlier, he had said he was a principal architect of this law. His 2012 return to Pakistan is a well-known story: he was not allowed to land in Islamabad and had to address public meetings in Lahore instead.

But what is unambiguous is the army's tacit support to him, although he denies this vociferously. In this, the wheel has turned a full circle. Irked by Nawaz Sharif's tendency to sing a tune independent of the army, it is reminding him that there is an alternative. Except that if the alternative is to make use of a flexible cleric, Naseerullah Khan Babar's legacy may never leave Pakistan.
Image: Tahir ul-Qadri, Sufi cleric and leader of political party Pakistan Awami Tehreek, addresses supporters during the Revolution March in Islamabad. Photograh: Akhtar Soomro/Reuters