When most of us go to tourist spots we take pictures of famous landmarks or write simple thank you notes.
Going by the name paperboyo, McCor has developed a unique style of photography that involves using intricate paper cutouts to transform European landmarks into spectacular and amusing vignettes.
A Londoner by origin, McCor has turned the Big Ben into a watch and the Trafalgar Square lions into playful kitties all with the aid of his trusty cut outs.
Rediff.com takes a look at some the most creative and mesmerising works that paperboyo posted on his very active Instagram page.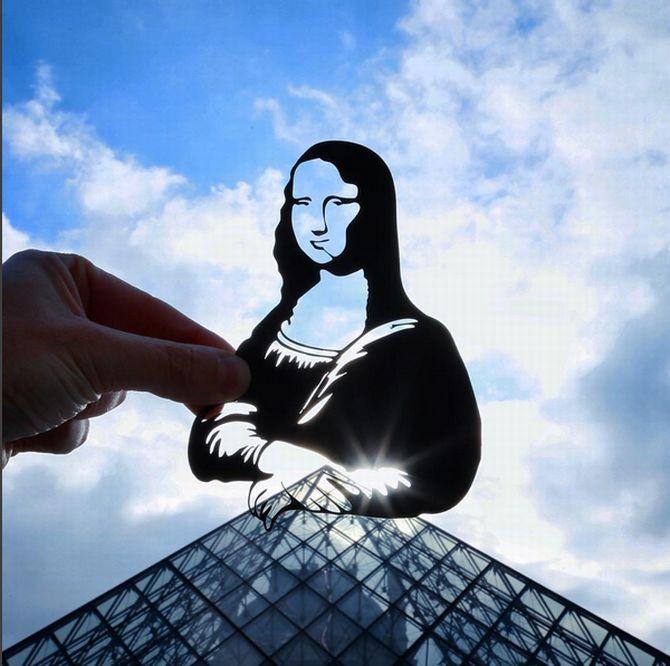 Louvre Palace, Paris: Leonardo da Vinci efforts were not in vain; not only did he create one of the greatest paintings of our time but he also inspired young Rich for one of his cutouts.
---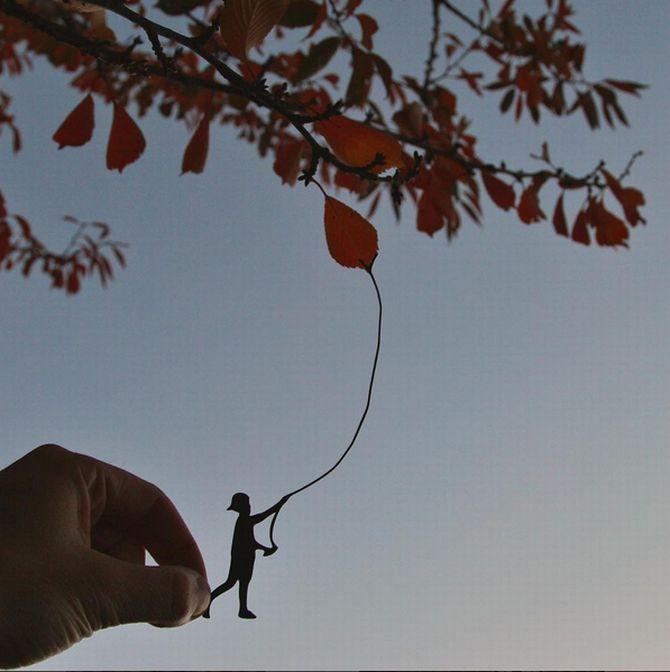 Battersea Park, London: Rich's took this picture underneath a 2,000 year of Yew tree in London's Battersea Park.
---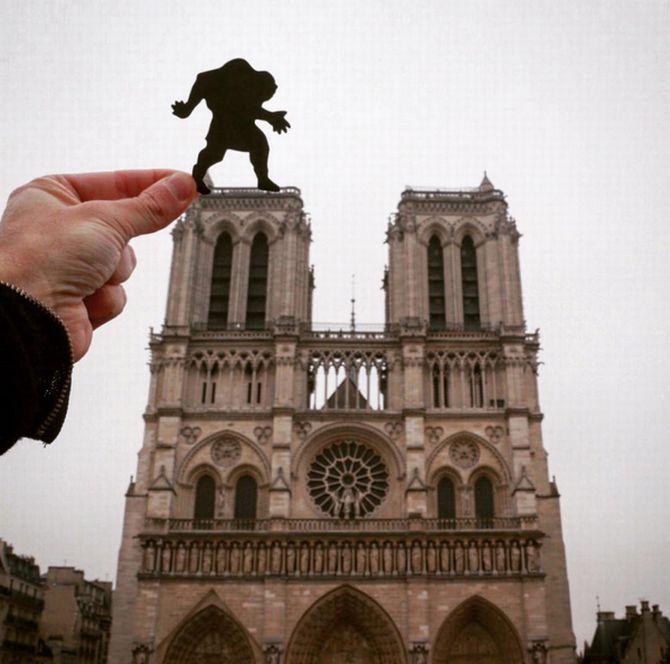 Notre-Dame de Paris, Paris: When Victor Hugo wrote the tale of the tragic hunchback, Quasimodo, he didn't know Rich has similar plans.
---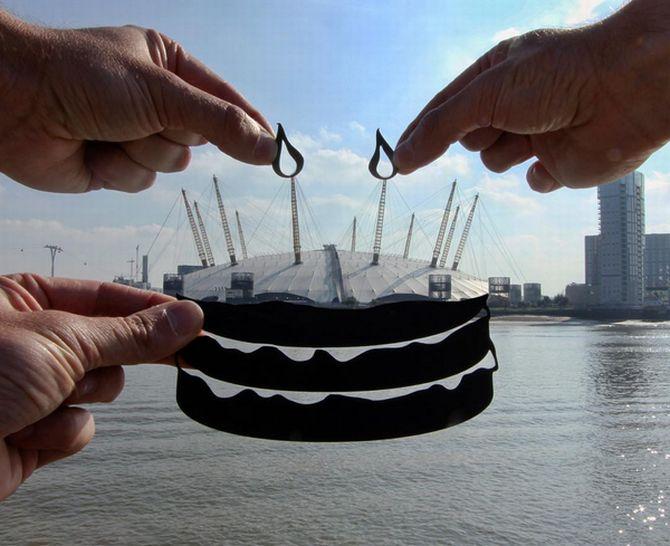 Millennium Dome, London: One of Rich's more recent endeavours was at the Dome, a spot he chose because the Prime Meridian passes just west of its location.
---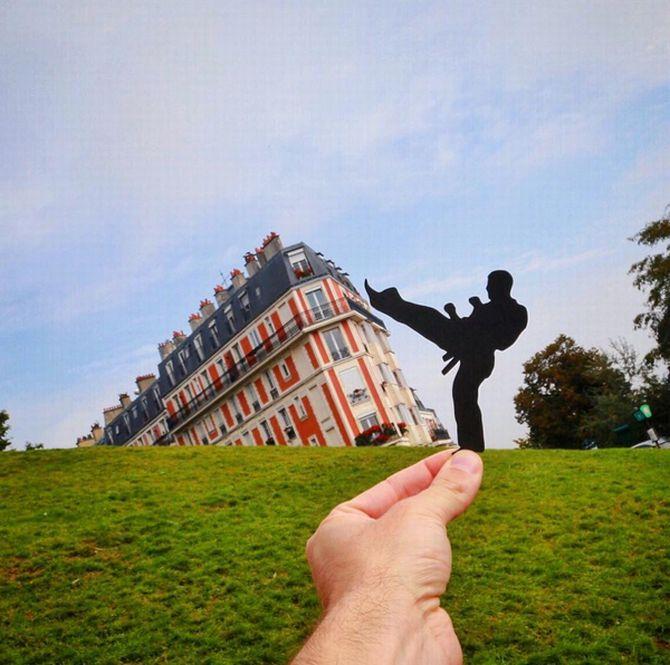 Sinking house, Paris: Don't worry. This house is not really sinking, its merely an optical illusion enhanced by trickery of the camera. Not that it stopped Rich's active imagination.
---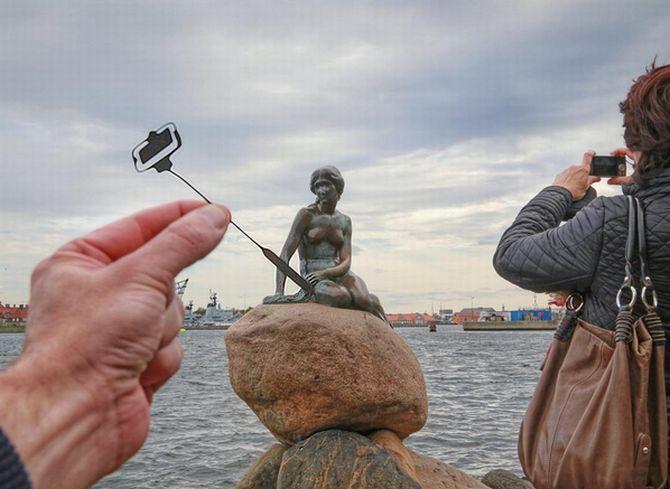 Den lille havfrue or The Little Mermaid, Copenhagen: Edvard Eriksen's famed sculpture was not cool enough for Rich who felt that it merited an update. Welcome to the the little mermaid taking a selfie. Betcha Disney never thought of that one.
---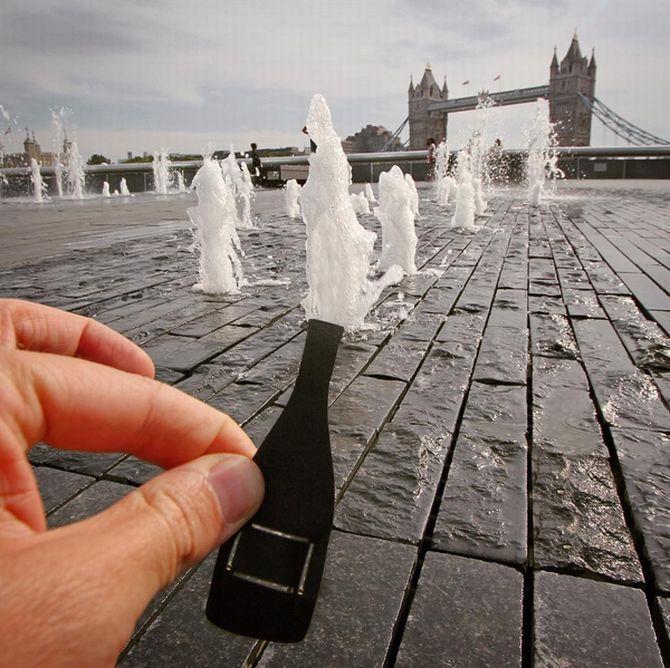 Tower bridge, London: Rich pictured here popping open a bottle before he heads off to Amsterdam.
---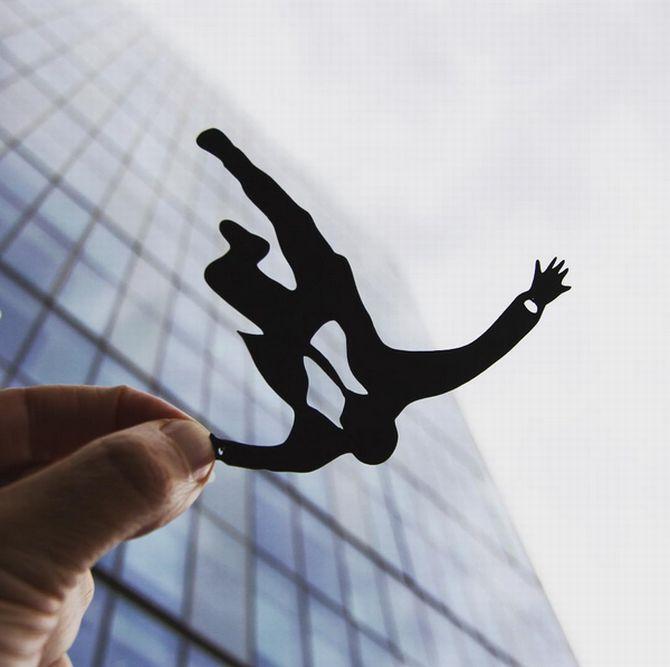 London: Mad Men may be over but Rich's mania is not. This photo is his ode to the Mad Men title sequence.
---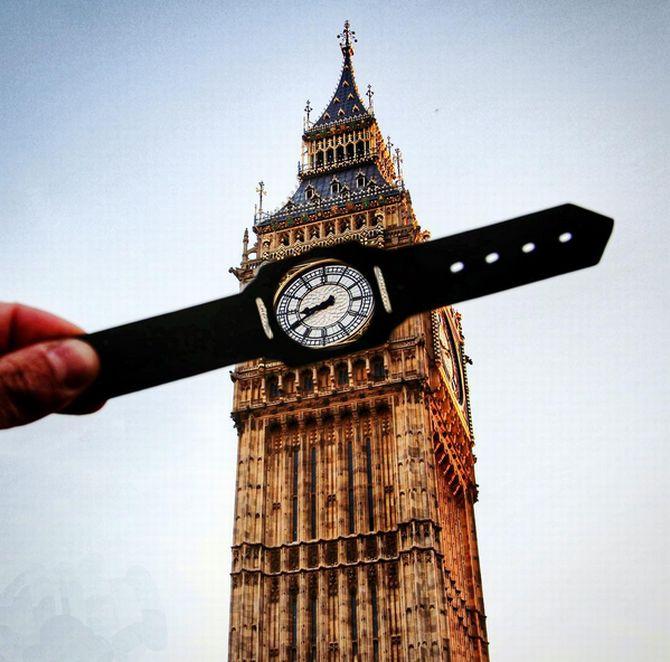 Big Ben, London: If you thought Big Ben kept perfect time, think again. Rich's new wristwatch is an easy replacement for the old clock tower if it were to stop ticking.
---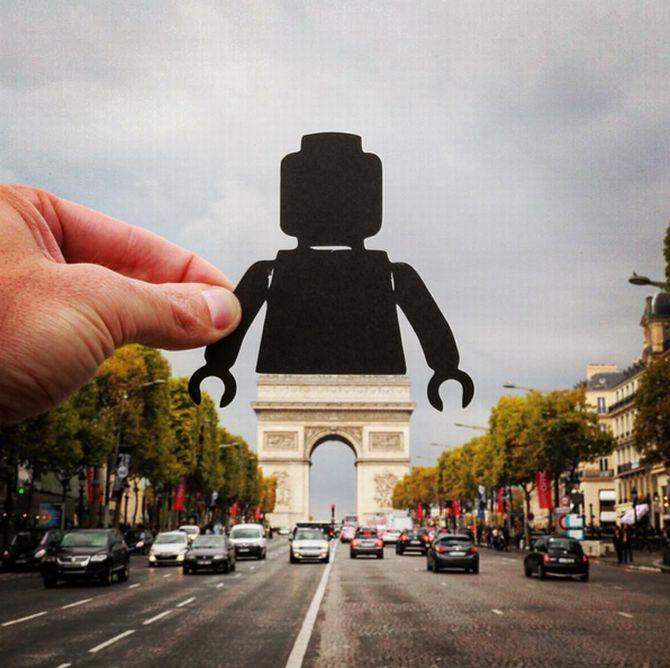 Arc de Triomphe, Maisons-Laffitte: Towards the end of WWI, France built a 'Second Paris' near the capital city to confuse German pilots. It was located near the town of Maisons-Laffitte, on a stretch of the River Seine. As well as replicas of iconic landmarks, including the Arc de Triomphe, it even had sham streets lined with electric lights so that from the sky it would look like a real city. What does Rich see though: Giant Robots!
---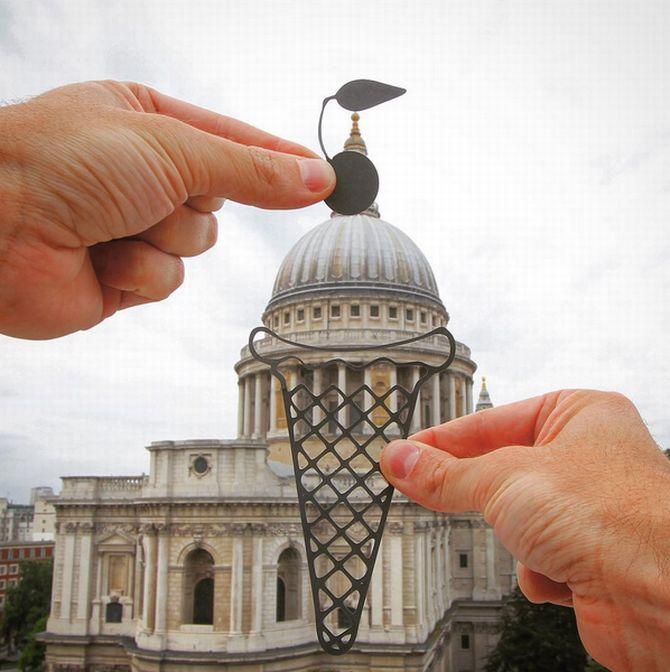 St Paul's Cathedral, London: Most people look at a church and think of God's divine sweetness. But for Rich its sweets of another kind.
---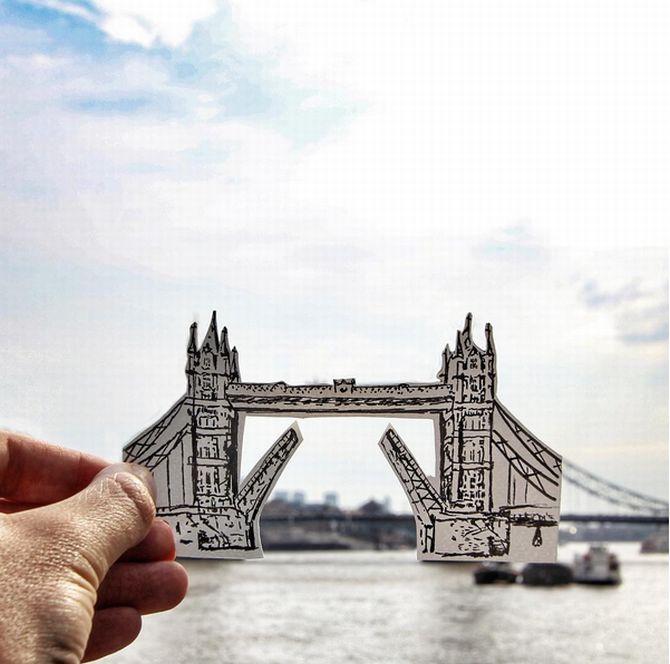 Tower Bridge, London: House of cards meet tower of paper.
---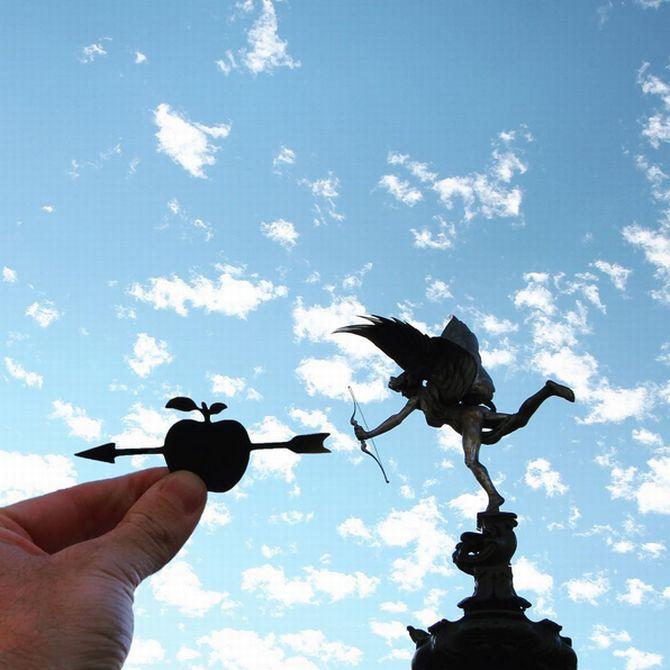 Piccadilly circus, London: The statue of Eros in Piccadilly circus is made out of aluminium. Rich successfully reinvented it as a Robin Hood cosplay though. No complaints there.
---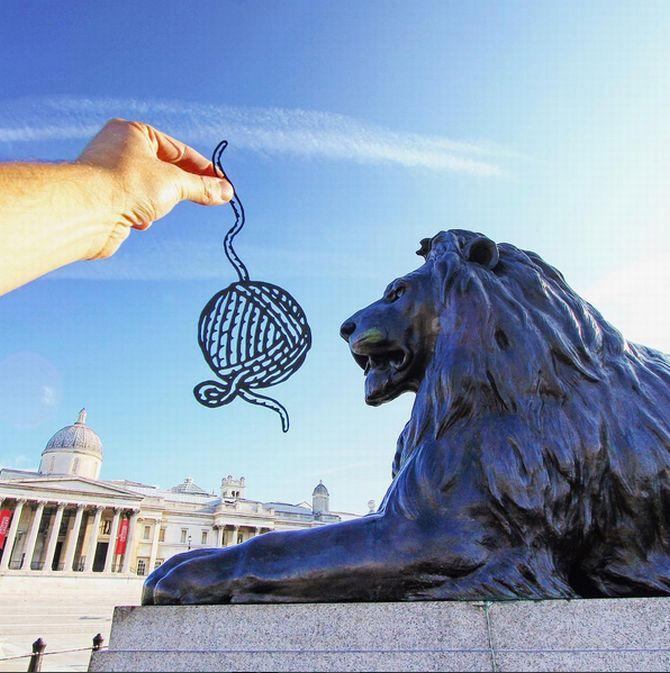 Trafalgar Square, London: The lions at Trafalgar were designed by Edwin Landseer, who had never sculpted before. He spent four years studying the behaviour of lions at the Zoological gardens. Wonder what the lions think about the ball of wool though.