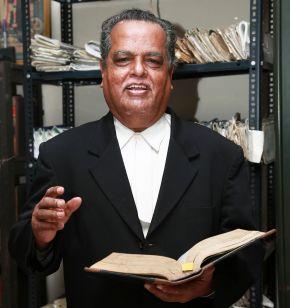 Meet SV Ramamurthy, who is about to do what no state government in decades has been able to do: set right Chennai's errant autorickshaws
Anybody who has visited Chennai would be familiar with the rude, crude and unfair ways of the city's autorickshaw drivers. The fare is never by the meter but an arbitrary rate fixed by the driver which is at least thrice of what it will be on the meter. This is how it has been for decades, and no state government has ever shown a political resolve to set right the drivers. Thanks to the law-unto-themselves autorickshaw drivers, no visitor goes back from Chennai with pleasant memories.
But this sorry situation could change soon, all thanks to one man.
On July 28, when the Supreme Court directed the Tamil Nadu government to fix new autorickshaw fares in the state within four weeks, S V Ramamurthy must have let out a sigh of relief. Not because the court slapped a fine of Rs 10,000 on the state government for non-compliance of its earlier orders and which amount is to be paid to him, but because the order may bring an end to his legal struggle to set right what is fundamentally wrong with the city. A legal struggle he has been waging on his own, the expenses coming from his own pocket.
So who is this man who has done what no state government till now has been able to do?
The 70-year-old S V Ramamurthy is an advocate and a native of Chennai. He was a state champion in weightlifting in 1968 and, today, he is a power-lifter. His mission to set right the autos in the state, and especially the capital, is three years old.
It all started in 2010 with Ramamurthy seeing an old woman struggling to find an auto to take her to a hospital. He heard the auto driver telling her that she could not afford an auto, and it was not for people like her. "It infuriated me. I decided to file a writ petition in the high court asking the authorities to fix the auto fare and make it mandatory for all autos to have working meters. I wanted the commissioner of police to see that these are implemented correctly."
He acknowledges that none of the state governments so far took any active interest in solving the problem. "But then somebody has to bell the cat. I thought I would do it."
It is remarkable that the advocate has not taken any help from anyone in following up the case to its logical end. "I am doing everything myself," he says. But what he expected was for the court to make the government implement its order fast and that the case would be over in months; what happened, however, was that it has dragged on for three years.
That was why he filed a petition in the Supreme Court in January 2012, and the case came up only in June after he sent an email. When the case came up for hearing for the third time in May 2013, the judge asked him how he comes to Delhi all the way from Chennai. Ramamurthy said he either takes a train or a flight, and paid for it from his own pocket.
"At my age, I felt I should do something for society. Many people asked me how it mattered to me as I rarely take autos. Some even thought that I had no other work and that was why I was doing this. A few people said, because I was old and had no other responsibility, I could take up such cases. It is not true; I am pursuing it, spending money from my pocket because I felt it was my duty. What is the value of money unless you spend it in a worthwhile way?" Ramamurthy says.
To a question about autorickshaws being a law unto themselves only in Tamil Nadu, especially in Chennai where none of the autos have working meters, Ramamurthy said, "Here the majority of the autos are owned by goondas and they fix the rates. And, every autorickshaw driver is the member of a union and every union is affiliated to a political party. That is why no political party is interested in solving this problem. The police and political leaders are backing them."
Is he hopeful of a day when like other cities in the country Chennai too will have autorickshaws that run as per the meters instead of the drivers' whim? Ramamurthy says, "This is only an interim order; the final court order is yet to come. But I am hopeful that there will be a change… for the better."
Photograph: Sreeram Selvaraj