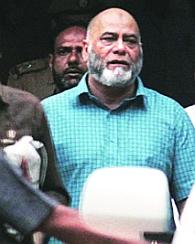 A 'travel agent', Sultan Ahmed Faizan alias Faizan Azmi, in his confession to the National Investigation Agency, talks about how he forged documents that helped terrorists slip out of the country. Vicky Nanjappa reports.
Indian Mujahideen operative Sultan Ahmed Faizan alias Faizan Azmi, who was deported from the United Arab Emirates earlier this month, has worked closely with gangsters, terrorists and politicians, he has revealed during his interrogation by the National Investigation Agency.
Faizan, who hails from Azamgarh, worked in a Mumbai-based travel agency run by Samajwadi Party leader Abu Azmi, in the 1980s. 'Faizan worked with me around 1985 in my placement agency which sent people for jobs to Saudi Arabia. After that he opened his own agency in Madanpura and then shifted to Dubai. I am not aware of his recent activities,' Azmi told the Times of India recently.
"I stepped into the world of crime after I started working with gangster Abu Salem. I did odd jobs for him. Since I had experience working with a travel agency, I helped him move out of India. However, when I was on the radar of security agencies I fled," he said in his confession.
Faizan said he would often get requests to help Indian Mujahideen operatives. "My job with the IM was straight-forward. I was their travel agent. I helped (key IM operative) Riyaz Bhatkal flee India. I forged documents that helped him escape to Dubai," he said in his confession.
Riyaz was desperate to move out of the country and contacted Faizan who arranged for the IM leader's stay in Dubai till he moved to Pakistan.
For over eight years, Faizan ensured that IM operatives got a safe passage out, according to the NIA.
"Working in a travel agency helped me a great deal to forge documents," Faizan said during his confession.
Image: Indian Mujahideen operative Faizan Azmi