Public expression of dissent and quitting a party is not new for Shankersinh Vaghela, says Vinay Umarji.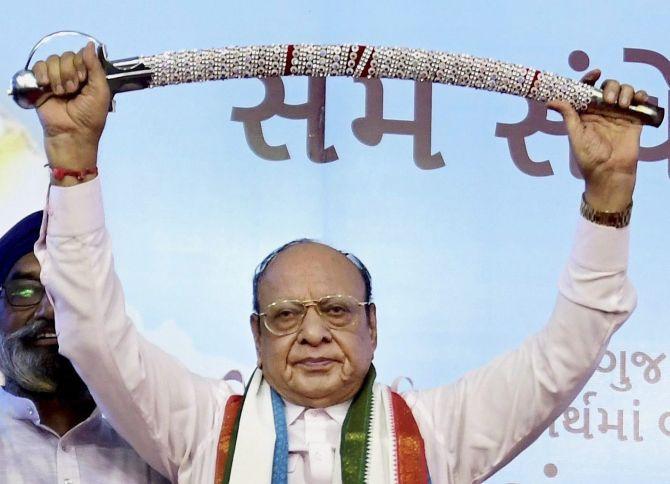 IMAGE: Shankersinh Vaghela at a meeting of his supporters in Gandhinagar. Photograph: PTI Photo
In the 22 years since Shankersinh Vaghela staged a coup against the Bharatiya Janata Party, life has come a full circle for the Congress party in Gujarat.
Vaghela, the Congress head in the state assembly, quit the party which caused six other members of the assembly to quit right before the Rajya Sabha election on August 8.
Public expression of dissent and quitting a party is not new for Vaghela, 77.
He quit the BJP in 1996 to launch the Rashtriya Janata Party. After serving as Gujarat's chief minister between 1996 and 1997, Vaghela later had to merge his party with the Congress.
Vaghela, said a party leader on condition of anonymity, has a "very unidimensional view. He can't see the larger picture."
"Be it with the BJP or Congress, Vaghela has always been more concerned about his views than the party's nature. He likes to portray himself as larger than life and, at times, toes a line contrarian to the party," says political observer Achyut Yagnik.
Going by his 77th birthday celebration speech, Vaghela does come across as highly opinionated. He came down heavily on party seniors for not giving him greater autonomy in Gujarat ahead of the state assembly election to be held later this year.
Both BJP and Congress party sources say Vaghela lacks state-wide influence.
Hailing from Vasan in Gandhinagar district, Vaghela has been contesting from Kapadvanj in north Gujarat and does have a hold over the Rajputs, which are upper castes.
What limited his influence in the Congress was predominance of Other Backward Classes and Dalits in the party, overshadowing the upper castes.
"As a result, his influence is limited," says Yagnik, while adding that the limitation does not hinder Vaghela from being ambitious.
Vaghela has maintained that he would not join the BJP.
Even so, this might not yield much of return for the veteran politician. This is because of his inability to unite different factions within a party, whether the BJP or Congress.
His own RJP had to be merged into the Congress. He has had a relatively weaker hold in Saurashtra and South Gujarat, crucial for both the BJP and Congress.
And with the BJP trying to win tribals and lower castes, Vaghela's rebellion is unlikely to reap a huge return at this stage.