Harinder Singh Bains insists he didn't do anything unusual when he led the police to Ahmad Rahami, the suspect in the New York and New Jersey bombings.
George Joseph and photographer Paresh Gandhi met the Chandigarh native at his bar, Merdie's Tavern in Linden, New Jersey.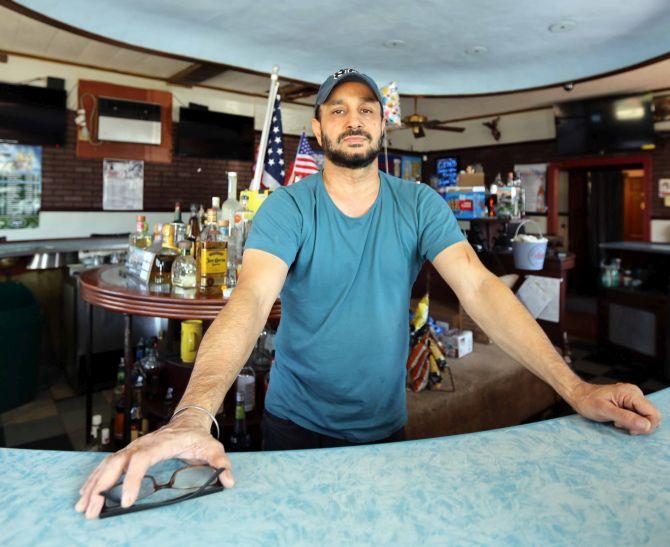 IMAGE: Harinder Singh Bains at his bar, Merdie's Tavern. Photograph: Paresh Gandhi/India Abroad
For two days, Harinder Singh Bains did not open his bar, Merdie's Tavern, in the sleepy little town of Linden, New Jersey, after he informed the police about a 'suspicious man' in the front vestibule of his bar.
The suspicious man turned out to be Ahmad Khan Rahami, 28, who planted bombs in New York City and in Seaside Park, New Jersey.
The pressure cooker bomb blast on the 23rd Street West of Manhattan at 6th Avenue injured 31 people and shattered windows as far as approximately 400 feet, and more than three stories high, according to the Federal Bureau of Investigation.
On September 21, people were waiting with flags and balloons for Bains to open the bar. Many hugged and thanked him.
"It was indeed a proud moment. I got good business. I expect the same today (September 22) too," the 51-year-old Chandigarh native told this correspondent.
Merdie's Tavern on Elizabeth Avenue is like any other bar sitting quietly on a corner. Suddenly, it has five star reviews on Yelp, and Bains has become a hero, though he refuses to accept the honour.
"I'm not a hero," he says. "The police are the heroes; the EMTs (Emergency Medical Technicians ) are the heroes; everyone who is working to bring New York and New Jersey together today is a hero."
'I came to this country from India 20 years ago to create a better life for my family. I am a father of four and a proud American citizen. I am also what America looks like.'
"When I heard about the attacks and realised the suspect was sleeping in my bar's doorway, I did what any American would do. I called the police," he adds.
The comments on Yelp about his bar indicate otherwise. After the news of Bains alerting the police about Rahami broke, Yelp users began posting five-star reviews. Before that alert, Merdie's Tavern had never been reviewed on the site.
This New Jersey bar owner Harry Bains is a hero for his actions today. Long live Merdie's Tavern!'
'This man is a hero! He found a terrorist at his place of business. This is a true American business. Everyone should stop by and have a beer here!'
'Thanks to the owner for his quick thinking and call to Linden PO... a hero for sure!!!'
'Thank you to the owner of this tavern for taking quick action when you spotted Rahami sleeping in the doorway. It's true you are a hero and likely saved lives.'
'You are a hero to us all. Can't wait to visit your tavern!'
'Wouldn't it be great if everyone started supporting this great American by visiting and having a few drinks. Thank you so much for saving more lives. Make this bar number 1!!!! Everyone should have a drink here.'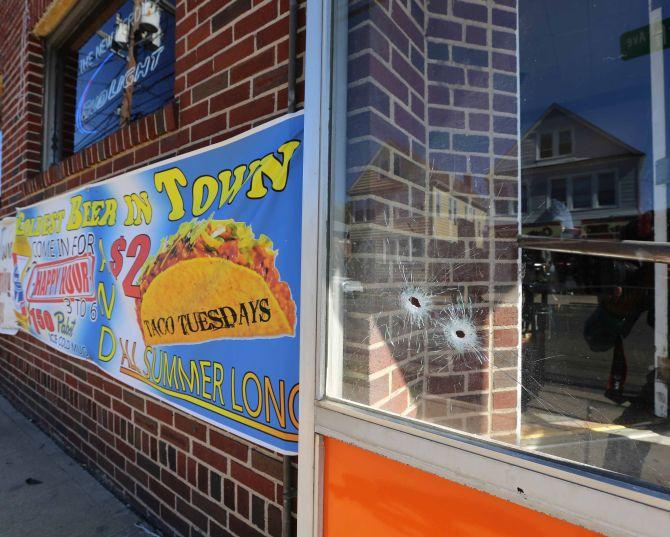 IMAGE: Ahmad Rahami shot at the tavern window when he was confronted by the police. Photograph: Paresh Gandhi/India Abroad
When we arrived at the bar around 2 pm on Thursday, September 22, there was only one customer in the bar. People usually come in the evening, Bains says.
Before he arrived at the deli he owns across the street from his home in Iselin, New Jersey, at 6.30 am on September 19, Bains was aware that the police were looking for Rahami. His photographs were on television and other media.
As he unlocked the door of the deli he noticed someone sleeping in the front vestibule of the bar. It could be a homeless man, as it happened earlier, was his initial thought. He was also concerned because the glass was broken and could hurt the man.
"Usually I yell at such people to get out. But I was a little considerate because of the heavy rain," he says.
That decision changed everything.
Bains went to alert the sleeping man about the broken glass and saw his face when the man moved his hoodie.
Bains thought he knew the man and suddenly remembered the face from television alerts.
He was not sure what to do. He spoke with a neighbour, who also went to look at the man. Two employees from the neighbour's workshop too came to look, thinking it was the bomber. But they felt it was just another guy.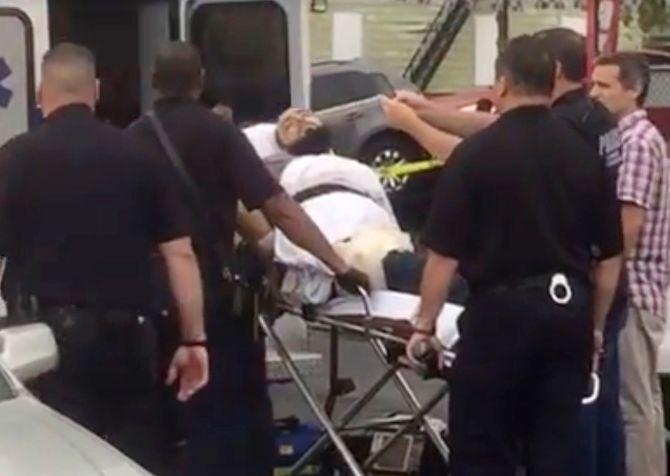 IMAGE: Following his shootout with the cops, Ahmad Rahami, the suspect in the New York and New Jersey bombings, was moved to hospital. Photograph: Anthony Genaro/Reuters
After a 20-minute dilemma, Bains called 911.
"I told them the guy looks a little suspicious and doesn't look good to me."
He did not tell the police it could be Rahami. He was worried if it was Rahami, he could be armed and a threat to the safety of the police officers.
'As a Sikh American, I realise that I could have been mistaken for the perpetrator. My faith teaches me justice and tolerance for all and I know that I'm lucky to live in a community that shares this view,' Bains later explained in a statement.
The Linden police arrived in minutes and Bains watched what unfolded from his deli.
When the police officers confronted him, Rahami pulled out a handgun and shot one of them twice. The bullets smashed a window of Bains' bar, creating two holes. The officer sustained minor injuries in his abdomen.
Rahami then got out of the bar vestibule and ran through East Elizabeth Avenue. His escape was obstructed by two police cars. He had no place to run and ducked between the parked cars. The police officers fired and he fell to the ground before being arrested and moved to hospital.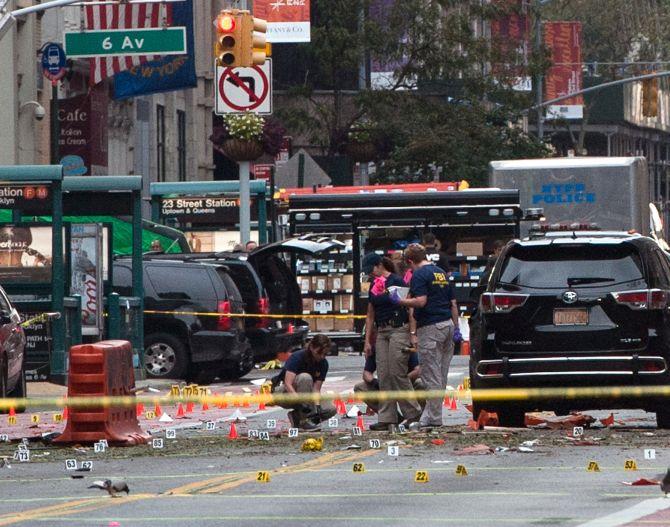 IMAGE: FBI agents review the crime scene on 23rd Street in Manhattan's Chelsea neighbourhood, which injured 31 people. Photograph: Stephanie Keith/Getty Images
Bains started working as a cab driver after his arrival in the United States in 1996. In 1999, he bought the deli. He asked the bar owner to tell him if he had any plans to sell. Three years ago, the bar owner said he was moving to South Carolina and wanted to sell.
Bains bought the bar.
Bains has four children and says he does not want any publicity around them.
After the incident, he spoke to the FBI and the prosecutor. He says he is slightly worried about his personal security, since his role has been well publicised. "People who may not be connected directly to Rahami could also commit mischief," he says.
He does not expect any compensation for the damage done to his bar. "I did not do it for money. It was my duty," he says.
In an earlier statement through the Sikh Coalition, he said, 'I want to remind Americans that after an attack, we should target people based on evidence, not their faith or their country of origin or their accent.'
'I came to this country from India 20 years ago to create a better life for my family. I am a father of four and a proud American citizen. I am also what America looks like.'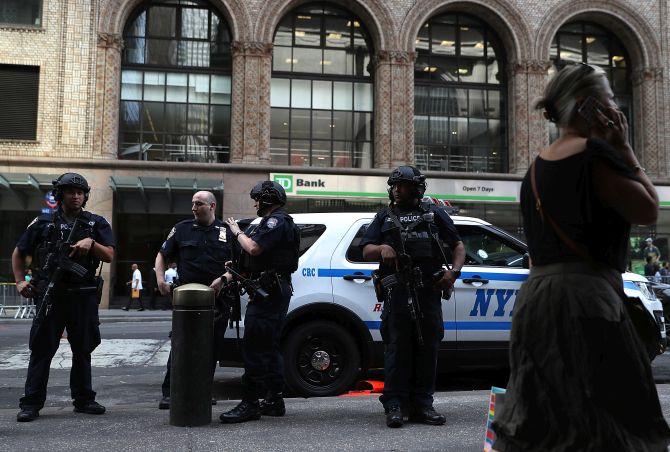 IMAGE: New York City police officers stand guard outside Grand Central Station. Photograph: Justin Sullivan/Getty Images
Bains said he has never faced any kind of discrimination or hate attack.
'New Jerseyans stick together after something like this and I know that we're all strongest as a nation when we stand together in the face of violence that is intended to divide us,' he said.
Bains says he is still shaken up from witnessing the shootout.
"It is something you never thought would happen in front of you," he said. "It was all surreal, very scary. I did my part: When you see something, say something. I'm not a hero, the cops are the hero."