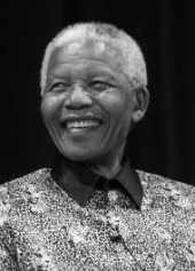 For the anti-apartheid icon, all life and struggle were occasions to be relished with joy, says Shreekant Sambrani
In her Nobel lecture last year (delayed two decades because of her incarceration) Aung San Suu Kyi referred to Buddhism's six great dukhas (sufferings). The last two of these are "to be parted from those one loves (and) to be forced to live in propinquity with those one does not love".
Another Nobel Peace laureate and indisputably the most inspiring leader of our times, Nelson Mandela, who departed on Friday (by Indian time), as the South African President Jacob Zuma said, underwent this ordeal imposed by a repressive regime for 27 long years.
I was in Zimbabwe at its dawn of independence. In a long conversation with a minister, a woman who had suffered a long prison term herself, I wondered whether Mandela of 1984 was even a remote shadow of his steely self in 1964 who had said at the time of his sentencing, "During my lifetime, I have dedicated myself to the struggle of the African people. I have fought against white domination, and I have fought against black domination. I have cherished the ideal of a democratic and free society in which all persons live together in harmony and with equal opportunities. It is an ideal which I hope to live for and to achieve. But if needs be, it is an ideal for which I am prepared to die."
I need not have worried. The very next year, the apartheid regime offered an ailing Mandela release on the condition that he forswear violence as a political weapon. From his hospital bed, Mandela issued a statement that read, "What freedom am I being offered while the organisation of the people remains banned? Only free men can negotiate. A prisoner cannot enter into contracts."
Another half a decade passed before the firebrand leader sent to jail emerged as a 71-year-old grizzled grandfather. On the very first day of his freedom, he expressed the hope that "a climate conducive to a negotiated settlement would be created soon, so that there may no longer be the need for the armed struggle".
He was recognised as the tallest among the African National Congress's trinity of leadership comprising his long-time friends Walter Sisulu and Oliver Tambo. His ascension as the undisputed ANC leader led to his election as South Africa's President in 1994 in the first-ever free polls with universal franchise. He retired in 1998.
Mandela's finest moments were in his presidency. He realised that leadership did not mean the exercise of unfettered power, but rather its judicious exercise within the available degrees of freedom.
He was acutely aware that the sizable non-black population (more than 25 per cent in 1994), particularly the 10-plus per cent whites, controlled well over 90 per cent of the resources and held most crucial positions in the administration and armed forces.
He declared his intention to create a "rainbow" nation which would provide all its citizens equal opportunities regardless of their ethnic origin under the rule of civilised law. A Truth and Reconciliation Commission discharged justice for past crimes without being vengeful.
It is not that Mandela did not possess bitterness. Who could avoid it after facing the loss of freedom and family for over a third of his life? His greatness lay in the fact that he overcame it and didn't allow it to cloud his judgement.
The lasting image of Mandela is his smiling visage, be it as a young leader declaring his country to be the home of many races in 1961, or waving to cheering crowds on his release in 1990, or being sworn in as President in 1994, or as a frail old man walking out of the hospital in 2011 with support.
For him, all life and struggle were occasions to be relished with joy. The crowds outside his old residence in Soweto knew this instinctively as they celebrated his life with song and dance all through the small hours after learning of his passing.
Seamus Heaney, the Irish poet who died earlier this year and himself a warrior against discrimination, had the right epitaph for Mandela's life, "History says, Don't hope/On this side of grave./But then, once in a lifetime/ The longed-for tidal wave/Of justice can rise up,/And hope and history can rhyme up."