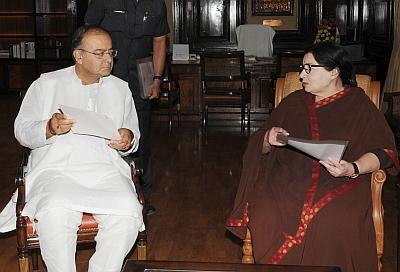 Jaitley, the first Union minister to meet Jaya since her conviction, manages to secure the AIADMK's conditional support to the government's crucial legislations in the Rajya Sabha.
Finance Minister Arun Jaitley meeting All India Anna DMK chief Jayalalithaa in Chennai on Sunday is a turning point in national as well as Tamil Nadu politics.
For one, this move has helped the Bharatiya Janata Party counter the Congress's plan to neutralise it in the Rajya Sabha. Viewed from the AIADMK's side, Jaitley's visit was a morale-booster to Jayalalitha, since he was the first Union minister to meet her since her conviction recently in a disproportional assets case which led to her stepping down from office.
The former Tamil Nadu CM came out of her home to receive Jaitley, who was three hours behind schedule due to fog in Delhi delaying flights. In fact, the finance minister had to take an international flight to Chennai as domestic airlines were delayed by four hours.
The decision to meet Jaya was taken during the winter session of Parliament
by Prime Minister Narendra Modi and Jaitley. Witnessing the ruckus created by the Congress party in the Rajya Sabha, which was later outsourced to Trinamool Congress and the Left parties, Modi told his minister: ''Arun, you should work out a strategy to neutralise such a combination -- let us discuss it after the session is over."
Contacts were established quietly between the BJP and AIADMK through a non-political common source when the winter session was still on. The wedding of RSS ideologue S Gurumurthy's daughter on Sunday came as a blessing in disguise, since it gave Jaitley an official reason to be in the Tamil Nadu capital.

Jaitley spent 40 minutes with Jayalalitha discussing national politics and the future of Centre-state relations, during which he also managed to convey the government's praise for 'the dignified performance' by her MPs in both the Houses.

Some six to eight major points were sorted out between them, like the insurance bill and GST, issues close to Jaitley's heart, as also the land acquisition bill. After Jaitley explained the highlights of these legislations, Jayalalitha agreed to consider some amendments to them after which the AIADMK will vote for them.

Jaitley's Mission Chennai was thus successful and he will explain the outcome to the BJP's Parliamentary Board which is meeting on Monday at 8 pm. Before that, of course, he will brief the prime minister.

Despite being elected chief minister, Jayalalitha was studiously ignored by the United Progressive Alliance government which had in its ranks her rival the DMK. Though the UPA had 10 Union ministers from Tamil Nadu, including finance and other key
ministries, none of them ever paid pay a courtesy call on her. When Jaitley called on her on Sunday, naturally it riled the DMK and other opposition parties.

Being the Leader of the Rajya Sabha, it was Jaitley's responsibility to ensure that the crucial legislations that signal the BJP's commitment to reforms get passed. A detailed programme was thus chalked out to ensure this, by winning over parties. First on the list was West Bengal Chief Minister Mamata Banerjee as he was scheduled to visit Kolkata for the Global Business Summit. The second was Gurumurthy's daughter's wedding which gave him an opportunity to meet Jayalalitha.
Modi at once agreed to Jaitley's plan, since the Insurance, GST and land acquisition bills were pending in the Rajya Sabha.
Jatiley explained to both Banerjee and Jayalaltiha that the Opposition cannot take the government for granted. As Samajwadi Party leader Mualayam Singh Yadav once described, given the power of Union government no one would like to antagonise it.
To take other regional leaders on board, Modi suggested that Jaitley to interact with Naveen Patnaik in Orissa and also with Chandrababu Naidu in Andhra Pradesh, regional leaders with national aspirations.
Image: Finance Minister Arun Jaitley with AIADMK chief Jayalalitha in Chennai on Sunday. Photograph: PIB.
R Rajagopalan is a senior journalist and commentator on southern politics.