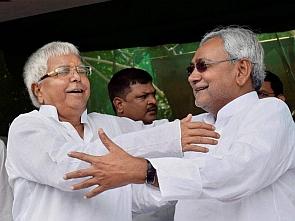 Congress spokesperson Rajeev Gowda tells A Ganesh Nadar why his party may join the Nitish Kumar-led Janata Parivar alliance.
Elections in Bihar are due at the end of the year. The Nitish Kumar government in Bihar was ruling the state with the Bharatiya Janata Party as an ally till Nitish Kumar broke the alliance when the BJP announced Narendra Modi as its prime ministerial candidate.
Talks about merger of the Janata Parivar -- of Lalu Yadav's Rashtriya Janata Dal and Nitish's Janata Dal-United -- to take on the BJP in the assembly elections, which are due later in the year, have made the Bihar elections very interesting.
The Congress has now announced that they will form a secular alliance to take on the BJP. Congress spokesman M V Rajeev Gowda, who is a member of the Rajya Sabha, told Rediff.com, "The coming together of the Janata Parivar is good. When secular forces come together it strengthens the alliance and it would be welcome."
He said the coming together of the Janata Parivar would not in any way affect their support to the Nitish Kumar government.
On the possibility of Jitan Ram Manjhi, who was the chief minister of Bihar after the Lok Sabha elections when Nitish Kumar stepped down owning up responsibility for his party's electoral debacle, would also be part of the same alliance, Gowda said, "That is for the leaders of the concerned parties to decide, I cannot comment on that."
If the Janata Parivar merger happens and they decide to fight the elections in Bihar together, the Congress will not be able to ask for as many seats as they would have if they had to bargain only with Nitish Kumar's Janata Dal-U.
To this Gowda said, "In a coalition we will make sure we get an appropriate number of seats. The coming together of all secular parties will be a formidable alliance. The number of seats is not important. The idea is to defeat the BJP. That is the most important thing."
While people are not sure whether Lalu Yadav will be part of the Parivar which accepts Nitish Kumar as the chief ministerial candidate, it looks like the Congress will continue to support Nitish Kumar.
Image: Nitish Kumar and Lalu Yadav