HAL made its point against a sceptical Indian Air Force, which opposed the HTT-40 project, blocked funding, and imported an expensive Swiss trainer rather than backing the HTT-40.
Ajai Shukla reports.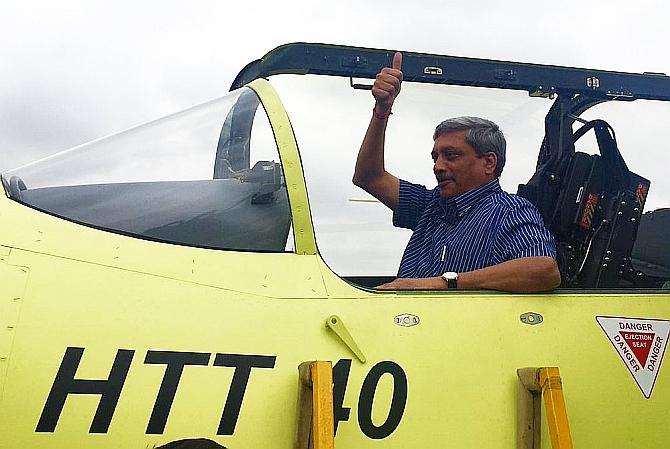 IMAGE: Defence Minister Manohar Parrikar in the cockpit of the Hindustan Turbo Trainer-40. Photograph: Manohar Parrikar/Twitter
Underlining its capability to design and fly aircraft, Hindustan Aeronautics Limited staged the inaugural flight of its Hindustan Turbo Trainer-40 before Defence Minister Manohar Parrikar on Friday, June 17.
HAL has conclusively made its point against a sceptical Indian Air Force, which opposed the HTT-40 project, blocked funding, and imported an expensive Swiss trainer (the Pilatus PC-7 Mark II) rather than backing the indigenous HTT-40.
'There is no need for the HTT-40 trainer,' Air Chief Marshal N A K Browne had said at the Aero India show in February 2013. 'We have the Pilatus PC-7. It is a proven aircraft. The project HAL plans is from scratch. Our indications are that the cost will be too high. There is no need for all this.'
HAL came back punching.
Former chairman R K Tyagi and the current boss, T Suvarna Raju, threw their weight behind the trainer project and committed Rs 350 crore (Rs 3.5 billion) of internal HAL funds to the development project. A team of young, talented designers worked without IAF assistance to bring the aircraft to flight.
On Friday, as Parrikar watched the HTT-40 smoothly take off and circle the HAL airfield in Bengaluru, his own support to the indigenous project, and that of his predecessor, A K Antony, were vindicated.
Congratulating the HAL designers, Parrikar said: "The young team has taken a calculated risk and they have flown the aircraft within one year and kept their assurance."
"The indigenous content on HTT-40 is close to 80 per cent," the minister added. "Almost 50 per cent of the components on HTT-40 are manufactured by private players of the Indian aerospace ecosystem. Here, the role of private players and micro, small and medium enterprises (MSMEs) has been significant in the production of parts. The IAF is positive in all these developments."
IMAGE: The Hindustan Turbo Trainer-40 in action at the HAL airport in Bengaluru. Photograph: Twitter
Preceding the inaugural flight, the HTT-40 had already made its first flight on May 31. Since then, test pilots have expanded its flight envelope, to clear it for flying at 300 kilometres per hour and for 4G turns.
It has validated glide tests (flying without engines), instrument landing, and demonstrated its ability to land in heavy rain.
HAL Chairman Suvarna Raju on Friday said, "The project will now go in full throttle as we aim to get the aircraft certified in 2018. Towards this, HAL will be manufacturing three prototypes and two static test specimens."
"It is a remarkable feat that the aircraft in its inaugural flight carried out low speed pass, a series of turns, high speed pass and short-landing using reverse thrust which is a unique feature available on this engine-propeller combination," he added.
The HTT-40 is a propeller-driven, turbo-prop aircraft for stage-1 training of rookie pilots, learning to fly their first aircraft. After 80 hours of basic training on the HTT-40, pilots move on to stage-2 training on the HAL-built Kiran Mark II jet trainer.
Those selected to fly fighter aircraft move on to stage-3 training on the Hawk advanced jet trainer, after which they graduate to frontline fighters in the IAF's combat squadrons.
The IAF has calculated it needs 181 basic trainer aircraft. It has already bought 75 Pilatus PC-7 Mark II trainers and the purchase of another 38 is being processed. That leaves space for 68 HTT-40s in IAF training schools.
For HAL, the challenge now is to certify the trainer by 2018, putting it through a challenging stall and spin tests.
After that, HAL projects it will build the first two HTT-40 trainers in 2018, eight in 2019, and reach its capacity of 20 per year from 2020 onwards.
The advanced systems in the HTT-40 include a pressurised cockpit (which allows flight at high altitudes), zero-zero ejection seats (which allow ejection even from a static aircraft), and a state-of-the-art cockpit display with 'in-flight simulation' that permits flight instructors to electronically simulate various system failures, allowing the rookie pilot to handle the 'emergency.'