The government has received flak for allegedly shielding the corrupt ministers and slow pace of investigation in irrigation scam, reports Sanjay Jog.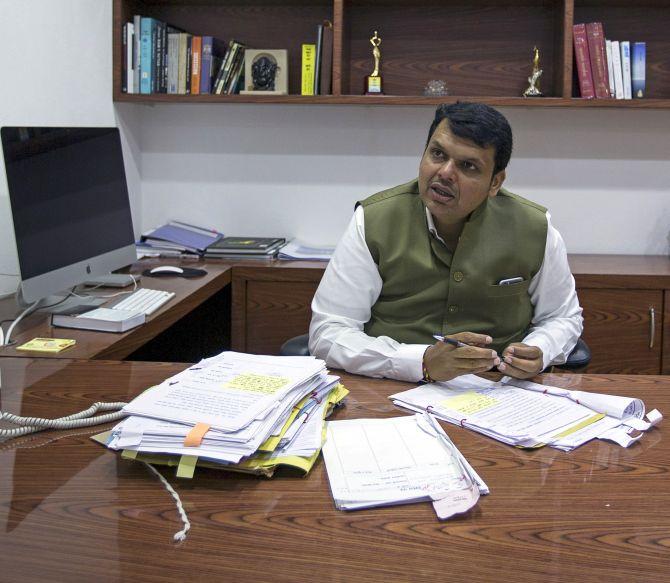 Maharashtra Chief Minister Devendra Fadnavis, who entered his third year in office on Tuesday, faces the daunting task of fulfilling some key election promises, including making the state toll tax free, abolition of the local body tax, quotas for the Maratha and Dhangar (shepherd) communities, establishment of a Contract Labour Commission and putting over 400 irrigation project on the fast track.
The quota issue came into the limelight after marches by Marathas, who make up 32 per cent of the state's population, to protest against the rape and killing of a minor in Kopardi village of Ahmednagar district. Later, the Scheduled Castes, Scheduled Tribes and Other Backward Classes also organised marches to demand continuation of the Atrocity Act.
Fadnavis has iterated the government's commitment to providing a quota to the Marathas without disturbing the quotas of other communities but his government will have to cross several legal hurdles.
The ruling Bharatiya Janata Party and its alliance partner the Shiv Sena face a tough test in elections to 212 municipalities and nagar panchayats this month. The Congress and Nationalist Congress Party will make every attempt to target the ruling alliance on farm distress, deteriorating law and order and burgeoning malnutrition deaths.
The government has also received flak for allegedly shielding corrupt ministers, slow investigations into an irrigation scam, a circular listing acts of sedition, and a draft of the Maharashtra Protection of Internal Security Act that brings a gathering of 100 or more people under police scrutiny.
To its credit, the government has partially abolished the local body tax, making it applicable only to traders with an annual turnover of over Rs 50 crore. But the government has to make a provision of Rs 6,500 crore annually to compensate the civic bodies for the revenue lost.
HITS AND MISSES
Thumbs up
>> Launch of Right to Services Act, bringing 150 services under its purview
>> Implementing the Jalyukta Shivar water conservation in 10,000 villages
>> Transport infrastructure projects of over Rs 1 lakh crore in Greater Mumbai
>> Steps to cut red tape for approvals
>> Delegation of powers to field enforcement agencies for permitting change of zones and grant of additional floor space index in most cases
>> Standardising of development control regulations for building permits across all municipalities
>> Approvals for building permits given online in Mumbai, Thane and some other cities. Process on to extend to other cities
>> CCTV in Greater Mumbai to increase security vigil
>> Improvement in availability of electricity with capacity addition, reduced losses and purchase from exchanges
---
Thumbs down
>> Procedure to set up industrial units still daunting
>> Maharashtra ranked 10th in World Bank's latest Ease of Doing Business Index, two places lower than when this government took charge
>> Big-ticket investments announced earlier, including establishment of LCD manufacturing unit by Twinstar Industries worth Rs 68,000 crore and Foxconn's $5 billion investment for manufacturing, are still to happen
>> Law & order still a major problem
>> Slow pace investigation into irrigation scam
>> Setting up of Contract Labour Commission and implementation of labour reforms
>> Key policy initiatives to boost housing stock remain on paper and a housing regulator to end malpractices in the construction sector yet to happen
>> Total abolition of local body tax and making Maharashtra toll tax free
>> Reservation to Maratha and Dhangar communities
Image: Maharashtra Chief Minister Devendra Fadnavis. Photograph: Danish Siddiqui/Reuters