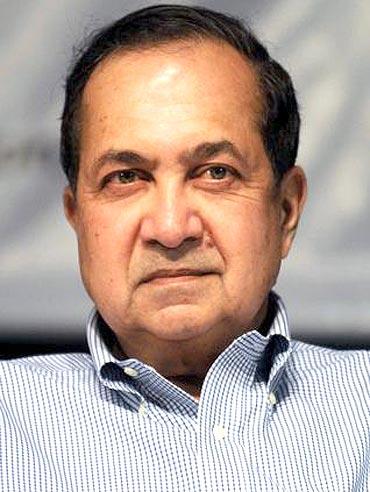 A day after Dravida Munnetra Kazhagam leader and Union Minister M K Alagiri raised a banner of revolt over the succession plans in Tamil Nadu's leading political family, a similar battle for control was reported at the state's top newspaper,
The Hindu
.
The Indian Express newspaper reported a dispute in the family which controls one of the country's oldest and most respected media companies, Kasturi & Sons, which owns The Hindu and Businessline newspapers and Frontline and Sportstar magazines.
The Express report stated that the bone of contention was the retirement age of the group's highly respected Editor-in-Chief and current Publisher Narasimhan Ram.
Not one to take things lying down, Ram, an award-winning editor best remembered for his investigative reportage on the Bofors scandal in the late 1980s, on Thursday launched defamatory proceedings, civil and criminal, against The Indian Express and the Financial Express for publishing 'highly defamatory material.'
The Kasturi & Sons board of directors has 12 members, descending from four cousins -- G Narasimhan (father of N Ram, N Ravi, N Murali); S Parthasarathy (father of Malini Parthasarathy, Nirmala Lakshman and Nalini Krishnan); S Rangarajan (father of Ramesh Rangarajan, Vijaya Arun and Akila Iyengar) and G Kasturi (father of K Balaji, K Venugopal and Lakshmi Srinath).
The first casualty -- the Express report said -- was N Murali, Ram's younger brother and the company's managing director. Ravi was reportedly divested of his powers this week and replaced with K Balaji, another board member.
Quoting unnamed sources, the Express report said the board is split, with one group supporting Ram and the other asking for his retirement.
'While the retirement age for all employees in the group is 60 years, there was no such stipulation for board members. It was proposed by Murali that 65 years be set as the retirement age for board members,' the Express report said, quoting insiders.
According to the Express report, all board members agreed to the proposal and Ram, who turns 65 this May, was identified as the first member to step down from the board followed by his brothers Murali and Ravi, who will turn 65 in August 2011 and 2013 respectively.
At a follow-up meeting, the Express claimed Ram declined to give up the positions he holds across the company, including the board membership.
Strongly refuting the contents of the report, Ram said in a statement, 'These reports are riddled with demonstrable falsehoods and defamatory assertions, some of them attributed to unnamed sources, made with reckless and malicious disregard for the facts and the truth.'
Photograph: N Ram, one of India's most respected newspaper editors. Image Courtesy: The Hindu