Sajid Khan drove a burning petrol tanker for 5 km, averting a major disaster.
Rediff.com's A Ganesh Nadar reports.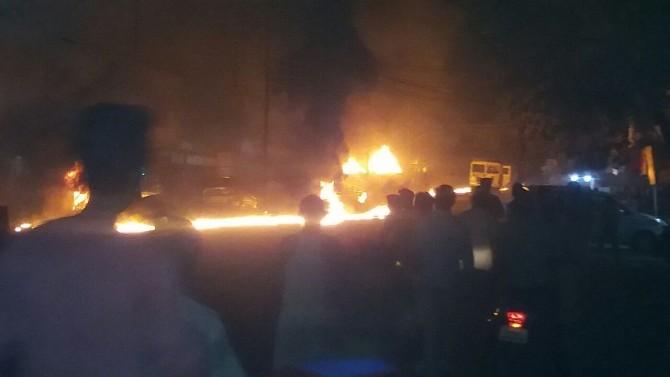 Sajid Khan, a 30-year-old truck driver, drove a burning fuel tanker for around five kilometres, averting a tragedy and saving many lives in Gotegaon town, Narsinghpur district, Madhya Pradesh, on Sunday, March 25, night.
Without fearing for his life, the driver -- a resident of Seoni district in Madhya Pradesh -- drove the burning vehicle through residential areas in Gotegaon, a town of 25,000 people about 250 km from Bhopal, towards the Gotegaon-Narsinghpur Road.
The tanker left behind a trail of fire caused by leaking petrol that gutted a few shops and vehicles, but did not cause any human casualty.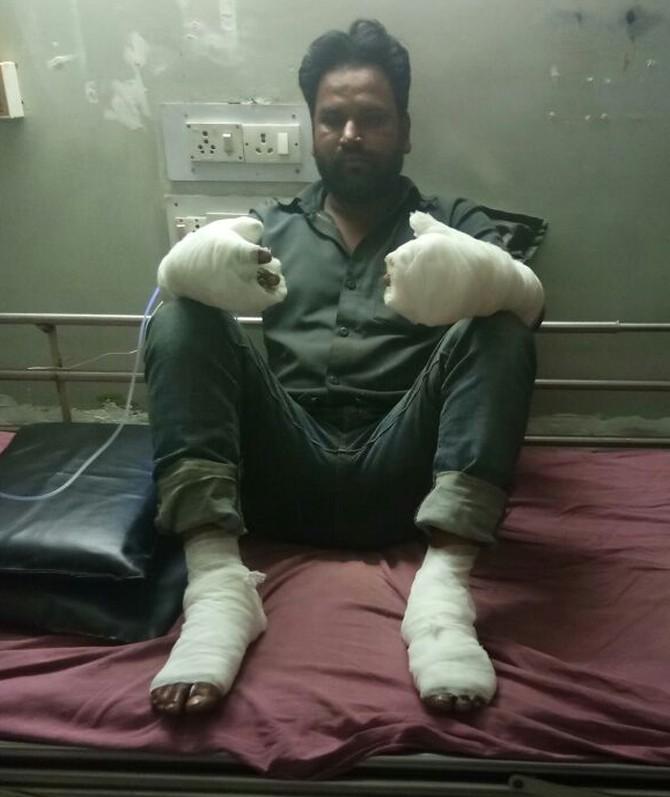 The tanker was refilling fuel at a petrol pump in the crowded market in Gotegaon when the petrol caught fire, possibly due to an electrical short circuit.
"I got the petrol from Vittoni depot which is about 25 km from this petrol pump. I was emptying the tanker and filling up the petrol pump, and had just turned on the valve when the fire broke out," Sajid tells Rediff.com
"My employer was there, we both tried to put out the fire with the fire extinguishers available on the truck, but we could not."
"I didn't know what to do, so I decided to remove the burning truck from the pump."
"I knew if the petrol in the underground pump caught fire it would be a disaster, as that might explode. I did not hesitate. There was no fear. I knew I had to put out the fire or get away from there."
"It has been my truck for 10 years, it responded as usual and we were on our way. Thankfully, people got out of the way and I could pass all the residential and commercial areas without any problem," Salim recalls of that night.
"Once I reached outside the town I stopped the truck and again tried to put out the fire. I then called the fire brigade and they came very quickly."
"I told them where the belly of the fire was, and they put it out. The hull of my tanker did not collapse, but withstood the fire."
"The truck owner's hands were burnt," says Sajid, "my own hands and legs got burnt. My right hand is burnt the worst, but it will heal."
"After my hands and legs heal I am going back to drive the same truck. That is my job," he says.
Madhya Pradesh Chief Minister Shivraj Singh Chauhan has described Sajid Khan's brave act as that of a 'real hero'.