Although his left hand is paralysed, Bijay Kumar Shahu dressed in stylish biking gear has cycled over 1,500 kilometres across 11 districts and 25 Vidhan Sabha constituencies to campaign for the BJP.
Prasanna D Zore/Rediff.com speaks to this dedicated volunteer who says his only dream is to meet his idol -- Prime Minister Narendra Modi.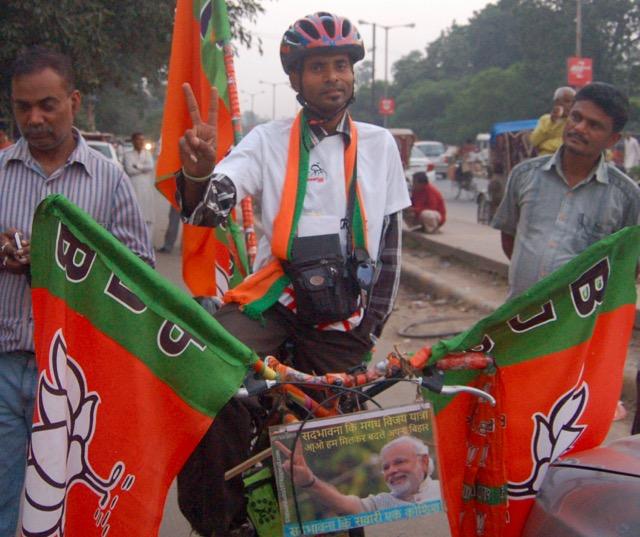 "I love Narendra Modi's leadership, the hard work he is putting in to transform India from a developing country to a developed country in the next 15 years," Bijay Kumar Shahu says about his drive to campaign for the Bharatiya Janata Party in Bihar.
A smiling and victorious Narendra Modi and three BJP flags adorn Shahu's bicycle.
A native of Arrah district, Shahu's grandfather migrated to Imphal, Manipur. Shahu, 41, whose left hand was paralysed in an accident in 2000, works in Bengaluru in the tourism industry.
"I was an avid biker. We had a big group of bikers in Imphal. I had a Yamaha RD 350," he says.
Shahu was shattered after his left hand was paralysed in 2000. A Rashtriya Swayamsevak Sangh worker since his teens, he saw Modi's meteoric rise in Gujarat and became a fan.
"I also wanted to do something for my country," Shahu says. "Modiji showed me the way as he continued with his successful run in Gujarat politics because of his development agenda."
"I started cycling in 2007. Since then I have been cycling using only my right hand. I began canvassing for BJP candidates on my own in Bengaluru where I shifted in 2010," he dds.
Impressed by his skills and his love for the party, Shahu says many BJP leaders began inviting him to campaign for their candidates.
He rattles off names like Ravi Shankar Prasad, Ananth Kumar, Dharmendra Pradhan, Radha Mohan Singh (all Cabinet ministers in the Narendra Modi government) and many more who he says he knows personally.
Shahu has been in Bihar since October 7 at the invitation of Nitin Navin, the BJP candidate from Bankipur constituency.
"I have toured 1,500 kilometres in the last one month, campaigning for the BJP in 25 constituencies," he says.
His only dream is to meet Narendra Modi one day. He has met Ravi Shankar Prasad many times. The next time he meets India's IT minister Shahu says he will request Ravi Shankar Prasad to help him meet Modi.
"Modiji is inspiring me to overcome my handicap and keep campaigning for BJP candidates," he says.
Very soon, he says, he plans to cycle from Kashmir to Kanyakumari to spread the message of peace.
IMAGE: Bijay Kumar Shahu riding his bicycle across the campaign trail. Photograph: Prasanna D Zore/Rediff.com